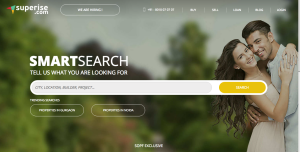 New Delhi, September 15: Interactive real estate portal Superise.com has launched its 2nd edition of Superise Online Property Fiesta (SOPF). Scheduled to run from September 10th to September 27th on www.superise.com, SOPF is an exclusive event organized in collaboration with real estate developer Unnati Fortune Group and will also feature PayU and Uber as event partners.
SOPF Exclusive is presenting Unnati's project "The Aranya, Sector 119, Noida" at very exclusive prices at this limited period event.
SOPF Exclusive also features the formal launch of new age technology by Superise.com where a buyer can do customized research based on his and her unique requirements; experience a 3D view of the property using SMARTVIEWTM; select payment plans using SMARTCALTM interactive pricing tool; book a specific apartment with a click of a button – akin to "booking of a movie ticket "; and even pay the token booking amount using the PAYU Money gateway.
SOPF Exclusive also makes a buyers life totally hassle free by giving them a free Uber ride to make a project site visit, select and source the most suitable home finance and complete hand holding  through the entire buying, documentation and registration process.
But the biggest reason for the customer to cheer is the huge saving – upto INR 12.33 Lakhs – they can avail during, (on a unit price of Rs. 52 Lakh on a 2 bedroom apartment) And get added amenities like parking, club membership and PLC – all on zero additional costs!
Speaking on the event, Aditya Parashar, Founder & CEO, Superise.com, commented, "Superise.com was founded with 4 principles – bring personalization to customers; create total transparency; make real estate buying a near automated and near-disintermediated;  and delight the customer with great deals and service".
"We believe this recipe will enable our customers to make a smart decision, matching his or her unique needs and take out the elusive cheque-book" continues Parashar.
Mr. Anil Mithas, CMD, Unnati Fortune Group, added, "Equipped with technology that solves real life problem for a property buyer, Superise.com has within a short time made a considerable impact on the real estate industry. We are proud to be associated with SOPF as its exclusive partner and are confident of optimally serving the requirements of individuals looking to buy property in and around the Delhi NCR region."
Explaining the business logic behind an exclusive SOPF event, Parashar said "After the highly successful maiden edition of SOPF , we are really encouraged to hold another version of it. But we withheld it all this while since our core technology was getting ready. This time we have decided to opt for SOPF-Exclusive with Unnati Fortune Group and take our customers a totally different experience when searching and buying real estate – one that also allows us to offer them exclusive and deep discounts."
The event is expected to generate around 3000 queries and transaction worth INR 50 crores over 3 weeks. Further details of the event could be found at www.superise.com
Comments
comments