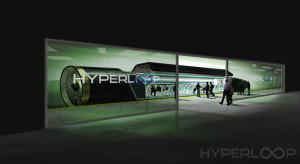 11 May 2016, USA :
Hyperloop Technology, a Los Angeles based company working to develop the futuristic transportation technology now became Hyperloop One and on Tuesday announced the closing of $80 million in financing and said it plans to conduct a full system test before the end of the year.
Tomorrow, Hyperloop One will showcase its propulsion system in the Nevada Desert outside of north of Las Vegas. The company says that it can currently hit 400 MPH along an open-air test track but is shooting for 700 MPH within the confines of a vacuum-sealed Hyperloop tube.
CTO and Co-founder Brogan BamBrogan said that the company would have a full system, full scale test (a pod racing through a tube) by the end of 2016.
If successful, Hyperloop One is looking beyond passengers to cargo. BamBrogan even hypothesized the potential of moving an entire port offshore and using underwater Hyperloop tracks and pods to move goods from ships to the land. This would expand the company's idea to put tubes underwater along the shoreline.

Shervin Pishevar, Hyperloop One co-founder and venture capitalist said, "The overwhelming response we've had already confirms what we've always known, that Hyperloop One is at the forefront of a movement to solve one of the planet's most pressing problems.The brightest minds are coming together at the right time to eliminate the distances and borders that separate economies and cultures."
Along with the name change and new financing, the company added some hefty global partnerships. AECOM, AMBERG Group, ARCTURAN SUSTAINABLE CARGO, ARUP, Bjarke Ingels Group, Cargo Sous Terrain, Deutsche Bahn Engineering & Consulting, FS LINKS, GRID, KPMG and SYSTRA will join Hyperloop One to build the future of transportation.
Images : engadget.com