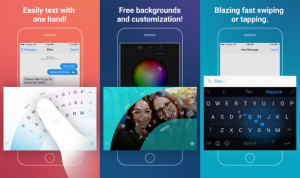 25 April 2016, USA :
Microsoft has launched its predictive, one-handed keyboard in Apple's App Store. Microsoft's Word Flow Keyboard for iOS allows users to replace their existing Apple keyboard with Microsoft's alternative.
Microsoft Word Flow Whether you're tapping or swiping predicts what you're trying to type and corrects mistakes.
Microsoft stated, "Word Flow intelligently suggests the next word in your sentence, and gets better at it over time. With access to your Contacts, Word Flow predicts the names of your contacts so you can go even faster."
There's a curved, one-handed mode too. With a gesture, the Word Flow keyboard can morph into a circular layout in a corner, allowing access to all keys with just one finger. It may be handy if you are in a pinch, especially on larger, 5.5 inch iPhone screens. Microsoft also bundles a set of backgrounds and themes for some additional customization options not found on its Windows Phone counterpart.
Microsoft's Word Flow garnered praise from those who used it, but it's one of many alternative keyboards in the App Store, including Swype and SwiftKey, which Microsoft acquired in February.
For now, Word Flow is available only in the English language. You can get it for free in the App Store, but availability is currently limited to just one region: the United States. No word yet on an international release. News of the US version first surfaced earlier this year.
Image : 9to5mac.com
Comments
comments