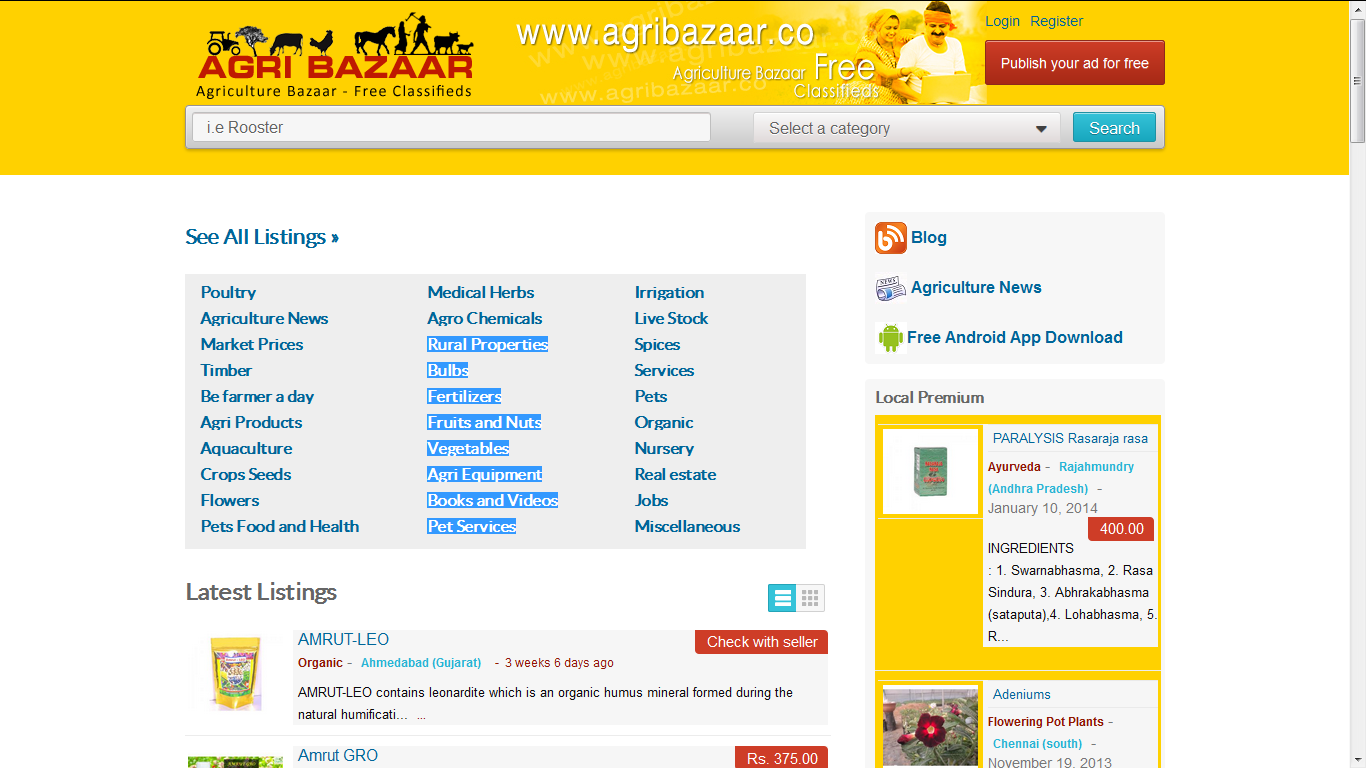 The Indian agriculture sector accounts for 18 per cent of India's gross domestic product (GDP) and employs around 50 per cent of the country's workforce. Size of the Indian agriculture industry is pegged at $160 Bn for 2015. Our agriculture is the backbone of our country ! Yet while every other business in the country is reaping the benefits of e-commerce, agriculture remains far behind. Venkata Narasimharao Chowdula, founder of AgriBazaar.co is all set to change this.
"It was in the winter of 2012 that I met my friend Murali Varma in a small village near Bhimavaram. His agriculture business has just gotten wiped out. He was trying to rebuild the business and was desperately seeking help in both distribution as well as procurement of seeds/saplings. Seeing his plight and the plight of many more like him, I was determined to help the farmers."
says Mr Chowdula. He then along with his cofounders, Ravi Jagannath and Vijender C started working on the idea of AgriBazaar.  The ground work for setting up the company started in October of 2013.
[box type="shadow" align="aligncenter" ]Agribazaar.co is an agriculture market place that connects farmers, vendors, market agents, consultants, food processing units and institutions on a common platform. The company works with the objective of providing high quality platform to promote and market agriculture based industries and services. AgriBazaar intends on becoming the leading online marketplace for buying or selling agri-related equipment, livestock, dairy, chemicals, agro tech, seeds, fertilizer, horticulture, food processing units etc.[/box]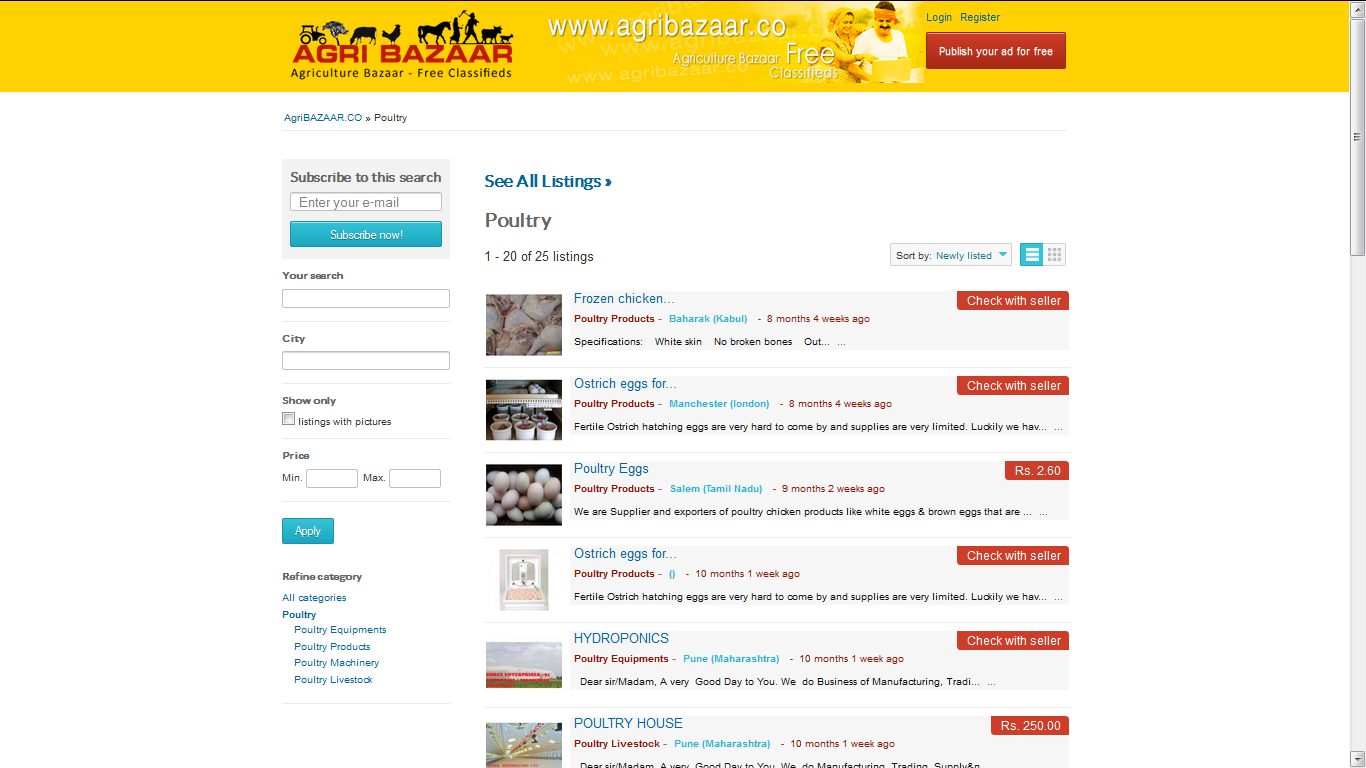 What makes Agribazaar stand out is their pan India reach that allows farmers to sell their produce across the country and also allows them in procuring seeds, fertilizers, agri-tech goods and other needs. The company has received a very good response from the farmers as well as traders.
Working in a sector as highly unorganized as agriculture, dealing with people who might or might not have access to internet connectivity and who might or might not even understand how the e-commerce industry works, starting and running AgriBazaar was a challenging tasks. The founders however seem to have found ways to work with these realities.
"One of the critical challenges was how do we register a farmer or other stakeholders easily as smartphones and internet are not easily available for this segment. To overcome this challenge we took registrations based on mobile phone numbers. We created a technology where these people could register through an SMS sent to the mobile phone from the portal."
says Mr Chowdula.The other challenge of educating people about e-commerce is an ongoing task and the team AgriBazaar is working day and night on the field  in overcoming the same.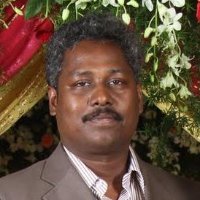 The team of AgriBazaar is a very strong team of founders with a number of years of experience in their respective industries. The three founders come from three different backgrounds which allows them to look at things from multiple perspectives and function as a strong team.AgriBazaar was founded by Venkata Narasimharao Chowdula, Ravi Jagannath and Vijender C. Venkata Narasimharao Chowdula is the Technology Head of the company and has 16+ years of experience in the IT industry.Ravi Jagannath is the Director of Sales with more than 18 years sales experience in one of the largest FMCG companies. Vijender C is the Director of Marketing and has more than 12 years' experience in Marketing and Sales.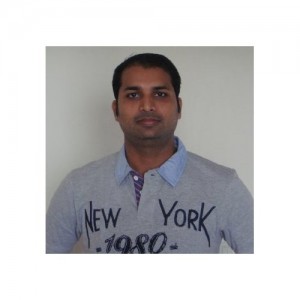 So what can we expect from AgriBazaar in the coming few months ?
"In the coming months, we will ensure region wise reach of this portal to all the stakeholders and look to facilitate commerce amongst local communities where stakeholders in the agri business are directly benefited.  We are also working on making the platform more robust and user friendly."
says Mr. Chowdula. The team at AgriBazaar is completely committed to their vision of helping the stakeholders in the agriculture business and are focused on building a strong presence in the country. They are currently seeing a very good traction from their stakeholders and are looking for seed funding to aid their expansion plans.
Comments
comments