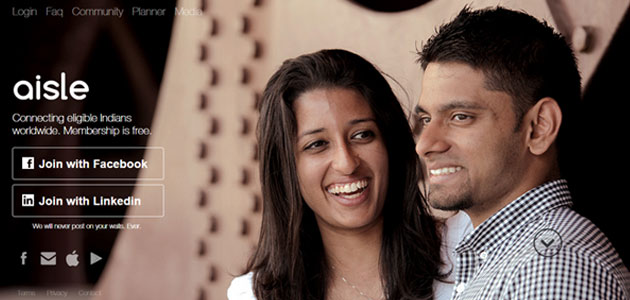 Aisle.co, an online club for single Indians, closed a seed round from angel investors from the Bay Area and India according to an Economic Times report. The company is said to have raised $100,000 in seed funding from a group of angel investors including Anand Vijay of Microsoft and Shashank Mehrotra of BigRock, among others.
The deal was closed on Chennai-based funding platform TermSheet.io. The funds will be used for hiring talent, with special focus on the technology team.
"Existing matchmaking sites are either dating apps used by a casual set of users or matrimonial sites that are used more by parents rather than people who might be interested in pursuing a relationship," Kurien said.
"We on the other hand are not a matrimonial website, but a social network for single Indians from around the world," he added.
Aisle.co was founded in July 2014 by Varun Joseph Kurien. Till date the site has acquired 4000 users from 30 countries with India, UK, US, Singapore, and UAE topping the list.
Comments
comments