Hello, Apple fans and tech aficionados! We're going to take you on an exciting adventure through the world of invention, so hold on tight. Prepare yourselves for the spectacular 15-inch MacBook Air's dramatic unveiling at the much anticipated WWDC23.
This marvel is a game-changer in every sense of the word; it is not your average laptop. It is poised to revolutionize the Mac market with its enormous 15-inch screen, amazing power, and featherweight design.
The icing on the cake is that if you act quickly, you can pre-order this beauty and get a lovely $50 discount off the retail price. You don't want to miss this, we promise!
Unleashing the Power of the 15-inch MacBook Air
Imagine a streamlined, sophisticated laptop that seamlessly mixes form and function. And that's just what the 15-inch MacBook Air offers. Apple's cutting-edge M2 CPU powers this cutting-edge smartphone, ensuring astounding speed and efficiency.
Apple's new 15-inch MacBook Air is the biggest one in the lineup, starting at $1,299. #WWDC23 pic.twitter.com/L5PiQnTt01

— CNET (@CNET) June 6, 2023
You'll be astounded by its performance whether you choose the entry-level model with 8GB of RAM and 256GB of internal storage or the top-tier one with a massive 512GB of storage. Oh, and did we forget to add the breathtaking 15-inch Liquid Retina display that will cause your eyes to sparkle with delight? Prepare to be swept away into a world of stunning images and brilliant colors. The battery life is the nicest feature, too. Be prepared to go up to an astounding 18 hours on a single charge. No more hiccups or rushing to find power outlets!
Apple 15-inch MacBook – Unrivaled Features for an Unparalleled Experience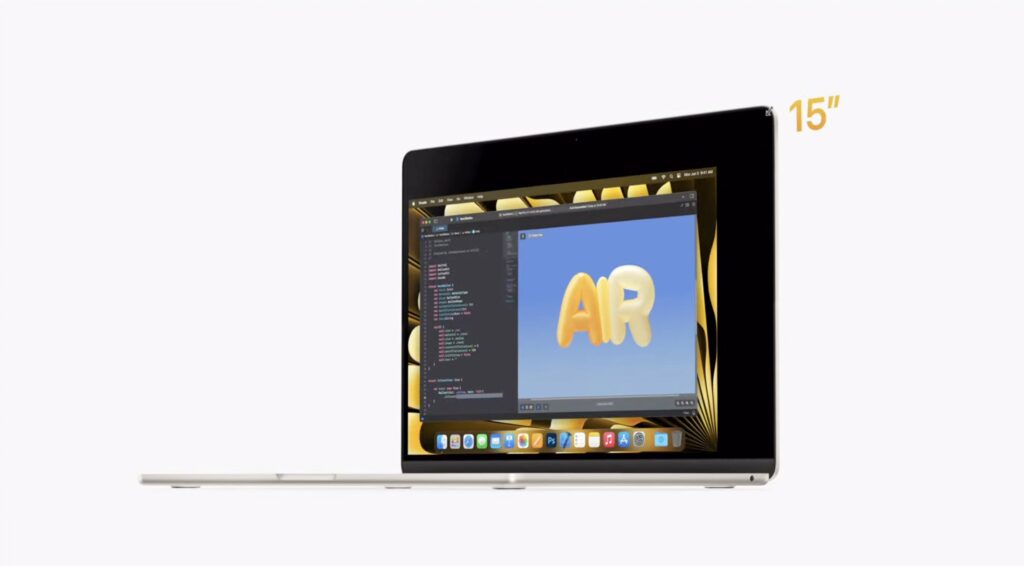 Apple's motto is "above and beyond," and the 15-inch MacBook Air is proof of this belief. With two Thunderbolt/USB 4 ports at your disposal, you'll have the ability to connect a wide range of devices and enjoy lightning-fast data transfer rates. Concerned that your cherished wired headphones may soon become outdated?
Be at ease! A traditional 3.5mm headphone port is included in the MacBook Air, allowing you to jam out to your favorite tunes without skipping a beat. Not to be overlooked is the renowned MagSafe charging connector, which makes charging easier than ever. Apple has made every effort to provide users with a seamless and exceptional experience.
Why Choose the 15-inch MacBook Air?
You might be thinking, "Why should I choose the 15-inch MacBook Air when there are so many portable laptops available?" Well, let us inform you, dear reader. Other laptops could be comparable, but none can match the strength and dexterity of this M-series wonder running macOS.
The height of sophistication and performance in a sleek, lightweight compact. The enormous 15-inch display will offer comfort to artists searching for a blank canvas on which to execute their creative thoughts. And those who have difficult workloads need not worry! The MacBook Air will complete work quickly, ensuring that you stay in the lead.
Irresistible Pricing and Color Options
Let's discuss numbers now. For a fair price, you may own the true epitome of innovation—the 15-inch MacBook Air. The cost of the entry-level 256GB model is $1,250, while the more expensive 512GB variant is $1,450.
But wait tight because you can save a cool $50 off the retail price with our exclusive pre-order offer. You did read that correctly. Along with owning the most recent MacBook Air, you'll also have some additional money in your pocket. You may select from Silver and Midnight, two lovely colors, to give a little unique style. Savings and customization? Include us!
Conclusion
Ladies and gentlemen, let me introduce you to the 15-inch MacBook Air. Once again, Apple has exceeded expectations and raised the bar for laptops. Power, portability, and innovation are effortlessly combined in one cutting-edge gadget like nothing before.
Don't pass up the opportunity to lead technical improvements. Pre-order your 15-inch MacBook Air today to receive a $50 discount and be ready to set out on an exciting voyage.