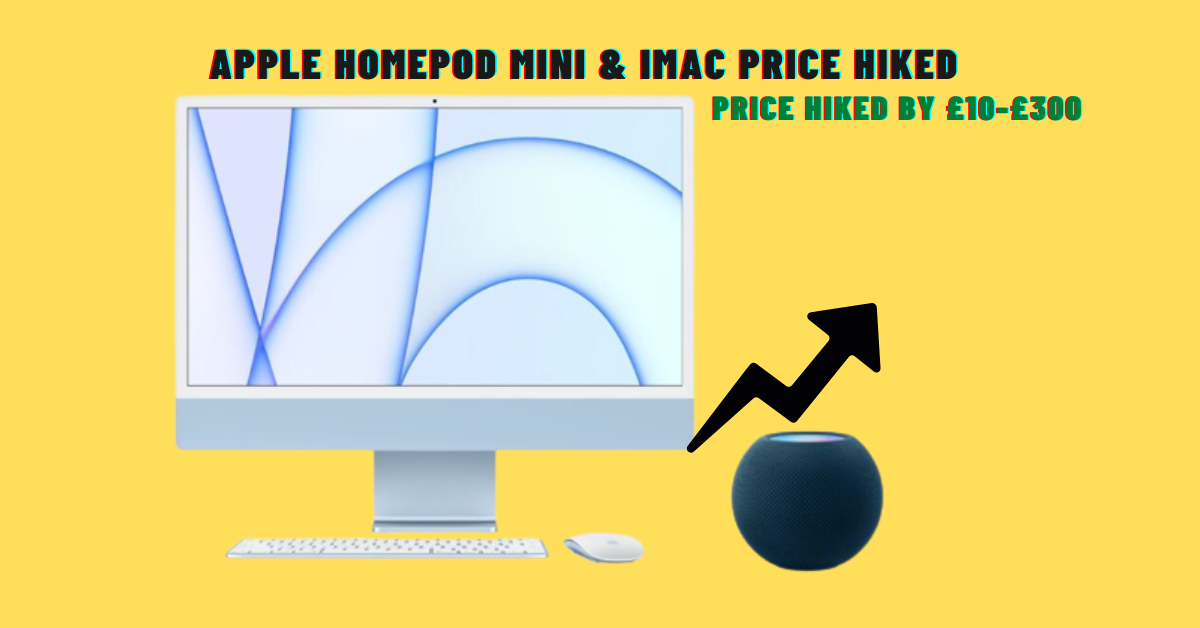 Apple's new speaker, HomePod Mini, and the new computer, the Apple iMac see a smaller price increase in the part of UK as well as in Europe. The price hike was made soon after the launch of the new second-generation, Apple HomePod was confirmed.
Apple HomePod Mini and iMac Price Hiked In UK & Europe 
However, the cost of the speaker has now increased by at least £10. The price of the new HomePod has not changed significantly.
However, you will be able to get a new iMac for the higher price of £150 if you have been seeking to purchase one recently.
Regarding pricing, it has been said that the UK would experience a similar price hike. Additionally, it has been reported that the UK would have higher prices than the rest of Europe, with the HomePod Mini costing £10 more and the iMac costing £100 more.
Although, Apple never announced the pricing the price hike for fortunately discovered by a popular publisher named The Apple Post.
Are there any other Apple products that will be going on sale?
The pricing is not only increased for the Apple HomePod Mini and Apple iMac but infact many users also said that the new Apple MacBook Pro which includes a 14-inch, as well as the 16-inch model, has got a price hike too.
As per reports, the new Apple MacBook Pro has got a notable price hike of £250 for the 14-inch model and the 16-inch model gets a price hike of £300.
The MacBook Pros went up £250 for the 14" and £300 for the 16"

— Jack Roberts (@jacklroberts) January 19, 2023
Talking more about the price hikes, here it's been said that the price hike of the new Apple gadgets has been also reported in other regions including Europe, Austria, Ireland, France, Germany, Italy, and even in Spain too.
However, the Apple iMac's pricing has stayed the same within Germany as well as Ireland too. However, in France, the price hike was not so big.
What does the Apple HomePod Mini feature?
Apple HomePod Mini is a miniature version of the Apple HomePod series. Here the new smart speaker comes with the same high-quality fabric wrapped around it.
If we move to the internals, here it's been said that the new speakers come with a dedicated new S5 chipset and U1 chip too. The speaker has been surrounded by a four-set of microphones.
There are other features like Sound Recognition, temperature and humidity sensors, and the Stereo Pair feature too.
What does the Apple iMac Feature?
Talking about Apple iMac Computers, here you will get to see a bigger 24-inch panel on the front side where you will get a dedicated new 8-core CPU combined with a 7-core GPU too.
Also, this new iMac has been launched with 256GB of internal storage combined with a faster 8GB of unified RAM memory too.
Comments
comments