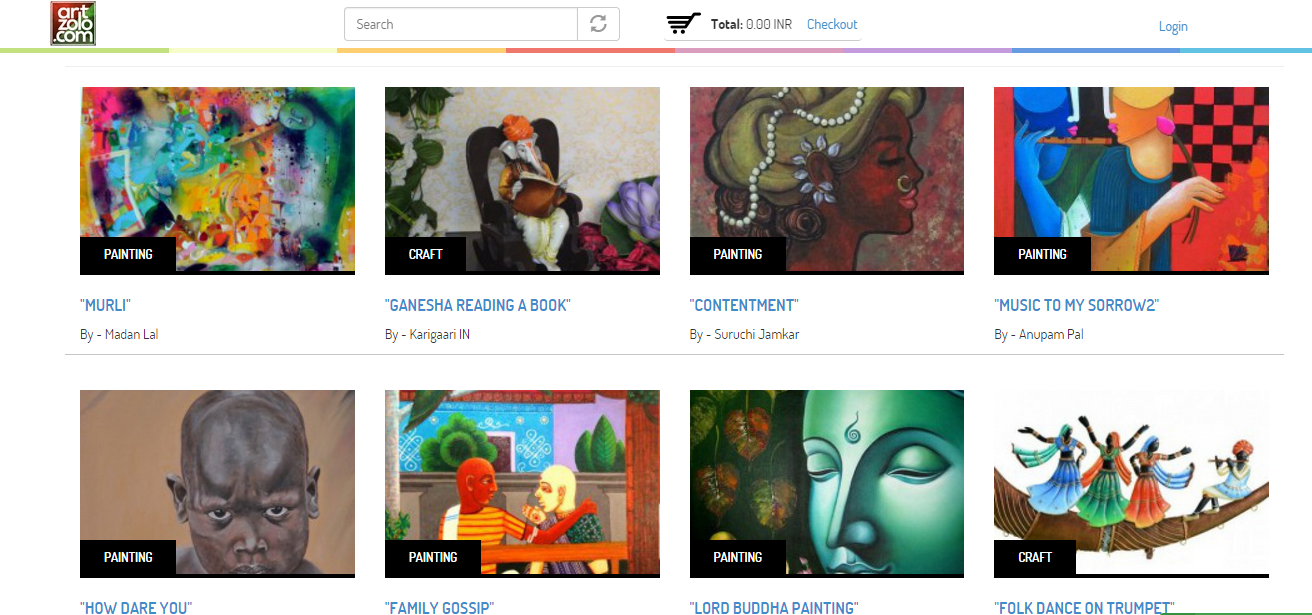 The online art industry has suddenly witnessed a growing demand for skilled artists and fine works of art. In this scenario, the invasion of e-Commerce has played an important role in the revival of the Indian art market. E-Commerce portals being prominent in almost every sector ranging fromFMCG, F&B to Luxury & Lifestyle goods has now extended into the world of arts. The Online marketplaces are witnessing increasing demand due to convenience and flexibility they offer consumers and businesses. The strength of the Indian art market is measured by taking into consideration two parameters i.e. the offline market size & demand and the online market size and demand. The size of art market in India is vast; paintings alone comprise 99% of the total market. As found in the latest research, the Indian art market is thought to be worth anywhere between Rs. 1000-1200 crore.
Techstory interacted with the founder of the ArtZolo.com– Mr.Vishal Singhal to discern the online art industry and explore the idea and product of the company. Here are the extracts of the conversation between Vishal and Techstory:
1. Tell us about your company and about your product. When did the company start? What is the addressable market and underlying opportunity you are going after?
ArtZolo.com can be described as an online marketplace to discover and own, affordable authentic art. ArtZolo allows emerging and established artists to exhibit, promote, and sell their works directly to the art aficionados/lovers who value ideas, quality, craftsmanship and originality; thus making art more accessible and the art market more transparent. The marketplace is a product of Singhal Labs, formed in Kochi in October 2013. The company, established in 2014 and based out of Mumbai, has seen a lot of traction from Dubai, US and enquiries from Europe. ArtZolo evolved out of IIT Kanpur's SIDBI Innovation and Incubation Centre. We are also a part of acceleration provided by Zone Startups India, a joint initiative by Bombay Stock Exchange Institute andRyerson University.
ArtZOlo.com. hosts 4 types of art – original art, art prints, custom works and commissioned works. ArtZolo.com sells a host of art reproductions and prints of popular and highly acclaimed works. We offer a comprehensive collection of objects d'art and crafts along with a plethora of choices for home decoration, including lamp shades, utility home products and intricately carved figurines products which are distinguished by their artistic finery.
With the ever-growing middle classes family in India, and a need to make their walls/spaces unique, there is an ever-growing demand for discovery of art as well. We are making the process of discovery easier and buying faster.Most of our buyers at ArtZolo.com are from a younger demography, contradicting what we have traditionally known art lovers of.
2. What is your product differentiation and competitive advantage? 
There are sites that do pieces of what we do. We are a marketplace/aggregator of arts & crafts along with the option of art prints and custom prints on canvas which makes us unique.
We have received amazing response from both artist and art lovers. We have grown significantly in the past year to add a wide range of artworks and crafts from various parts of India. We have served institutional, retail consumers from both India and Abroad.
3. What inspired you to start this venture?
The main idea behind ArtZolo.com was to ensure 'Art for All'. We strongly believe that there are barriers around the art space that had previously been created thereby setting a wrong tone and perception about art to the outside world. We are here to break those barriers and ensure that we push ourselves harder in the space.
ArtZolo.com was born with a dual purpose of solving a very large perennial problem of art, discovery for art lovers and a social cause of helping artist exhibit their works online. Along with Preeti Singhal, co-founder, at ArtZolo.com – who has a background in Interior designing, we have identified some of the gaps that exist in this space and working in that direction. 
[box type="info" align="" class="" width=""]About Founders: Vishal Singhal and Preeti Singhal. Vishal- MBA, M.Sc (Software engineering). Vishal has a wide range of experience across different verticals. After his graduation in Software Engineering, he worked for over 4 years with Infosys in Bangalore and US. During his MBA, he was picked as one of the key members to work on one of the largest retailers in the world for a project fuelled by high degree of Innovation. Post MBA, he worked in New York and Toronto in one of the world's leading Brand Management firms, WPP as a Sr. Business Consultant dealing with top-level executives. He is a 3rd generation entrepreneur. On the other hand, Preeti – Degree in Design, B.Com. Preeti holds a degree in both Commerce and Design. After studies, she took major responsibilities in operations and delivery for her existing entrepreneurial business in Textiles. She is creative and understands various aspect of business from operations to delivery to consumer behaviour. She has worked for over 6 years in her family business. Currently she is leading all efforts at ArtZolo which has gained significant market traction.[/box]
4. Tell us about your journey so far .What is the current team size, revenues and in how many cities have you expanded to? 
We have 5 people working for us and we do plan to increase our team size in the near term. The journey so far has been amazing. We were highly inspired by few supporting family and friends who were into the art scene and they helped us gather momentum at the start of our project.
5. What are the most critical challenges you have faced and how you overcame those? 
Educating an end consumer that quality art by quality artists has better commercial and aesthetic value compared to posters, imported art has been a great challenged posed to us. Well! So far through our efforts, we have been able to pursue customers to rely on us and that's what is drawing customers to us.
6. Some exciting learnings/moments in your journey so far which you would like to share with all of us?
Art Industry fundamentally has very different consumer behaviour. Since art is both subjective and relative, consumers behave different to the same piece of work. Additionally, we have learned a lot about evolution of business – how important it is to constantly evolve and keep pace with market changes.
7. What can we expect from you in the coming months?
We are keeping it fairly simple. We are not looking to go boom basic at this point. We are focused on strengthening our basic offerings by adding few more interesting ideas along with exploration of new avenues for consumer to consumer. In the next 3 years, we do plan to look to enter international market along with more product/service offering to industries that are willing to consume art & craft in its native form.
8. Are you looking for funding?
Yes! We are in talks with angel investors and high net worth individuals to raise up to $200,000 in what would be called a bridge round of funding.
Comments
comments