AstraZeneca is looking forward to spin off its business operations in China and rather list it in Hong Kong or Shanghai in order to protect the multinational drugmaker from geopolitical tensions.
The largest stock-market-listed company in Britain has unveiled its plans in order to protect its business from the fallout due to surging hostilities between China and the US and its partners.
Top liaison at the Anglo-Swedish company have been in talks to execute the move with bankers for several months, however it could still be wiped out, according to an earlier report by the Financial Times.
The spin-out would mean Astra to re establish its position in China into a new legal entity and lists it on a stock market in Asia while holding control of the business.
If this happens, then the drug maker, which is presently valued at about £180bn, could prevent the business from any potential crackdown on its businesses abroad by Chinese authorities.
Relations between Beijing and Washington have become strenuous but the visit of US secretary of state Antony Blinken to China earlier this week can be seen as a potential improvement in the relationship.
On Monday, State-run Chinese tabloid Global Times said in an editorial: "Despite very low expectations for any breakthroughs made during Blinken's visit to China, there is still hope that both sides can maintain their 'bottom line' in the relationship."
Beijing has made it specific that Taiwan is the most prominent issue, and a potentially dangerous one. "Qin Gang pointed out that the Taiwan issue is the core of China's … interests, the most important issue in Sino-US relations, and the most prominent risk," Chinese state media quoted Qin as having told Blinken.
In reciprocation, Blinken stressed "the importance of diplomacy and maintaining open channels of communication across the full range of issues to reduce the risk of misperception and miscalculation", state department spokesperson Matthew Miller said.
US officials and analysts anticipate that Blinken's visit will carve the way for more bilateral meetings in future months, with possible trips by Treasury secretary Janet Yellen and commerce secretary Gina Raimondo.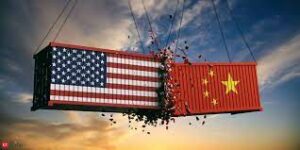 On Monday, Blinken was welcomed by China's top diplomat, although it is still not clear whether he will meet President Xi Jinping during the first visit by a US secretary of state to China in the last five years.
Biden also talked of the balloon episode as Blinken was heading to China, saying: "I don't think the leadership knew where it was and knew what was in it and knew what was going on."
"I think it was more embarrassing than it was intentional," Biden told reporters on Saturday.
"I'm hoping that, over the next several months, I'll be meeting with Xi again and talking about legitimate differences we have but also how there's areas we can get along," Biden said.
China has become an important market for AstraZeneca, which is best known in Britain for its Covid-19 vaccine that was developed in association with Oxford University during the pandemic.
The Asian nation made up 13 per cent of AstraZeneca's worldwide sales in 2022, flowing forth revenues of approximately $6bn of a total $44bn, making it the biggest overseas pharmaceuticals company via sales. Revenues from the US, its largest market, were around £18bn.
Astra has marked out Chinese biotech firms for take overs and discussed strategies for growth in the country. On acquiring the rare disease specialist Alexion for $39bn (£30bn) in 2020, it identified China as an important market to benefit the company.
A spokesperson said: "AstraZeneca does not comment on rumours or speculations around future strategy or mergers and acquisitions."