Byju Raveendran, the founder of the most valuable ed-tech company around the world, is in discussions to expand his ownership position to a maximum of as 40%, according to sources familiar with the case.
According to the individuals, the former instructor is searching for funds to utilize as collateral in his stocks to finance the stake buybacks, which might comprise up to 15% of the corporation.
The previous time Byju raised capital, the firm was evaluated at $22 billion; although the buyback might occur at a cheaper price, the people said, asked to remain anonymous to disclose private negotiations.
The Bangalore-based company, previously known as Think & Learn Pvt., was founded in 2015 but aborted intentions for a public stock debut whenever the world's markets collapsed in 2017. In contrast to the Chan Zuckerberg Initiative, Sequoia Capital India, Blackrock Inc., and Silver Lake, Raveendran holds approximately 25% of the firm.
The people stated that negotiations with shareholders and financiers are still in the initial phases and might fail. According to researcher Tracxn, Byju has so far generated more than $5 billion. An email requesting clarification on the fundraising efforts received no response from a company spokesperson.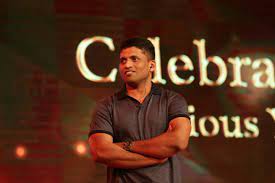 To become financially beneficial by March, Raveendran is in the process of revamping the corporate purpose and lowering marketing expenses. Last March, he invested $400 million into his firm bearing his name, boosting the founder group's ownership by 2 percentage points to around 25%.
If the transactions go through, it will be an unusual scenario for an Indian founder-entrepreneur to grow ownership in a major firm. Giving away stakes and control to raise money for development has been the current trend.
Last month, The forum presided over by Sanjeev Batra, declared that BYJU must repay the severance and legal fees along with compounded at a rate of 8% per year from November 2019 until the date of actual payment.
Ritu Goel, a resident of JJ Enclave, Dugri, Phase-III, filed a lawsuit on December 23, 2019, demanding a return of 44,500, interest and damages of 50,000, and a payout of 15,000 for attorneys fees.
In her claim, Goel alleged that on October 6, 2019, she had enrolled her daughter Ananya, a Class 9 student, in a web – based learning programme from BYJU'S. She mentioned that BYJU staff had promised that she may return to the programme within 15 days if she wasn't satisfied.