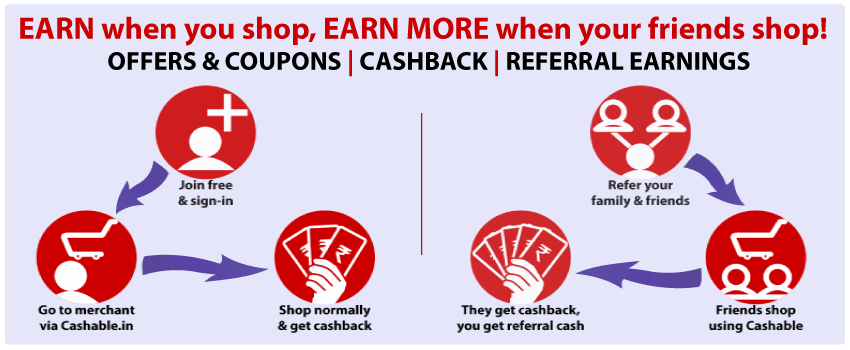 E-commerce is an area where there is most activity happening at this point in time in India. An in spite of so much activity, the e-commerce industry is said to be at a very nascent stage in the country thanks to the huge consumer base which still remain untouched by the online shopping buzz.
In times like these, the e-commerce sites are working relentlessly to find newer ways to woo the Indian consumers at the lowest possible cost. At the same time, the price sensitive Indian consumers are looking for the best possible deals available online. In such times, Cashable.in seems to be at the right place at the right time.
[box type="shadow" align="aligncenter" ]Cashable is a discounts, coupon and cashback platform based on social-commerce model. The company offers discount, coupon and cashback for most of the top eCommerces companies in India. Shoppers can then refer the company on social media portals such as Facebook, Twitter, Google+ and earn commission every-time there friends shop via Cashable.[/box]

"Discounts and coupons are been around for a while now and shoppers are aware of them and using them already to save. Cashback is something which is new for most of the shoppers. As it is real cash back of upto 10% of the actual transaction; most of the shoppers make sure that they use this savings opportunity."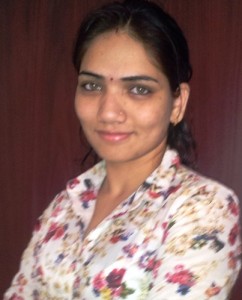 says Yamini Dhote, Founder of Cashable.in. Yamini founded Cashable.in in November 2014 can believes that there are three main reasons that make her company stand out from the rest.
Best & honest cashback rates: The company pays 90-95% of the commission that they get for each transaction to shoppers as cashback and referral. The company also provides best possible discount which is 10% greater than their competitors in 90% of the cases.
Referral commission: Cashable.in provides referral commission for referring Cashable on every transaction. Referrals on Cashable are for lifetime as opposed to fixed referral fees paid by the competitors. The referral rates are published along with cashback rates and referral payment is transparent.
Technology : plays a key role for tracking cashback & referral. Cashable.in have built a robust platform for the same and partnered with the India`s best affiliate marketing platform to make sure than not a single transaction is missed.
Within in a month of starting the company, Yamini has been able to partner with 500+ top e-commerce companies such Amazon, Flipkart, Myntra etc and is rapidly growing the company's network to support rest of the e-commerce companies. They are currently a team of 4 distributed in Pune and Bangalore and provide services across the country.
As the entire world is moving to mobile so is Cashable and within a few months, Cashable is expected to come with up their own mobile application.
Cashable is a tried and tested formula in the market to a large extent. The success of the company will depend on its ability to market itself to the right target audiences. The company is currently looking for funding for the same.