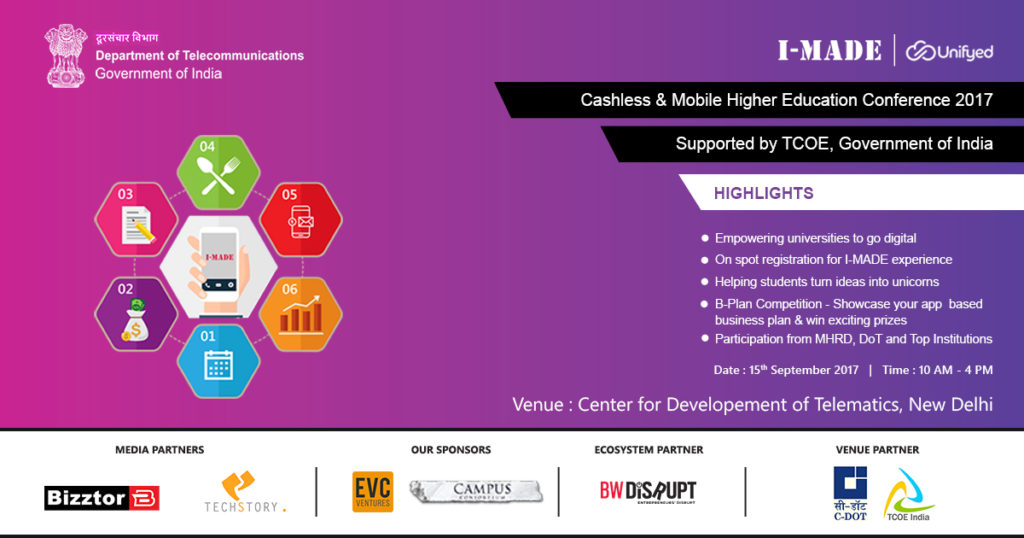 When Prime Minister Modi initiated the Digital India Campaign, his vision was to provide a digital infrastructure, deliver services digitally and most of all 'Universal Digital Literacy' to all. Keeping the PM's vision in mind, I-MADE initiative along with the Department of Telecommunications welcomes you to the Cashless & Mobile Higher Education Conference 2017.
With more than 35,000 institutions, 20 million students and a million plus apps, I-MADE initiative is helping universities go mobile at 'No Cost at all'.
Highlights of The Conference
Empowering Universities to go digital
B-Plan Competition – Students showcase their app-based business plan & win exciting prizes
Participation from MHRD, DoT and Top Institutions
Network with seasoned Global Investors
The goal of I-MADE initiative is to help colleges digitize their resources and processes to derive better student-faculty engagement and help facilitate information access on the go.
It is also designed to provide students training on different aspects of mobile app development to encourage entrepreneurship with a goal of building 1 million mobile app start-ups.
Conference Agenda
Registrations
Introduction by TCOE | Awareness about I-MADE Program | Keynote Session
Smart Campus Experience
New Initiatives For Existing and New Schools
Fast Track Your Entrepreneurial Journey
B – Plan Competition | Top 10
Networking
Venue: Centre for Development of Telematics, New Delhi
Date: 15th September 2017
Time: 10 AM – 4PM
Register for The Conference Here