In the vibrant streets of Singapore, where economic prosperity meets impeccable infrastructure, there's an elusive dream that's slowly slipping away—a dream that many once held dear: the dream of owning a car. Singapore's Certificate of Entitlement (COE) system, designed to regulate the number of vehicles on its roads, has driven car ownership costs to astronomical heights. Now, in the wake of a post-pandemic recovery, the prices are soaring higher than ever, leaving middle-income Singaporeans pondering a question: Is car ownership still a dream or an unattainable mirage?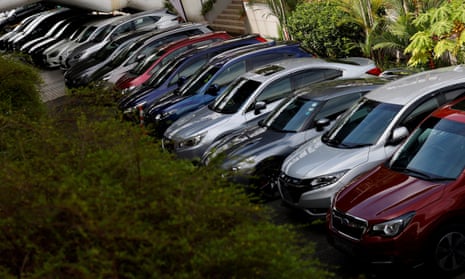 Credits: The Guardian
The Certificate of Entitlement System: Controlling Ownership
At the heart of Singapore's vehicular control mechanism lies the Certificate of Entitlement (COE) system. This ingenious scheme requires aspiring car owners to engage in a fierce bidding war for a certificate that grants the right to own and use a vehicle for a decade. However, there's a twist—the number of COEs available is limited, creating a competitive frenzy that sends prices skyward.
Record-Breaking Prices: The Great Ascent
The price of COE has increased dramatically in recent years. As the world struggled to contain the pandemic in 2020, COE prices briefly decreased to about S$30,000. However, as the economy came back to life following Covid, more Singaporeans flocked to buy vehicles. The COE supply was still limited at the time, which caused prices to skyrocket. In 2023, the price of a COE for a large automobile, for example, will approach S$146,000 ($106,000), a startling increase.
Implications for Middle-Income Singaporeans: Dreams Deferred
The repercussions of these exorbitant car ownership costs reverberate widely, especially among middle-income Singaporeans. With the median annual household income hovering at S$121,188, the gap between earnings and car ownership expenses is gaping. The once-cherished "Singapore dream" of achieving upward social mobility, complete with a car, now teeters on the brink.
Societal Impact: Shifting Aspirations
Sociologist Tan Ern Ser notes the diminishing allure of the "Singapore dream." It once encompassed cash, a condominium, and a car—a trifecta of success. However, with cars now out of reach for most middle-income individuals, aspirations are evolving toward a "good enough life" rather than the elusive "good life."
Economic Impact: Ripples in the Economy
The high cost of car ownership extends its reach into the economy. While some are selling cars purchased when COE prices were lower to make a profit, many others can't afford a car at all. This declining demand may potentially impact the automotive industry in Singapore, affecting car dealerships, manufacturers, and related businesses.
Comparative Analysis: Singapore vs. the United States
Consider the significant difference in car ownership prices between Singapore and the US to put things in perspective. Standard Toyota Camry Hybrids are outrageously expensive in Singapore, costing S$251,388 ($183,000), compared to just $28,855 in the US. The stark difference draws attention to the tremendous financial hardship that Singaporeans face when they purchase cars.
Adapting to the New Reality: A Shift in Priorities
Faced with astronomical costs, Singaporeans are reassessing their life priorities. Jason Guan, an insurance agent and a father of two, typifies this change. He purchased his first car, a Toyota Rush, in 2008 for S$65,000, including the COE. Today, he lives without a car, focusing on other aspects of Singaporean life—the country's robust education system and its reputation for safety and security.
Companies and Their Roles: Navigating the Challenges
Several entities are profoundly impacted by Singapore's soaring car ownership costs:
Automobile Manufacturers: Companies like Toyota, which manufacture cars popular in Singapore, may witness reduced sales as the market becomes increasingly unaffordable for middle-income consumers.
Car Dealerships: Dealerships in Singapore could face a slump in business as the high cost of car ownership deters potential buyers.
Government: The Singaporean government, which introduced the COE system to regulate vehicle numbers, must now reconsider the system's effectiveness in light of its societal and economic implications.
Conclusion: Navigating the Road Ahead
The desire for many people to own an automobile is evolving along with Singapore's cityscape. The COE system, which was first designed to control traffic and car numbers, has unintentionally turned into a barrier to middle-class Singaporeans' goals. The automobile sector, decision-makers, and individuals all need to work together to negotiate this altering terrain in the face of this growing threat. Although the world's most costly city to possess a car creates significant obstacles, Singaporeans may find new chances for mobility and growth as they adjust to this new reality.