In a significant move, China's cyberspace regulator has declared that Micron, America's leading memory chip manufacturer, poses "serious network security risks." This announcement marks China's first major action against a US chip maker, further fueling the growing tensions between Beijing and Washington. The Cyberspace Administration of China (CAC) decision prohibits using Micron products in vital infrastructure projects within the world's second-largest economy.
The escalating dispute between the US and China over crucial technology has witnessed Washington implementing measures against Beijing's chip manufacturing industry while heavily investing in America's semiconductor sector. These actions have sought to protect national interests and maintain dominance in a key industry of global economies.
The CAC's statement indicated that Micron's products pose significant security risks to China's critical information infrastructure supply chain, impacting national security. However, details about the identified risks or the affected Micron products were not disclosed.
Micron, in response, confirmed that it had received the CAC's notice following the review of its products sold in China. A company spokesperson stated that they were assessing the conclusion and considering their next steps while expressing a commitment to engaging in further discussions with Chinese authorities.
US Vows to Address Market Distortions as Micron Faces Share Price Drop and Uncertainty in China
The US government responded by pledging to collaborate with its allies in addressing the "distortions of the memory chip market caused by China's actions." A spokesperson from the US Commerce Department denounced the restrictions as baseless and inconsistent with China's claims of market openness and regulatory transparency.
News of the ban caused a 5.3% drop in Micron's share price during pre-market trading in the US. However, analysts at investment banking group Jefferies suggested that the ban's ultimate impact on Micron would likely be limited since the company's sales in China primarily rely on non-governmental entities, such as smartphones and personal computers.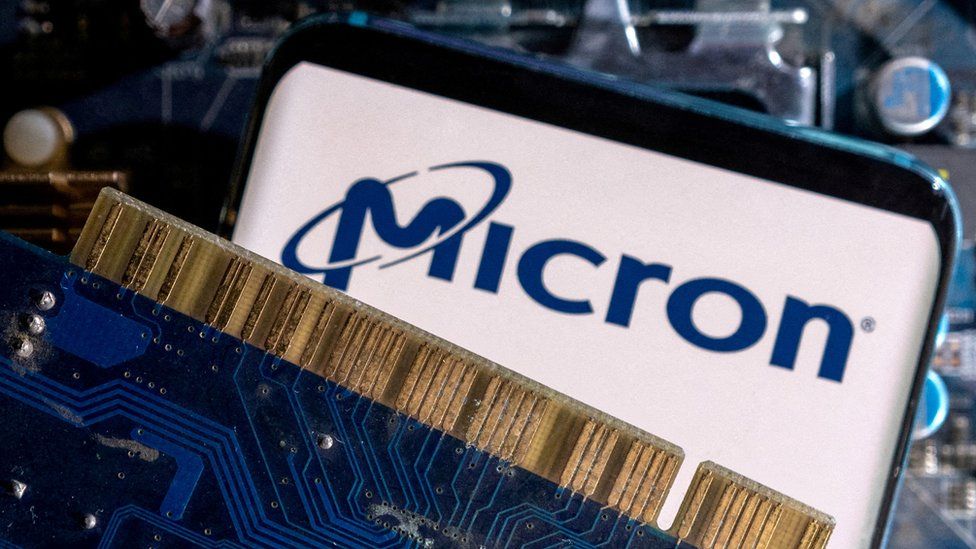 Despite this, analysts cautioned that Micron could lose customers in China who may shift their preference to competitors like Samsung and SK Hynix, both South Korean-based companies. Additionally, concerns were raised regarding potential supply chain disruptions and calls for South Korea to refrain from filling any shortfalls in China's memory chip market.
China represents a significant market for Micron, accounting for approximately 10% of its annual sales. In 2022, Micron reported a total revenue of $30.7 billion, with $3.3 billion originating from mainland China. The company also operates manufacturing facilities within the country, further underscoring its reliance on the Chinese market.
China's Ban on Micron Products Raises Tensions and Impacts Global Tech Landscape
The CAC's ban on Micron products comes at a G7 leaders' meeting in Japan, where a joint statement criticized China, particularly its use of "economic coercion." US President Joe Biden, speaking about the G7 nations' stance, emphasized the need to de-risk and diversify relationships with China, including taking steps to diversify supply chains.
Micron's CEO, Sanjay Mehrotra, and other business leaders participated in the G7 summit in Hiroshima. Micron recently announced a $3.6 billion investment in Japan as part of its strategy to expand technological capabilities.
The ban on Micron products by China's cyberspace regulator marks a significant escalation in tensions between the United States and China, impacting the global technology landscape. The move underscores China's determination to protect its critical infrastructure and national security while challenging US dominance in the semiconductor industry. The repercussions of this decision will undoubtedly have far-reaching consequences for both countries and their respective technological aspirations.
Micron, a prominent chip manufacturer, faces potential repercussions as its customers in China, mainly in the smartphone and personal computer sectors, may seek alternatives from rival companies like Samsung and SK Hynix, both headquartered in South Korea. With China being an important market for Micron, accounting for approximately 10% of its annual sales, the ban on crucial infrastructure projects poses challenges for the company. Furthermore, Micron has manufacturing facilities in China, further deepening its reliance on the country.
The decision by the Chinese authorities was announced shortly after the G7 leaders' meeting in Japan, where a joint statement was issued, expressing criticism towards China, including concerns over its employment of "economic coercion" tactics.
Comments
comments