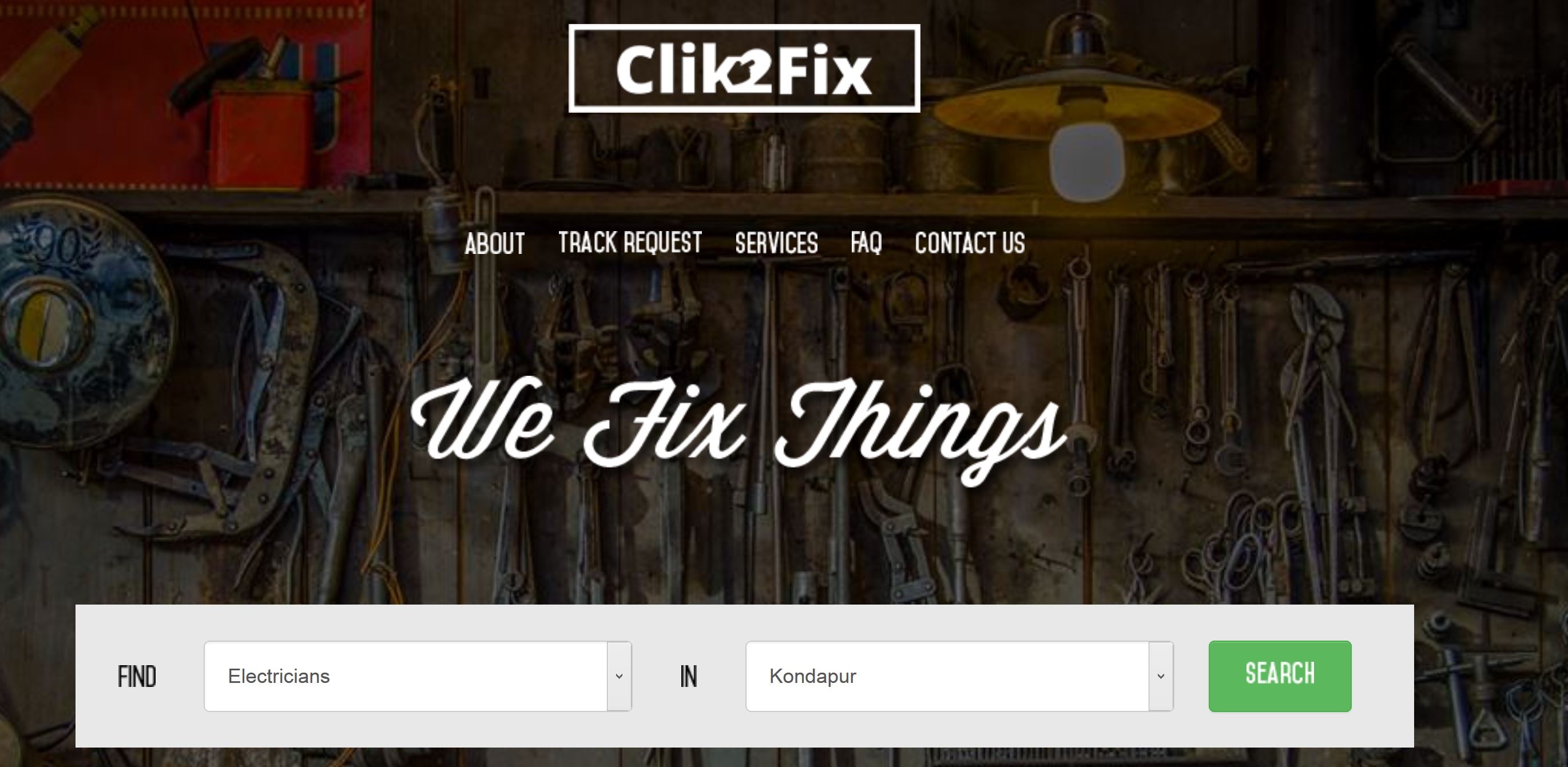 Have you had unsavory experiences dealing with plumbers and electricians which made you think "Why isn't this industry professional?" All of us know how hard it can be to find the right person for a common home improvement service, let alone the right person who is available, nearby, and within budget. Especially in times when security and dependability are major concerns, finding people for our home improvement needs has been a matter of concern.The guys at Clik2Fix now solve this problem for us.
[box type="shadow" align="aligncenter" ]Clik2Fix helps you accomplish the basic home needs or projects that are central to your life. Whether you need to paint your home, refurbish your house interiors, revamp your walls, repair electronic appliances, resolve dripping taps or relocate to a new destination. Clik2Fix lets you hire the right professionals for your needs in a way that is easy and dependable.[/box]

Clik2Fix introduces you to several interested, available, and qualified professionals across the Pearl City Hyderabad who have been well examined and duly verified by the background check teams. The company is currently operating in Hyderabad and plans on expanding soon to Vizag by March 2015. The company is currently incubated at Sunrise Startup Village.
Customers get started by answering a few questions about their specific needs. Within hours, Clik2Fix gives you estimates after due consultation and negotiation with several qualified professionals in your area. You can compare custom quotes, reviews, and profiles and hire when they're ready. All this with a booking cost of Rs100. Clik2Fix does not charge customers upfront and sends workers only after approval of estimates.
Clik2fix provides as many as 9 services. The website is an initiative of a registered firm GVK Priya Solutions established on March24, 2014. Clik2fix started operating only on Nov 7 2014 and has been receiving a number of orders already. The current team size is 5.
Clik2Fix was started by KVS Prakash and GV GiriBabu. KVS Prakash, a software engineer, along with GV Giribabu, who handles company budgets, resources and various other responsibilities,  launched Clik2Fix which would bring workers specializing in a variety of tasks under one portal for their user base to connect with and place orders from the comfort of home.
So what next for Clik2Fix ?
"We are constantly in touch with investors, a few offers are in the pipeline. We are concentrating to work solely on Hyderabad and Vizag and are trying to establish our brand in the 2 cities. Once established, we plan to spread to other parts of the country."
says Mr Prakash.
Comments
comments