As attending meetings are the worst part of employment, this company has decided to cancel all meetings. The decision to cancel all meetings, according to Shopify COO Kaz Nejatian, was made to bring in extra employee time.
"To start 2023, we're canceling all Shopify meetings with more than two people. Let's give people back their maker time. Companies are for builders. Not managers," Mr Nejatian tweeted. He further said employees should "be really critical" about which meetings to schedule.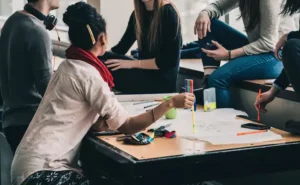 According to a firm representative, the adjustments to Shopify's corporate structure will lead to the elimination of 10,000 corporate events or the equivalent of more than 76,500 hours of meetings.
"The best thing founders can do is subtraction," Chief Executive Officer Tobi Lutke, who co-founded the company, said in an emailed statement, according to Bloomberg. "It's much easier to add things than to remove things. If you say yes to a thing, you actually say no to every other thing you could have done with that period of time. As people add things, the set of things that can be done becomes smaller. Then, you end up with more and more people just maintaining the status quo."
"We've introduced changes to reimagine how we can make the biggest impact on our mission of making commerce better for everyone," said Kaz Nejatian, Shopify's vice president of product and COO, in a statement outlining the plan.
"Uninterrupted time is the most precious resource of a craftsperson, and we are giving our people a 'no judgment zone' to subtract, reject meetings, and focus on what is most valuable."
All Wednesday meetings, meetings with 50 or more attendees outside of Thursdays from 11 a.m. to 5 p.m. ET, and recurring meetings with three or more attendees would be dismissed. According to the corporation, the adjustments will eliminate close to 10,000 events from employee calendars.
A calendar purging at the start of the year, according to Tim Magwood, partner, and co-founder of Toronto human resources consulting firm 1-DEGREE/Shift, is an "excellent" concept that can make leaders better aware of the sessions they're arranging.
"I think there are too many meetings that we are in as leaders and people that don't have a clear purpose," he said.
"If we are subtracting things to place an emphasis more on, you know, purposeful meetings that create connection, create community, create focus, that's great."
The concept is intriguing according to economist Linda Nazareth, host of the Work and the Future podcast. She told CBC Radio's Metro Morning that although she is uncertain whether it will be beneficial in the long run, the firm is making an attempt to acknowledge a change in workplace standards.
"I think it's kind of a realization that workers feel differently about things, they're more concerned about the value of their time," Nazareth said.
"I would be kind of scared that some of these managers will go back to, you know, what they're used to in the norms, but it's really great that they've at least acknowledged that this is a big waste of time."
Due to labour shortages and cultural shifts in how employees value work, other businesses are likely to implement various cutting-edge methods this year in an attempt to communicate with staff, she added.
"They might not try exactly this, but I think they'll try a lot of things because there has been a realization that workers aren't exactly the same as they were pre-pandemic," Nazareth said.