Corporate Collars™ is a one stop shop of all kinds of fabric and stitching needs. Corporate Collars™ on Wheels is a complete solution to your styling needs, with the convenience of getting your tailoring services right at your door step.
"Don't be into trends. Don't make fashion own you, but decide what you are, what you want to express by the way you dress and the way you live"

    – Gianni Versace
"Bespoke" is the catchy word now-a-days, people would die to get anything that was made exquisitely for them. This very trend was started with the clothes. We've come across quotes on Dressing like it is the way to express yourself without having to speak. Looks like people are more interested to use the voices of a brand, rather than their own voice. The number of people that still go for tailored-fit are very less. What could be the reason for it? When you're searching for something, what will be running in your mind? Find something that is similar to the one you're searching for or the exact one you're searching for? Exactly!
Then why does it have to differ when it comes to our cloaks alone? We're ready to accept anything that is close to our size, but not ready to wait for exact fit. A small is actually too small for us, and a large is sometimes too large for us. We stick to this, as we think of getting a fabric custom-stitched for us is going to waste our precious time and money that we might rather use for saving the world. Actually, even Bond has to look in his best while saving the world, that's how much clothes have influenced us. What if people could save the time and what if the entire custom-tailoring is right at your doorstep? With the hustle and bustle of city life corporates no longer wait for weekends to shop for there corporate look.
A tailor-made story
Custom-tailoring has historically been a pretty unorganized industry and has generally catered to the upper echelons of society. With Corporate Collars™, Harssh Chheda is looking to break the mould and offer custom-tailoring at a competitive price along with impeccable quality and service in an attempt to enable people to dress better without feeling a pinch on the pocket. They can simply have a makeover with the help of this van which will come down to the doorstep of their office.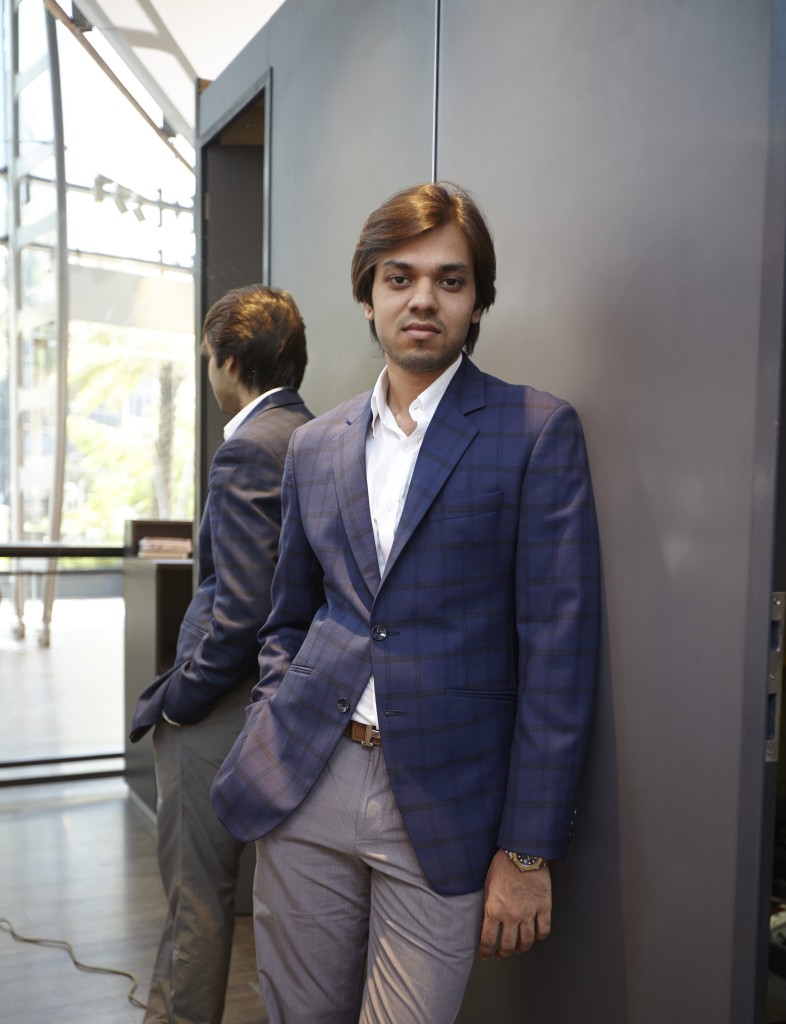 Harssh Chheda
Harssh Chheda, the 25 year old is a business honors graduate from Indiana University Bloomington's Kelley School of Business, U.S. with majors in Finance, Marketing and Entrepreneurship along with a minor in Psychology. When he returned to India, he could not find the right fit for his clothes. Frustrated by a lack of options for perfect clothing, he decided to start Corporate Collars™.
"If you can't be better than your competition, just dress better"

– Anna Wintour
Launched in November 2013, Corporate Collars™ is Mumbai's premier custom tailoring retail chain. Customization of clothing as per the preference or moods of the person with impeccable provision of fabric, is the USP of this brand. Offering an excess of 1500 fabrics to choose from in store, this unique concept allows the customer to create his/ her own unique look by designing and customizing their own shirts, suits, tuxedos, Nehru jackets and trousers.
Corporate Collars™ promises to offer an experience like none other with no compromise on the quality and fit provided to the customer. It is differentiated from the competition because it is a customer centric model that gives the customer the freedom to explore and experiment with their look in an extremely effortless and time-efficient manner.
The tailor-made edge
Corporate Collars™ on Wheels is their competitive advantage since it is a unique initiative that allows the customers to experience the same proprietary panache of retail stores in the comfort of their office/ residential building while saving on the travel time.
The mobile van which will travel around the city is sleek and refurbished with a novel approach. The van bequeaths all the facilities and truly reflects the aura of Corporate Collars™ and has been meticulously designed to enhance the ease of purchase for the customers with a wide variety of superior products.
With fabrics sourced from different parts of the world, specialized machinery from Italy and Switzerland, threads from Germany and the promise of the perfect fit, prompt service and precise tailoring, you no longer need to settle.
Ensuring the brand reaches every nook and corner of the city start up Corporate Collars are utilizing unique areas such as car parking lot in commercial spaces through it's mobile van and is trying to target consumers who do not have time for a click on computer. This business on wheels is ensuring to reach all possible places around corporate areas to ensure the convenience of consumers is not compromised for.
"The most important learning for me during this journey is that nothing works according to your timeline so whenever you create one make sure it isn't set in stone."
Those were the learning experiences of Harssh in his startup venture. It has been an extrememly steep learning curve for him, right from starting up as a one man company to have grown into a 24 membered strong team. All along their journey they had to gain the customer's trust and convert them from doubters to believers. It is difficult to convince people when you are a young brand but for the most part they were able to suppress their skepticism through the trust they had established with their customers.
Their revenues also have consistently grown on a YOY rate just north of 100%.
They are looking forward to continue to grow the Corporate Collars brand and exceed customer expectations and achieve the lofty targets and standards they have set. As of now, they are not looking for any funding, but somewhere along the line they might raise funds if the need arises.