AI technology is continuing to grow rapidly worldwide, with almost 10 to 20 new AI chatbots or tools being released every day. These tools have various functions, ranging from general features similar to chatbots and search engines to more specific tasks like summarizing, transcribing, creating charts, or generating images.
The diverse array of AI tools allows individuals and businesses to leverage technology in various aspects of their daily lives, making tasks more efficient and enhancing productivity.
With the increasing number of AI tools available, it's becoming difficult for internet users to keep track of all of them. Some tools are free to use, while others require a subscription. To help people navigate through the options, AI expert Rowan Cheung has compiled a list of the best AI tools for this week.
In this article, we will explore the features and functionalities of these top-performing creative AI tools.
1 – GraphyHQ
Graphy App is a tool that helps users easily create attractive and interactive data visualizations. Whether you're a student or a professional, Graphy can assist you in managing all your chart and graph needs.
Simply input your data into the chart generator, and the app's AI will create the graph for you. You can choose from different types of charts, customize colors, backgrounds, and size to suit your preferences.
2 – Webscape AI
Webscape AI provides a comprehensive solution for managing workspaces. It allows users to easily access and interact with all the information in their workspace. With Webscape, you can quickly find documents, retrieve important emails, and locate invoices without spending too much time.
If you need to find specific documents in your workspace but don't have time to search through all of them, Webscape can assist you. It can also help you recover missed important emails and retrieve invoices.
It simplifies navigation through numerous files, saving you time and effort. If you accidentally close a necessary tab, Webscape can help you retrieve it. Additionally, Webscape offers services like writing assistance, summarizing research, and looking up information.
2. Webscape

Your AI copilot for the web.

Seamlessly access, search, and interact with your information across the workspace.https://t.co/5QKNFp1gMc pic.twitter.com/65ZXMMGyXD

— Rowan Cheung (@rowancheung) May 31, 2023
3 – Freepik
Freepik AI image generator lets users easily create different styles and types of images. The tool uses Stable Diffusion and has a user-friendly interface, making it a great choice for users.
With the text-to-image generator, users can create photos, digital art, 3D art, and paintings simply by providing prompts.
4 – CapeChat
CapeChat is an AI application powered by the ChatGPT API, that prioritizes data privacy and security. It offers advanced encryption techniques and redaction of sensitive information, ensuring that user data remains protected at all times.
CapeChat supports various document file types, allowing users to upload and chat with multiple documents. Only the user can access their documents and messages, and data is even protected from the human staff at Cape Privacy, AWS, and OpenAI.
With a focus on data security, CapeChat integrates seamlessly with existing systems and tools, making it easy to handle sensitive data and automate tasks in fields like finance, security, compliance, and accounting.
5 – Tyles
Tyles is an amazing AI tool that makes note-taking and organizing information much easier. It is different from other regular note apps—it is even better! With Tyles, you can quickly create outlines for presentations, collect research for articles, polish reports, and keep all your knowledge organized.
It works really fast and is super easy to use, so you won't feel overwhelmed. Whether you're a student, professional, or just someone who loves learning, Tyles helps you be more productive and keeps your notes tidy.
6 – Fina.xyz
Fina is an AI financial advisor that can assist you in effortlessly and effectively managing your personal finances. As mentioned on its website, Fina is a complete solution that covers all aspects of your financial journey.
Fina can assist you with organizing your expenses, planning your budget, setting limits on transactions and spending, and performing calculations. Your information is kept secure through high-level encryption similar to what banks use. Additionally, Fina can provide helpful insights about your own financial situation when you ask for them.
7 – Codefy AI
Codefy AI is designed to assist coders by providing a range of helpful tools. It can help with writing code, explaining code concepts, fixing errors in code, comparing different code versions, and translating code into different programming languages. With its versatile set of features, Codefy can be a valuable companion for coders during their work.
Coders can use pre-programmed templates or forms, and AI tool will provide accurate results without the need for coders to spend time writing repetitive instructions.
8 – Perplexity
Perplexity for Android is a chatbot that works like an intelligent assistant, just like ChatGPT developed by OpenAI. It helps users by allowing them to search for information, discover new things, conduct research, and learn various topics.
The user interface, which looks similar to ChatGPT, has a section that shows popular requests and searches within the application. If you sign up, you also get free access to a GPT 4 copilot.
9 – Reimagine by MyHeritage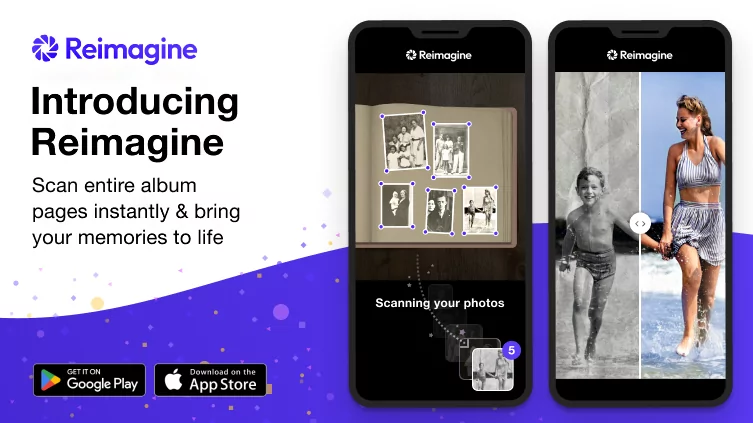 Reimagine AI by MyHeritage is a powerful tool that uses artificial intelligence to make old photos look better and more lively.
It can remove scratches and wrinkles, add color to black-and-white photos, improve the quality of old pictures, and even bring faces in photos to life through short animations. With the mobile app, users can quickly enhance entire album pages with just a few taps.
10 – Shortform
Shortform is an AI tool that can summarize information from the internet quickly. It can provide brief summaries of web content and YouTube videos with just one click. It also gives you additional details and opposing viewpoints to help you gain a better understanding of different perspectives.
Shortform combines the power of AI with the expertise of a team of experts. It allows you to use the tool to preview content, remember important concepts, get context on various topics, form balanced opinions by considering counterarguments, and explore related ideas for better learning.
The free version allows you to read limited summaries and generate one summary per day, while the premium version offers unlimited access, additional summaries, and priority features.