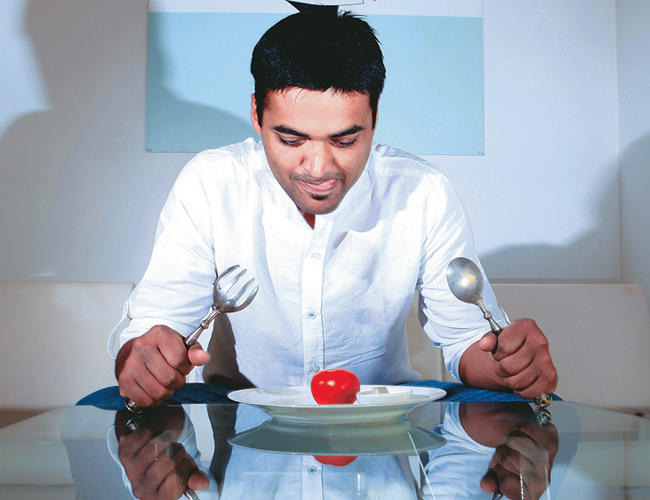 PHOTO BY: ADITYA KAPOOR
Deepinder Goyal
is the Founder and CEO of Zomato.
Zomato
yesterday stepped into the lion's den – the United States with an estimated $60 million (Rs 370 crore) acquisition of Seattle-based food portal
Urbanspoon
, a deal which will bring it into direct confrontation with
Yelp
. Here is a brief profile of the founder and CEO of Zomato- Deepinder Goyal, the man behind one of the largest internet companies out of India !
Prior to starting Zomato
Prior to starting Zomato, Deepinder worked as a management consultant with Bain and Company in New Delhi. It was at Bain that Deepinder conceived the idea of an online restaurant information service after seeing the demand for menu cards among his colleagues. He left Bain in 2008 to start Zomato (then foodiebay) out of his apartment and has since overseen strategy and product development.Deepinder graduated with a Mathematics and Computing degree from IIT Delhi in 2005 and hails from Muktsar in Punjab.
Lessons from the IIT
"The one thing that IIT Delhi taught me was how to get things done, more than the technical education. My biggest takeaways from IIT are focus, persistence and follow through."
Challenges faced as a startup
"When it comes to consumer facing portals the biggest apprehension is around the famous chicken and egg problem – customers find value only if we have the most exhaustive in-depth information on restaurants while restaurant owners find value only if we have enough customers. We solved this problem though by providing a rock solid content platform which provides all possible information for ~95% of restaurants across cities that we operate in."
Hiring Philosophy
"Hire good people.If you get good people , you don't have to manage them. Getting good people is not easy though.But once we recognize that we have hired the wrong person, we let them go instantly."
Qualities Deepinder looks for when hiring
"We look for 4 key qualities in people while hiring them; Ethics, Respect, Attitude and Skills in that order."
About paying your staff well
"Pay your people well. They will then be able to focus on work without having to worry about anything else. The good people however, will not really care much about the money."
About Managing people
"Be nice to people.There is nothing to be gained by not being nice to people and it creates negative energy in the company."
About having a cofounder
"It is very important to have a cofounder. Without a cofounder I would have shut down Zomato a long time ago.It is important for cofounders to agree that when they disagree one person will prevail. Pankaj and I have agreed that I will have the last word when we disagree"
Advice to entrepreneurs in India

"First and foremost, it's not about the idea but the execution. Even if you already have a product in the market, you can always do it better. Once you are determined to do something, the other thing to take care of is that you need to find good people to work with. People who are as committed to the job as you are. Do not think about money and raising funds upfront, but create a valuable product, which people would like to use. Also, Murphy's Law is one of the fundamentals you need to get in your head before starting up – "if something can go wrong, it will"."