Dell Technologies reported strong fiscal fourth-quarter results, with solid sales of servers, storage, and infrastructure gear driving better-than-expected earnings and revenue.
The company earned an adjusted $1.80 a share on sales of $25.04 billion, beating analysts' expectations of $1.64 per share on revenue of $23.42 billion. However, Dell's stock initially rose in after-hours trading before falling after executives issued a cautious outlook on a conference call with analysts.
Dell's infrastructure solutions unit saw a 7% increase in sales to $9.9 billion, while storage systems revenue rose 10% to a record $5 billion. Servers and networking revenue also climbed 5% to $4.9 billion. However, Dell's personal computer sales fell 23% year over year to $13.4 billion in the fourth quarter, with commercial PC sales down 17% to $10.7 billion and consumer PC sales down 40% to $2.7 billion.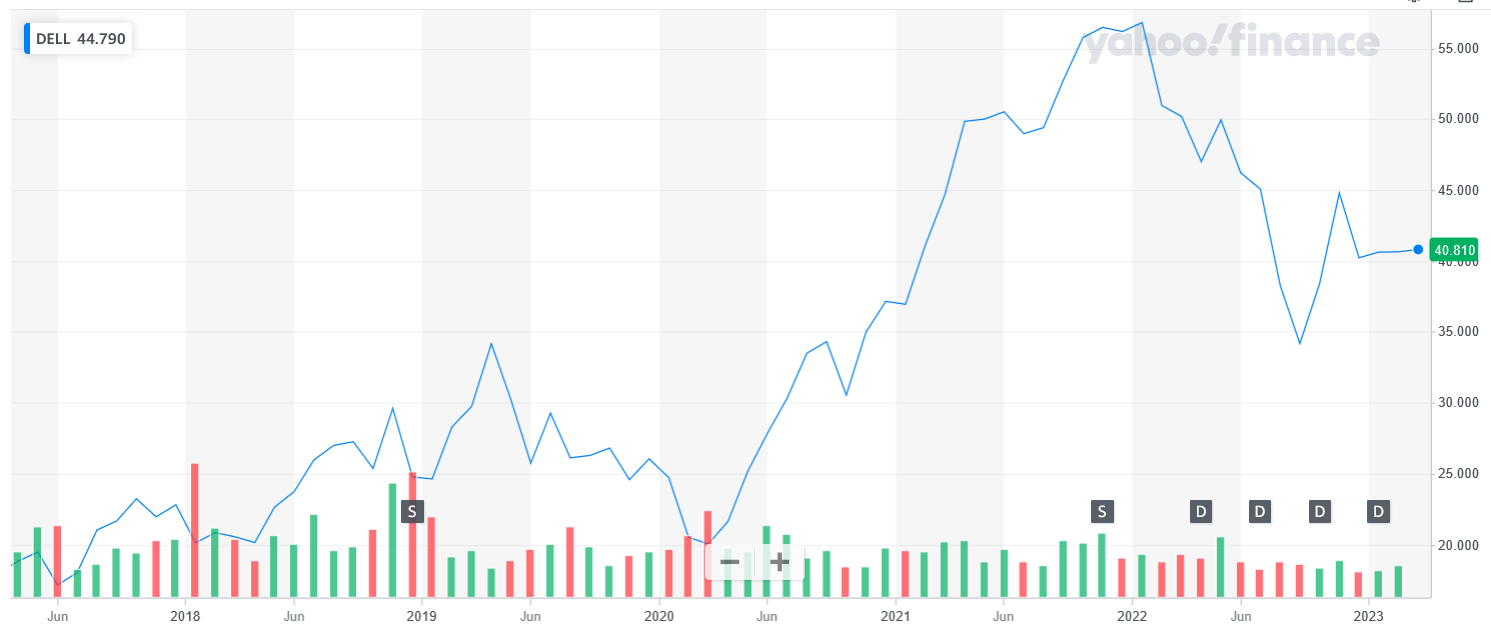 Despite the strong quarter, Dell's co-chief operating officer Chuck Whitten expressed caution due to a broad "caution in the IT spending environment," with customers scrutinising every dollar in the current macro environment.
Dell expects at least the early part of fiscal 2024 to remain challenging, with weak demand in most markets and signs of changing customer behaviour in store. Whitten noted that while Q4 was a good quarter for storage demand, Dell saw lengthening sales cycles and more cautious storage spending.
Dell's growth strategies for the upcoming years
Dell plans to invest in innovation, talent, and infrastructure to serve customers better and drive growth. Despite the cautious outlook, Dell's solid Q4 results reflect its ongoing focus on growth and innovation, which could position the company for future success in the competitive tech industry.
According to IBD Stock Checkup, Dell's stock is the fourth-best out of 14 stocks in the Computer Hardware and Peripherals industry group. However, its IBD Composite Rating is below average, standing at 44 out of 99.
In contrast, HP, Dell's industry peer, is ranked seventh in the same group, with a Composite Rating of 37. On Tuesday, HP delivered mixed results for its fiscal first quarter, but the company is optimistic about its earnings in the current quarter and year.
Dell Technologies reported strong financial results that exceeded expectations, driven by robust corporate IT spending despite sluggish performance in its personal computing business. However, Dell's forecast for the future did not meet the expectations of investors, resulting in a decline in its stock price.
Dell offers a wide range of products, including desktop and laptop computers, servers, storage devices, networking equipment, and computer peripherals. Additionally, Dell provides IT consulting services, cloud computing services, and cybersecurity solutions. Dell is one of the largest computer technology companies in the world and has a strong presence in both the consumer and enterprise markets.