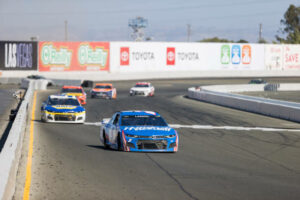 Dogecoin is emerging as one of the most popular cryptocurrencies across the world and attracting crypto investors. Crypto supporters never trail behind when it comes to promoting the cryptocurrency, and these supporters can be found in different sectors, be it real estate, music, automobiles, and now even sporting.
National Association for Stock Cars Auto Racing (NASCAR) announced that the Doge Car will be joining Race early this year and the entire crypto industry was looking forward to it with a lot of excitement and hopes. Stefan Parsons, the American professional stock racing car driver finally drove the Doge-themed Car with the number 99 on Saturday. The Chevrolet Camaro which had the 'Dogecoin' as the primary logo on the car, was the center of attraction in the NASCAR Xfinity Series. The crypto supporters were so enthusiastic about the 99 number race car with Dogecoin that the Hashtag Dogecar was trending on Twitter with the photos of the Dogecar.
— SPRINGRATES🚀 (@Springrates) June 19, 2021
All the hopes of the crypto geeks dashed when the Dogecar crashed in the race and came last after hitting a wall in lap 70. The failure of the Dogecar in the NASCAR seems to influence the Dogecoin market too as Dogecoin plunged up to 14% on the weekend and the total loss in the week was more than 20%.
Even after the car crash and so did the Doge market, many crypto supporters are highly enthusiastic about the Dogecoin, and hence, they identified the positive angles from Saturday's incident, and tweeted that, 'The Dogecar gave us a great view crossing the finish line sideways'. This immense support by the crypto enthusiasts to the currency is the reason why Dogecoin has been in the spotlight this year and experience commendable growth. In Fact, the tweets coming from the Tesla CEO also impacted the market to a great extent.
Notably, before Stefan Parson, his father Josh Wise made an extraordinary entry into NASCAR in 2014, and when the Dogecoin car was driven by Parson this year, he stated that,
"Having the opportunity to run a scheme that has an incredible story from my Dad's race team is something I am so proud to do".
When many countries are welcoming cryptocurrency wholeheartedly, all the eyes are on Dogecoin as it is affordable and an interesting currency. There are people like the Co-Founder of Ethereum, who recently announced their success with Dogecoin investments, so, who doesn't like making profits?
Comments
comments