The digital age of today is a double edged sword for parents all over the world. On one hand, parents want their children to be the smart 'digital' kids who are always updated with the latest happenings around the world.  On the other hand problems caused by uninterrupted and unmonitored access to the information over the internet are giving these parents sleepless nights. It was during one such discussion with her friends that Noopur Raghunath, realizing the gravity of the problem decided to launch an app called eKAVACH, a digital parenting application as a service that is designed specially to increase parental awareness about their kid's activity online and in social media.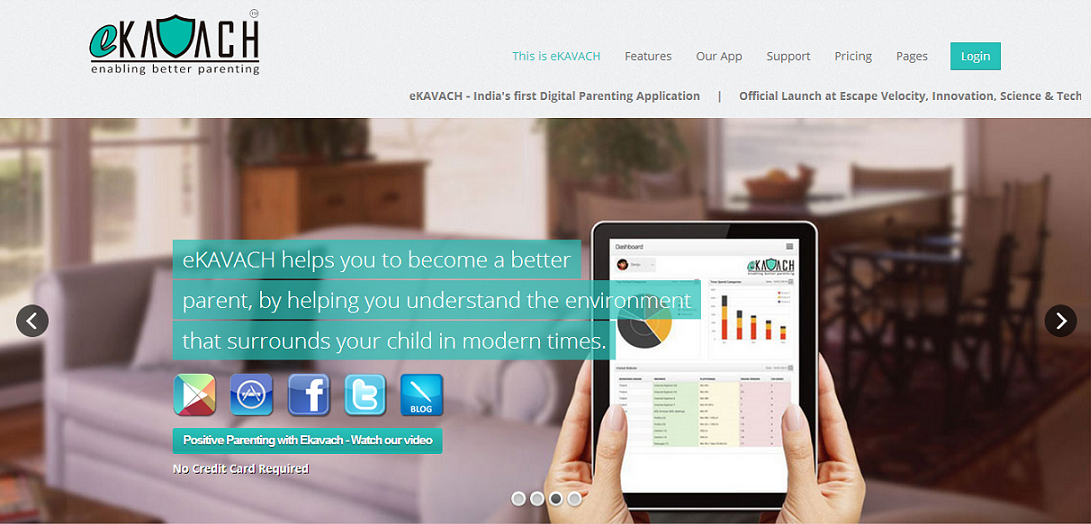 eKAVACH, developed by Certus technologies, is a unique mobile application for parents which offers families comprehensive safety in the online world. The current version of eKAVACH focuses on internet content safety, internet time and application management. They further plan on adding features such as social media monitoring, IM & chat room monitoring, cyber bullying protection, phone call/SMS and phone media monitoring and location-based services for physical security of children. The company has taken a "mobile first" approach, since the future of education and entertainment will be on smart devices offering "any-time any-where" connectivity. Currently, the app is available for a free download for Android and iOS phones.
"We also acknowledged that each family and each child is unique, parenting styles are different and so we need to make sure that our solution offers the ability to parents to customize their children's digital experience as per their choice" adds Noopur. eKAVACH is an app for parents of kids in the 5-16 bracket, who are tech savvy, have smart devices such as tablets, iPADs and internet connectivity.
eKAVACH was started by Ms Noopur Raghunath, an entrepreneur, management professional, a wife and a mother. With a Masters in Management and Public Administration she has a diverse work experience across the Services, IT and manufacturing industries for well over a decade. With Certus Technologies, Noopur's vision is to create innovative mobility products for the Indian market, with a focus on resolving real life issues in the emerging digital world.
The company has just launched their first version of eKAVACH app and are currently working towards creating awareness around challenges and opportunities with technology, when it comes to parenting and today's children. They expect their growth to be driven by satisfied parents who use the app and then pass on the message to other like-minded parents. Currently the company is primarily relying on digital media and word of mouth publicity, with offline events planned in various cities over the next 6 months.
The company is currently self funded. "Pursuing your passion and beliefs usually comes at a cost. We are a self-funded company, so we have put our money where our heart is – we strongly believe in the cause and hence, putting everything behind it to help parents in this digital era. Whether the business model succeeds or not, that only time will tell, but we have utmost conviction and total commitment from our team to make this a success" says Noopur.
Comments
comments