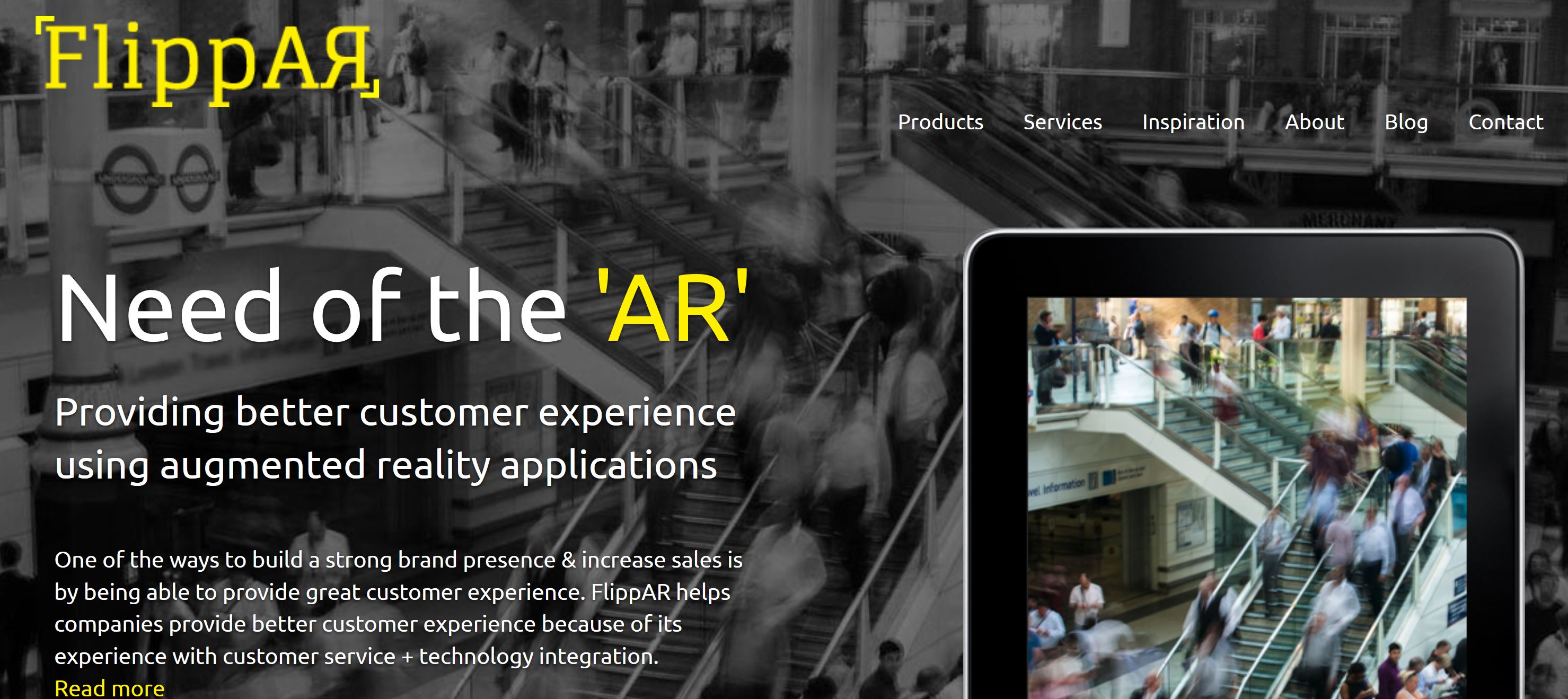 The age that we live in can undoubtedly be called the 'Information Age'. Content is the king in today's world and is going to be so for a long time to come. There is a lot of content being generated in the world today in the form of video, text, 3D, image etc formats. However, any content is meaningful only when it is consumed in the right format by the right customers.Studies show that more than 80% of the content that's available to the world today isn't being utilized efficiently.The other challenge being user engagement. With content being presented in an very boring way – users tend to lose interest quite soon.
FlippAR's Augmented Reality mobile platform helps address these challenges.  FlippAR  was conceptualized in June 2014 and is a venture of StrApp Business Solutions (StrApp.net), Bangalore.
Augmented reality (AR) is a live direct or indirect view of a physical, real-world environment whose elements are augmented (or supplemented) by computer-generated sensory input such as sound, video, graphics or GPS data.
FlippAR's mission is to get people to use augmented reality everyday to access information at the right time, at the right place, in the right format. Imagine going to a restaurant and deciding on what to eat. If you pointed your device to a particular item on the menu, it could provide more information about that item, reviews, etc. Or if you are at the railway station and you find an advertisement of a product that you find interesting and you take your mobile device and point to the ad and you are served with more information of the product, being able to experience a 360 degrees view of the product, or being able to see how the product works or making a call to the concerned advertiser to get more information.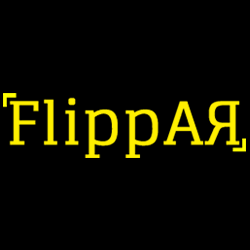 The advantages of having such a platform are multifold. Firstly, users get the right information at the right time and right place. At the same time, brands get access to information about who exactly is their target audience and which advertisements bring better ROI.
With better internet connectivity and deep penetration of smart phones and mobile devices, applications such as FlippAR are the future of consumer technology.In 2013 there were 60 million mobile augmented reality users  and augmented reality generated half a billion dollars in revenues in 2013. It is predicted that by 2018 there will be 200 million mobile AR users. All the above trends confirm that the future is in AR.
FlippAR is working with the vision of augmenting the world, in the next 4-5 years. The  company strives towards making a product platform  that is very easy to use and it takes less than 2 mins to augment anything. FlippAR's focus is very end user driven – though the content to be provided to them would come from brands, Government, retailers, etc.
Some of the examples of FlippAR apps are as follows
The company recently launched a pilot at National Gallery of Modern Art, Bangalore. It is an Art Museum run by the Ministry of Culture. They had a Philately exhibition and FlippAR had augmented the stamps, wherein, the visitors to the museum can point their device to a stamp and it would show more information about the stamp. This helped them get more footfalls & also provided a good experience for visitors – there were a lot of positive reviews for the app.
The other implementation is at the Visvesvaraya Industrial and Technological Museum, Bangalore. On pointing to the Dinosaur exhibit, a 3D of the dinosaur pops out of the screen.
The company was started by Vivek Jain and Mahadev Gupta. Vivek Jain has over 13 years of experience in the IT industry working with customers across the globe. He has a Masters in Computer Applications from Bharathidasan University & a program at Managing Retailing at IIM, Ahmedabad. Mahadev Gupta has over 14 years of experience with background in UI design, business development and client servicing. Mahadev has an MBA in Marketing from Pune University. FlippAR will have another person join them in a few months. He has lived in the US and worked in Sales & Marketing for 10 years. FlippAR currently is  a 6 member team consisting of designer, programmers & the founders. The company has identified partners in India, US, Brazil, Australia & Malaysia who will be responsible for promoting this app.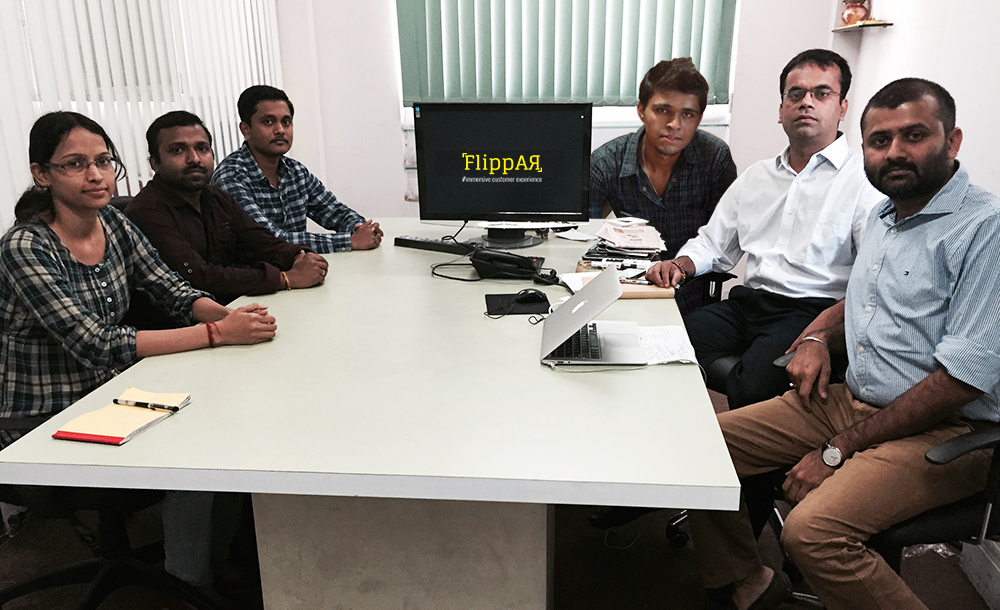 So what are the challenges that a company working in core technology area of augmented reality -FlippAR, face ?
"One of our biggest challenges is to be able to curate the content. We have spent a lot of time and effort on this. The other one is to be able to get a large number of users to this app. We have begun the process and I am sure there's going to be a lot of traction in the next 6 months.It is a little difficult to explain to people how the platform works. So, one of the ways we have been able to address this is to get them to use the platform and they are then able to see the power behind it. It takes around 10 mins to understand how it works."
says Vivek. The company is currently focusing on building very strong product and not thinking about the revenues at the moment. The main concern for the company right now is to invest in product, marketing and sales. Their expenditure is the main area of focus right now more than the revenues. The company is currently looking for funding to aid their plans.
So what can we expect from FlippAR in the coming few months ?
"You will start seeing parts of Bangalore being augmented – so, if you visit a certain restaurant, you  would be able to 'experience' the food, even before you eat or if you visit a particular tourist spot, you could get more information about that spot, without having a guide, in a very interactive manner"
When asked about some learnings he would like to share with the entrepreneurial community, Vivek says something very interesting
"There are takers for everything in the world – we need to identify who they are and how we can effectively communicated our products and ideas to them!"
The company is currently looking for funding to make investments in product, marketing and sales.
Comments
comments