Asia's richest person, Gautam Adani has now slipped off from his position after his empire crashed by more than $50 billion. The Hindenburg Research, which is a money-making US firm, accused it of fraud in a report published.
The Adani Group in response to this report published the allegations as "baseless" and "malicious" and may soon take legal action against it.
But the shares of Adani fell sharply. It began on Wednesday and went on till Friday after Bill Ackman (US hedge fund billionaire) exclaimed that he found the report of the short-seller to be true and credible.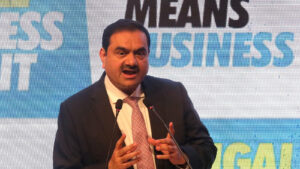 In an investigation carried out by the Hindenburg Research on Adani's Group accusing it of "brazen stock manipulation and accounting fraud scheme over the course of decades", on Tuesday.
Shares of three companies of Adani groups — Adani Transmission, Adani Total Gas and Adani Green Energy fell 20% each on Friday. On the other hand, shares of Adani Enterprises fell 18%, and almost $39 billion was lost on Friday.
However, Adani is still the richest person in Asia with an overall worth of $113 billion. Mukesh Ambani stands at $83 billion although Friday's losses will decrease the gap between the two.
On the contrary, Hindenburg Research is standing firm in its published report and believes any legal action against it will be "meritless".
"If Adani is serious, it should also file suit in the US where we operate. We have a long list of documents we would demand in a legal discovery process," the short seller said in a post on Twitter.
One thing to note is that Hindenburg is not the only company to express their concern about the finances of Adani's growing empire. The company had borrowed $30 billion to create its industries varying from logistics to mining and is intensively growing different sectors such as media, airports etc.
Ackman's statement added more weight to the investigation of the Hindenburg as he found it "highly credible and extremely well researched."
"We are not invested long or short in any of the Adani companies … nor have we done our own independent research," Ackman added.
Adani's enterprises have been trying to raise around 200 billion rupees by investing new shares in an offer that is going to be closed on Tuesday.
Gautam Adani is a college dropout and a self-made industrialist who is Asia's richest man and the world's fourth richest man. He is also a close working ally of Narendra Modi, the prime minister of India.