Rahul Roy-Chowdhury, who is as of now the company's worldwide head of product and is of Indian descent, has been chosen as the next CEO of Grammarly, a San Francisco-based company that offers artificial intelligence-based writing help and support, including assistance with spelling, grammar, punctuation, and plagiarism checks. He will lead as CEO from May 1.
In an internal email to team members on Monday, the current CEO of Grammarly, Brad Hoover, shared: "We're now at an inflection point for our product and business. Seizing this moment and reaching the next orders of magnitude requires us to move faster and at a much larger scale. A new era of leadership can help drive this inflection. As such, after twelve years at the helm of Grammarly, I am passing the baton to our current global head of product, Rahul Roy-Chowdhury, who will become CEO on May 1."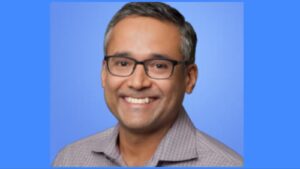 He continued by stating that the change was better achieved when the firm reached its fourteenth anniversary. "Grammarly is a deeply technical, product- led company; Rahul's product and technology background is a tremendous asset, and he is well- positioned to help us navigate the path ahead,"
In the email, Hoover said. His description of Roy-Chowdhury as goal-driven and extremely user-focused, with his expertise and experiences gained from developing Chrome into a system that would enable Grammarly to accelerate its development and size.
"During his two years at Grammarly, Rahul has focused on driving excellence and helped us up-level as a company. He has pushed our thinking and driven the organisation forward with clarity, keen judgment, and sound decision-making. Under Rahul's leadership, we also took a big step forward with our product, increasing quality and introducing solutions to help beyond the revision stage of communication."
"I joined Grammarly two years ago because of a deep belief in our mission to improve lives by improving communication. I'm honoured to serve that mission in a new capacity as Grammarly's CEO, starting May 1.
"Our millions of users remain our north star as we continue solving their real communication challenges. Grammarly has been harnessing innovation in Al responsibly for over a decade, and we're just getting started," Roy-Chowdhury said in a statement after the announcement.
Based on his LinkedIn biography, Roy-Chowdhury spent 14 years as Google's vice president of product management prior to joining Grammarly. He holds an MBA from Stanford University's Graduate School of Management, as well as an MS in computer science from Columbia University, a BA in mathematics from Hamilton College, and an MS in computer science from Stanford.