According to Aseem Ghavri, who now has partnered with the Grovers for an initiative, the Third Unicorn, a new company that will likely be launched by ex-BharatPe co-founder Ashneer Grover and his wife Madhuri Jain, would operate in the B2C market.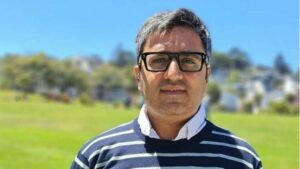 Ghavri claimed that the venture's official release will be announced in late February or early March.
"While we're not currently revealing the space we're going to be present in, I can tell you it's going to be a B2C startup," Ghavri said. "We've already hired seven employees but Third Unicorn will have absolutely no designations or titles – it will be a flat hierarchy. Similar to what WhatsApp had in its initial days," he added.
Each staff, according to Ghavri, will be asked to put on several hats and demonstrate competence in a range of fields, rather than just one. "At Third Unicorn, we want the people to play a 360-degree role. So, if required, a tech guy can go out and do marketing and vice-versa. People should be open to challenges," he said.
A Mercedes vehicle will be offered to every person who works for the firm for five years to inspire them to stay longer, according to Grover in a LinkedIn post. The business expects to recruit no more than 50 individuals altogether.
On funding, Ghavri said, "At this point in time angel investors can come to the captable but before that that there will be a vetting process. We're not looking for venture capitalists at this point in time, only angel investors…rest, we'll see how things turn out in the future".
In 2013, Ghavri established Code Brew Labs, an enterprise applications design company that offered BharatPe technology.
Grover did not respond to a request asking about the upcoming project's characteristics, but resharing Ghavri's statement on LinkedIn did.
About Ashneer Grover:
Indian entrepreneur Ashneer Grover co-founded the Indian financial business BharatPe alongside Shashvat Nakrani and Bhavik Koladiya in 2018. He served as its managing director (MD) from 2018 to 2019.
He recently faced several suits alleged by the BharatPe company over running a "vicious and vitriolic campaign". The suit included him, his wife, Madhuri Jain Grover's brother-in-law, her father and her brother.
The company's spokesperson said, "BharatPe has initiated civil and criminal action against erstwhile Co-founder and Managing Director Ashneer Grover, former Head of Controls Madhuri Jain Grover, and other connected parties of their family for various claims, including misappropriation of company funds."
Comments
comments