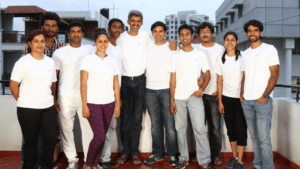 This is the founding story of HealthifyMe. India's No.1 health and fitness application.
The Beginning
Before HealthifyMe was started by two fresh international graduates from University of Pensylvania and MIT, there was a perspective changing experience they had in 2009 which actually sowed the seed for the company. These two graduates- Tushar Vashisht and Mathew Cherian had worked with the UID to jumpstart the Aadhaar along with Mr Nandan Nilekhani when they came across the abysmal health statistics and large malnutrition rates in the country.
Based on these malnutrition rates the two men decided to come up with in a challenge where they decide to feed themselves on based on India's Mean National Income of Rs. 150 a day and see what most Indian's have to go through. They excluded a third of the budget as "rent for the house" and decided Rs. 100 is what they had to stay alive.
This exercise soon brings in a eureka moment for the two where they realize that there was no way to calculate calorie intake for an Indian diet in the country and see how many they were consuming based on their "100 Rs. a day" budget. Since Vashishth had an analytical inclination he wanted to accurately calculate the calories he was taking in every day and there was no app or website that did that in the country and any information that came up with respect to calories was based on a western diet. And this is where the idea of HealthifyMe came about.
The story of HealthifyMe started in a humble farmhouse in Delhi in the year 2011 where these two computer science interns decided to build a calorie counting health startup.
Growth
Because of the general disposition of the Indian population to put health and fitness on the backburner HealthifyMe took an exaggerated amount of time to kick start its journey. No investor, nor doctor, nor health specialist was taking the two founders seriously.
But soon they hit gold because  HealthifyMe had raised a 1Cr angel fund from angels introduced via the Microsoft accelerator. These angels were Tushar's mentor from Aadhar days Raj Mashruwala and Cofounder of AppLabs Sashi Reddi.
The Microsoft accelerator required them to be in Bangalore which is why they also shifted the company HQ over there.
Soon after reaching Bangalore, Sachin- another founder of a B2B startup, joined HealthifyMe as co-founder and head of engineering.
However, Sachin was not just any other engineer. He was a Google Code-Jam finalist and was one of the fastest coders the HealthifyMe team had come across. Before joining a startup he had over 15 years of experience out of which 6 were with Google, where he worked across Google Finance, Google SMS Channel, Orkut Developer Platform and Google Developer Platform. Sachin Shenoy also had 5 patent disclosures associated with his work.
"Sachin's more important, the lasting contribution was how he brought about a fundamental, baseline shift in the maturity levels & quality benchmarks of the technology team [at HealthifyMe]. This would go on to eventually define the "product first" and "engineering first" culture of the company in the years to come."
Growth and Challenges
By 2014 HealthifyMe was a strong tight team of around 20 people and had 50,000 people using the app's calorie counting and fitness service. The vision that the founders had during participating in a simple challenge in their  TV years was developing into somewhat of a health revolution.
But soon reality struck.  Despite a passionate team, HealthifyMe as a company ethos always had a "Product First" background and was not focusing on building a profitable monetization strategy within the app. As a result, they were unable to get more money to scale the company and soon Tushar's worst fears soon came true because, in July 2014, HealthifyMe completely ran out of funds.
Because of fiscal pressure the company had to pivot from a product first strategy to a business first strategy. For 3 whole months, they were unable to pay employees who are almost 30 in number now. The founders also had to borrow from friends and well-wishers to keep the company afloat.
But soon they struck gold when the company's sales team figured out what consumers were willing to pay for and it was for in nutritionist and trainer services. HealthifyMe put in place a strong sales & service machinery and they got to a 3L/ month topline in fall of 2014.
Funding
While figuring out how to monetize the app the company was also scrounging for venture capital funding and raise the money they did.
Over the span of HealthifyMe's lifetime, the startup has managed to raise money across 7 rounds of funding. Over these 7 rounds, it has raised $25 million USD in funding and the details of the funding are as follows:
The first three rounds were just to help the company get back up on its feet. They were the non-equity assistance round, venture round, and seed round conducted in 2013, 2014 and 2015 respectively.
Post the initial rounds were the Series A and Series B rounds both of which were run in two parts. These two rounds were run in 2016 and 2018 respectively. The list of investors who have contributed to HealthifyMe includes Samsung NEXT, NB Ventures, Sistema Asia Fund, Dream Incubator, Blume Ventures,  Innoven Capital and more according to Crunchbase.
The funding was surely the boost the company needed as there was a 60 times increase in revenue between 2014 and 2018.
Over the tumultuous yet unforeseen growth the HealthifyMe has achieved, the founder Tushar Vshisht had the following to say in a blog post:
"Some companies exist because they can. Others get lucky. Yet others defy all odds and exist even when there is no reason to exist. We fall in the latter.

We will change the way the world thinks about nutrition/fitness and they way the world engages with coaches fundamentally. Not because it was easy, but because we decided, determined to make it happen.

While all question our size of market, or our execution ability or even our vision, we refused to believe in the naysayers. When they questioned whether India will buy a digital nutritionist, or that we can make a difference in lives of millions of others, we made it happen. We changed lives for the better and for good."
Comments
comments