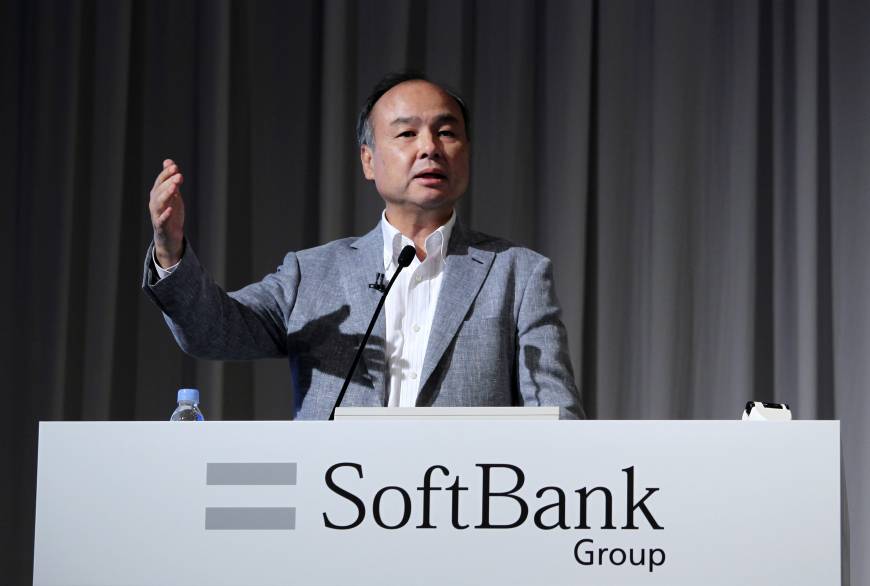 Masayoshi Son is the founder and CEO of Softbank – a multinational holding conglomerate. His story has been inspiring entrepreneurs and investors for the better part of the last two decades. An enticing rags to riches story – here is how Masayoshi Son became one of the most sought-after personalities in the investing business.
Early Life

Masayoshi Son's ethnic origins belong to Korea. He along with his family moved to Japan from Korea in the hope of a better life and for occupational opportunities. The family took the Japanese surname Yasumoto, which Son used as a suffix in his early life.

Son had an interest in running a business right from the beginning. In his early adolescence, he pursued a discussion with the (then) president of McDonald's chain in Japan, Den Fujita and in line with his advice, he studied English and Computer Science.

As he turned 16, he shifted from Japan to California, where he proved himself to be a student ahead of his time. He took the final exams within three weeks of reaching the United States at his high school – Serramonte High. Soon after, he moved to San Francisco and pursued his university education at a community college.
After being at the community college for two years, he moved to the University of California, Berkeley.  Here, he majored in economics and computer science. His computer science studies inspired him to believe that the next overhaul in the world would be in the computer technology.

As a student, he began his entrepreneurial ventures by inventing an electronic translator. This device was sold to Sharp Corp. for USD 1.7 million. On the heels of this, he made another USD 1.5 million by importing used video game systems from Japan to the United States. These machines were installed by Son into restaurants and dorms.

Here, in the college, Son met his future wife, Masami Ohno.

In 1980, Masayoshi Son graduated from UC, Berkeley with a B.A. in Economics. In California, he started  Unison which was then bought by Kyocera. After this stint, he came back to Japan to continue his pursuits in his home country.  To set an example for his Korean counterparts in Japan, he changed his surname to his original one – from Yasumoto to Son.

Return to Japan

In 1981, after returning to Japan, he started a software distribution company called Nihon SoftBank. He had no product to distribute and thus, started an alliance with the electronics retailer Joshin, and software developer Hudson. The computer industry at this point in time was pretty stagnant and this is when Son rose up the ranks. Soon, he captured up to 50% of Japan's software industry.
In the 90's, SoftBank started becoming an active player. The services Son had actively invested in included – a telephone-routing device, magazine publishing, the Comdex trade show, and a broadband internet service. In 1995, he invested USD 20 million into Alibaba and was an early investor in Yahoo! too.
In the late '90's, SoftBank invested in Kensington Technologies and lost his investments. The founders of the company bought back Son's share in the company at one-third of the cost he had paid for it. The stake in Yahoo! too dwindled to a mere 7% and SoftBank accrued a massive debt of USD 1.3 billion.

Through this financial downfall, Son still kept his enamor for business growth intact. Because of the dwindling equity of SoftBank in Yahoo!, Son migrated his focus to Yahoo! BB and BB Phone. Even though it was a huge monetary risk, Yahoo! BB acquired Japan Telecom – the third largest broadband and landline provider. Soon, Yahoo! BB became and still is Japan's largest telecom provider.

The Telecom Takeover

In the early 2000's, Vodafone was trying to penetrate Japan's telecom market but was not showing any signs of success.  SoftBank too as a brand was trying to launch itself into the telecom sector. On 17th of March 2006, it became public knowledge that Vodafone K.K. was being sold to SoftBank for approximately 1.75  trillion Yen (USD 15.1 billion).
Son became the CEO of Vodafone K.K. To make Vodafone K.K and SoftBank a telecom success in Japan, Son needed a "weapon" to attack the market. Here is when the iPhone came in.

Steve Jobs' newly launched iPhone 3G and 3GS remained exclusive to SoftBank patrons in Japan. This was a huge risk since the phone could be a hit or miss in the highly specific Japanese market. Safari didn't work with Japanese mobile sites, QR codes in Japan couldn't be scanned, and a separation of the SMS and email into separate apps doesn't fit into a traditional Japanese mindset which is used to having both in one.
However, SoftBank proved its acumen by making the iPhone the most popular smartphone in the Japanese market with a clever tactic. It made the phone significantly cheaper by offering unlimited data packages on iPhones (using their Vodafone K.K. acquisition).  

Accruing Investments

SoftBank is known to have a massive investment in some of India's biggest startups like Flipkart, Zomato, Swiggy, and Ola Cabs.  However, these make up a very small part in the Softbank's larger investment ecosystem. Son has had investments in multiple sectors. He has acquired ARM technologies, which is Europe's largest semiconductor and software design company.
He also jumped into America's telecom sector by getting a holding of 76% of Sprint – an American network service provider. Apart from this, after the Fukushima nuclear disaster in 2011, Son sought an investment in solar power to promote a greater cause. Here, he invested in the world's biggest ever solar project which would create 200 gigawatts of power using renewable energy.
Philanthropic Endeavors
As of January 2018, Masayoshi Son has a net worth of USD 23 billion and his company has reported a fund of USD 100 billion. However, his interests lie more in philanthropic avenues rather than the accumulation of wealth. After the Japanese tsunami of 2011 and the nuclear disaster that followed it, Son donated USD 125 million to relief funds and pledged all his future salary from Softbank to orphans in the region.

Son as a CEO has a very outspoken and public image – a trait rarely seen amongst the top brass. This nature of his and many of his decisions have a huge effect on Softbank's market share.
He has faced and is still facing setbacks in his businesses but that has not stopped him from taking risks. Be it the '95 Yahoo! Drop or the recently questionable Sprint deal, Softbank as a firm is publicly seen to be on the edge. However, when asked about this, Son says, "I am a man, so I want to be the number one." This ambition of his has gotten him so far successfully, and his future is in the probability of following the same course.
Comments
comments