Chatting with businesses on the world's favourite messaging application i.e. WhatsApp is trending these days. Because of the convenience and instant response, people prefer chatting on WhatsApp with businesses to get information about the product and services.
While WhatsApp Business is a standalone free application that is designed for small businesses to market their products and services, WhatsApp Business for API is meant for medium to large businesses. The business API allows brands to easily reach users on the messaging app. The normal WhatsApp Business has insufficient scalability and unsuitable for enterprise companies because it lacks important features such as user administration, role management, an API for external CRM systems, a solution for data protection, and much more.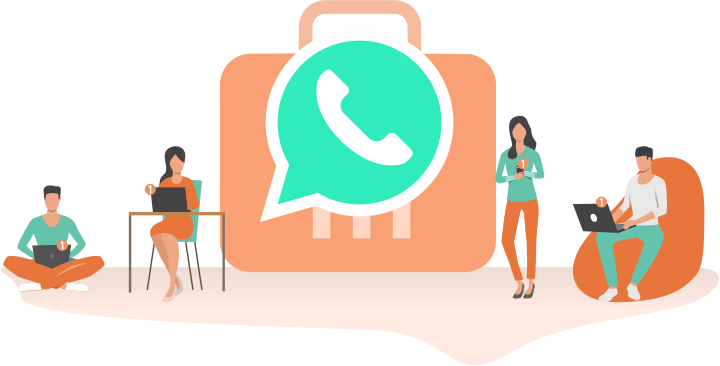 If you are scratching your head about how the API version is different from its free version and why it matters so much, read on to get complete information.
What does the WhatsApp Business API offer?
The abbreviation API stands for Application Programming Interface. An API makes it possible to connect different software services to realize specific processes and applications.
WhatsApp Business API offers several useful features that make it easier for businesses to get in touch with their customers. The API allows for direct one-to-one communication with customers. It caters to the needs of larger businesses with higher messaging volumes and enables automation and integration within the existing communication platforms of the businesses. By using this channel, brands can build rich multi-media communication channels with their customers at an enterprise scale and save their valuable time and resources.
How you can implement WhatsApp Business API solution?
The basic condition for using the WhatsApp Business API is a verified WhatsApp company profile, which can be created using the Facebook Business Manager. In the second step, companies need a telephone number for their WhatsApp customer service channel.
Though business API offers great potential for companies to attract new customers and improve services with current customers, implementing the same without a verified provider professional support is very difficult. If businesses choose to work together with a verified WhatsApp Business Agency like Fulcro, then it will take over the complete technical integration and provide full support.
Fulcro is a verified WhatsApp Agency that increases your business by implementing a WhatsApp Business API solution. The efficient, accurate, end-to-end services and enterprise-grade solutions by Fulcro offer businesses the most affordable pricing options on the market.
This will enable businesses to determine key business KPIs, engagement rates, cost savings, new customers required and much more.
So, what are you waiting for? Get started with WhatsApp Business API now…!