About 3D-printing and Its Scope
Any Manufacturing process involves conversion of an idea into a product. But there is a huge gap between an idea and converting that idea into a product. Traditional manufacturing ways are expensive and often time-consuming. There have been various developments in the manufacturing processes over the time. Three-dimensional printing or 3D printing is one such recent addition to list of fast, reliable, inexpensive and accurate manufacturing processes.
3D printing can be defined as any of various processes used to produce a three-dimensional object using a 3D-printer. It can be classified under 'Additive Manufacturing' where successive layers of material are laid down under computer control to produce desired geometry or shape.
3D printing is still a very niche industry in India. This technology finds its presence mainly in industries such as automotive, medical, jewelry, aerospace, defense where it is utilized to create rapid prototypes. However, it has still not penetrated extensively to other segments specifically, at the consumer level. A major portion of the population in our country is not aware of the existence of this technology.
However, since the past one-year, many startups have come along from across all geographical locations of the country and got involved into 3D printing. It is estimated that the 3D printing industry in India will touch $79 million in the next few years. Premier engineering and design institutes in the country now have 3D printing machines and have introduced various modules in their curriculum.
About Instapro3D  
One such venture revolutionizing the 3D-printing in the country is Delhi-based start-up Instapro3D. Founded earlier this year in March, Instapro3D is involved into instant prototyping through 3D printing. The alluring description of The Company boasts in a fashion as follows: "You think, we digitize your ideas. Yes that's exactly what 3D modeling service is all about. With the help of our techie gang, the professional CADD Engineers, watch Instapro3D transform your ideas into virtual 3D models".
Instapro3D was founded by Megha Bhaiya a 24-years old creative design enthusiast. Megha is a graduate in Bachelors of business administration from Lancaster University. "I've always had an inclination towards making things and creating new designs. We are a small business trying to have some fun with 3D printing. We work closely with product designers and innovators to convert their ideas into working prototypes" Megha explains.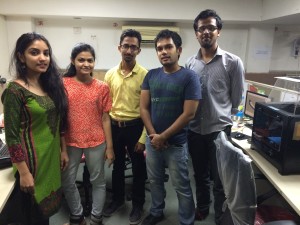 (Team Instapro3D)
How did the company come into existence?
The story of idea behind Instapro3D stretches to last summer when she was trying to make a heel cap for the stilettos for it's very difficult to walk otherwise on grass. Through traditional manufacturing ways, it was impossible for her to make a pair without spending a lot of money and time. With 3D printing, she got her heel cap done in 3 days and for less than a tenth of the original cost. This is when she realized the huge potential of this technology and decided to start with this company.
Well! The sail to target was not a plain one. Being a 'woman technopreneur' is not an easy thing. You often have to repeatedly establish your credibility and knowledge amongst your peers. People under-estimate your potential, though sometimes that can work to your advantage as well. However, Megha believes that every experience and problem teaches you a new way to handle them and makes you bigger and better. She feels that 'it takes a lot of courage to break the stereotype and step up to do what you really want to do. But when you do it, you don't ever have to look back. Do not worry if you're doing the right thing or no, because if plan A doesn't work, there are 25 more ahead waiting to be harnessed'. With this courage and determination, Megha went on to establish Instapro3D.
Operations and Strategies
The Company's focus is towards developing a basic ecosystem for consumers in India for 3D printing. People aren't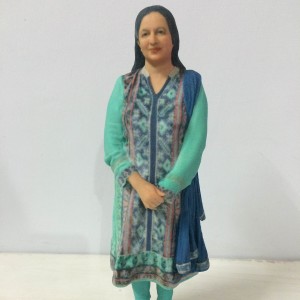 aware that they have such a powerful technology at their disposal. The Company aims to make 3D printing doorstep accessible and affordable. The firms main USP is that they are into consumer level 3D printing. The Company does 3D selfies i.e. scan people and 3D prints them into miniatures. It has developed hand/foot keepsakes, which is the first of its kind in India.
Instapro3D kick-started its operations in April and have received overwhelming response. Currently, the office location is in New Delhi and consists of a small team of 5 people. "We do a lot of experimentation at our workplace. Recently we've developed a hand/foot keepsake wherein we convert inked impressions into 3D printed keepsakes. This product has caught the attention worldwide and we're working closely with hospitals to market this product" Megha brags. Also, their clientele includes jewelry designers who only make bespoke customized jewelry, product designers, architects and engineering/designing institutes.
Lately more or less, the company is looking for funding and in the near future, it plans to establish itself as a fully integrated online service bureau wherein individuals can get in touch with them directly through the website for any product development, booking of 3D selfies or any cusotmised item!
Comments
comments