Intel Corp, a chipmaker giant based in the United States has cut down the salaries of the CEO of the company, and senior and top executives staff in order to save costs for further investments. Like any other company, the company is struggling with a sharp drop in revenue and earnings, thereby, reducing the overall cost of the company.
"The reductions will range from 5% of base pay for mid-level employees to as much as 25% for Chief Executive Pat Gelsinger, while the company's hourly workforce's pay will not be cut," Reuters mentioned.
Pat Gelsinger, the Chief Executive Officer of the company will receive the salary with a reduction of 25%, Intel corp informed.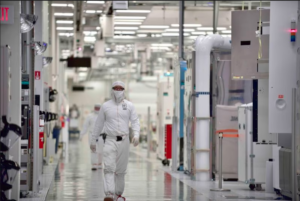 The executive leadership team will receive their salary with a reduction of 15%, the senior managers will see a reduction of 10% while the salary for the mid-level managers will see a reduction of 5% from their base salary.
The only employees that shall be saved from this cost-cutting will be hourly workers who are below the seventh tier in the company's ranking system.
"As we continue to navigate macroeconomic headwinds and work to reduce costs across the company, we've made several adjustments to our 2023 employee compensation and rewards programs," Intel said in a statement.
"These changes are designed to impact our executive population more significantly and will help support the investments and overall workforce needed to accelerate our transformation and achieve our long-term strategy."
With this, Pat Gelsinger has joined the queue of CEOs who witnessed a reduction in their compensations. Several CEOs of different companies have seen a reduction in their base salary because of decreasing economic conditions and the company's situation.
David Solomon, the CEO of Goldman Sachs Group Inc, this week saw a change in his base salary that he received with a reduction of about 30% to $25 million for the year 2022.
This week, David Solomon, the chief executive officer of Goldman Sachs Group Inc, said compensation was reduced by about 30% to $25 million for 2022. The package included a $2 million actual salary and $23 million in different compensation with another $16.1 million in the form of restricted stock units.
Another CEO to witness pay cuts is Apple Inc CEO, Apple Inc CEO, Tim Cook will receive a pay cut of more than 40% to $49 million for 2023.
Microsoft CEO, Satya Nadella received a 10% cut to $55 million to save costs. The tech giant also slashed around 10,000 jobs in the year 2022, continuing till 2023.