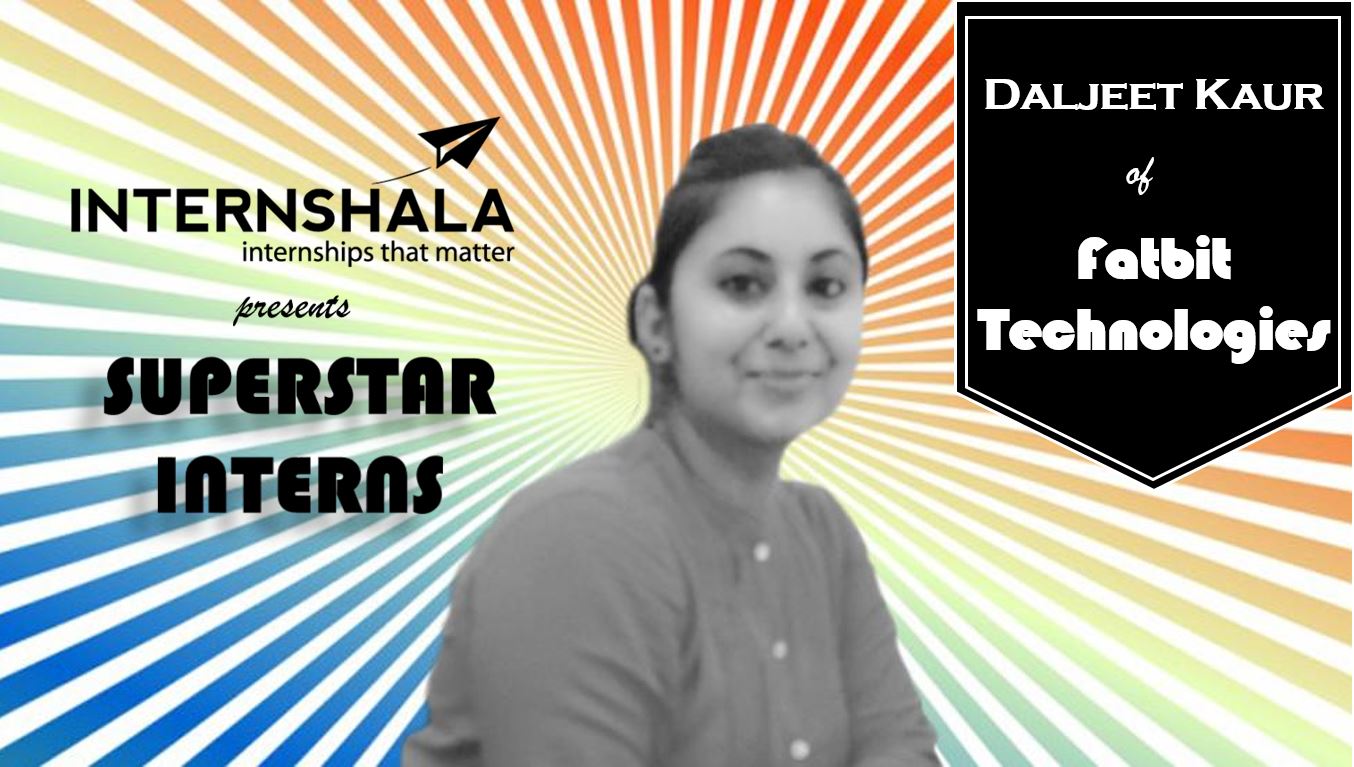 Interns – the reason why many startups have succeeded and survived in India today. Interns bring a lot of passion to learn, deliver, grow, and allow every startup to remain extremely agile and cost effective. As a tribute to the contribution of interns to startup ecosystem, Techstory along with Internshala is bringing to you a series focused on Superstar Interns – stories of interns who have played a significant role in the success of the companies.  Today, we present the story of Daljeet Kaur, the superstar intern at FATbit Technologies.
Daljeet started working at FATbit's Digital Marketing team in 2013. The exposure she got at FATbit enabled her to become well versed with the latest trends, which is now helping her to grow in the industry. "The freedom of work given at Fatbit, made me go work with them full time. The management at Fatbit gave us time to think, plan and execute. Also, I got timely mentorship from my Team Leader, Mr. Amit Sharma. What excited me the most is that I got to know the best way to present myself." says Daljeet.

Manish Bhalla, CEO of FATbit, said that he felt her potential during one of their events where they distributed 100 free eCommerce software licenses to startups. Speaking of her impact during the event and the organization in general, Manish says, "She worked hard and helped us to connect with the sponsors like SEMrush and various other influencers in the ecommerce industry.
Coordination, exploring new things and sharing them with the team are some of the strong areas of the intern superstar. Daljeet helped us in setting up a great flow in our social media marketing efforts. All team members learned various new things from her. That flow will obviously help our organization to achieve more milestones in the social media marketing space."
Even though hiring interns is not a core part of the organization, FATbit does hire interns for a few departments. "Interns always come in with fresh ideas and such ideas many times help us create an innovative work culture. In many cases Interns executed their theoretical knowledge that helped us move ahead of our competitors, whereas experienced hires are excellent for time saving, immediate solutions and perfection" he adds.
At FATbit Daljeet has been handling website analysis and company's twitter profile. She was also looking for good influencers and was inviting them for a guest post on FATbit blog, called FABlog
"The biggest challenge I ever faced during my internship was that it was quite difficult to pick the right way and follow that. But, with the help of my mentors, I succeeded in the same. The freedom at FATbit made me a hardworking person and improved my skills in research and development" adds Daljeet.
For Daljeet, FATbit provided the best environment to kick-start her career by providing her every type of motivation that is needed by interns during the initial stages of professional life. "From Search engine optimization to social media, brand awareness to reputation management and influencer marketing, I learnt everything at FATbit" she adds.
She credits her Team Leader, Mr. Amit Sharma, who guided her every time with his much needed mentorship, as her role model. "What I like the most about him is that he keep motivating his team members with timely meetings and has daily conversations with them. He is a smart marketer and knows very well on how to get best from his team members" said Daljeet.
If you're looking to hire interns, sign up on Internshala for hiring great interns!