The management of launch infrastructure and maintenance of ground stations at Kennedy Space Center will be now managed by Jacobs Technologies under a new $3.2 billion deal that NASA granted to the firm on Thursday.
For the agency and commercial partners using the space centre in Florida, the Consolidated Operations, Management, Engineering & Test contract from NASA secures engineering, launch, landing and recovery services along with additional services.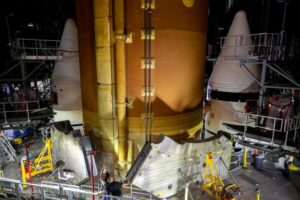 Previously, Tullahoma, Tennessee-based Jacobs Technologies Inc. finished a $1.37 billion Testing and Operational Support Agreement for NASA that it got in 2012. Jacobs conducted comparable services under the TOSC agreement in addition to looking after and testing flight components.
The agreement's base period is three years and five months, commencing on May 1. As stated in a NASA news release, the deal's "potential" worth might approach $3.2 billion if more additional years are included in the final phase of it.
It is a cost-plus-incentive agreement, which implies that its production costs are primarily agreed and afterwards modified throughout the term of the agreement according to the services delivered.
The Orion spacecraft, NASA's space launch system, the International Space Station Project, and other operations at Kennedy Space Center will all be backed by the COMET contract. Furthermore, the deal will ensure launching and recovery services for the Artemis project through 2033 as well as car assembly services.
About NASA:
The U.S. federal govt's autonomous National Aeronautics and Space Administration (NASA) is in charge of carrying out space research, conducting aeronautics research, and supervising the civil space program.
NASA was formed in 1958 to offer the American space ongoing development a distinctively civilian direction, emphasising peaceful applications in space science. It replaced the National Advisory Committee for Aeronautics (NACA).
Since then, Operation Mercury, Project Gemini, the Apollo Moon landing missions from 1968 to 1972, the Skylab space station, and the Space Shuttle have all been commanded by NASA.
NASA oversees the creation of the Orion spacecraft, the Space Launch System, the crewed lunar Artemis programme, Commercial Crew spacecraft, and the proposed Lunar Gateway space station in addition to offering assistance for the International Space Station.
Jacobs Technologies:
An American company offering expert professional services worldwide is called Jacobs Solutions Inc. The company serves a diverse range of international clients, including companies, organisations, and governmental organisations, by giving engineering, technical, professional, and development services as well as scientific and specialized consulting.
Jacobs has regularly been rated first on Engineering News-(ENR) Record's Top 500 Design Companies for the years 2018, 2019, 2020, and 2021 and the Top 50 Trenchless Engineering Firms listed by Trenchless Technology for 2018, 2019, 2020, and 2021. [9] In the fiscal year 2021, it saw an earnings spike to $477 million and an increase in global yearly revenue to almost $14 billion.
Comments
comments