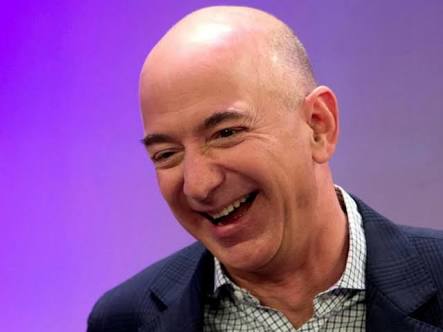 18 July, 2018
Jeffrey Preston Bezos is an American technology entrepreneur, investor, philanthropist, and the founder, chairman, and chief executive officer of Amazon. 
Bezos crossed over the $150 billion net worth mark Monday as his shares were lifted in part because of Amazon Prime Day, which concluded Tuesday.
And so far, it's unlikely that anyone will overtake the tech titan's spot as the world's richest person.
Especially since Bezos' billions got another boost Tuesday as Amazon shares jumped 1.2 percent to close at $1,843.93 — notching another all-time high.
Microsoft founder Bill Gates holds the No. 2 spot with a middling $95 billion — leaving him $55 billion behind Bezos.
Although he is clearly doing pretty well for himself, a financial advisor might tell Bezos that he should consider diversifying his portfolio. It's rarely wise to concentrate one's wealth in a single asset, whether it's a house or shares in a company you founded in a garage in the 1990s that now accounts for half of all e-commerce sales in the US.
Shares of the company, which had climbed to a record $1,841.95 earlier Monday, pared gains on the news, closing up 0.5 percent at $1,822.49. Bezos's stay above $150 billion may be short-lived. The stock slipped below $1,800 in extended trading after Netflix Inc. posted disappointing results, rattling tech investors.
(Image:- the-star.co.ke) 
Comments
comments