Elon Musk-owned company SpaceX is all set to raise $750 million in the first round of funding. The value of the rocket and satellite company from investors stands at $137 billion including Andreessen Horowitz as reported by CNBC.
It was reported that in November last year, SpaceX was in the controversy that it was going to begin an offering that would include mostly secondary shares. The value of the shares was indicated to raise the value of the company up to $150 million, which is a 20% increase in valuation.
The news that SpaceX was enabling insiders to sell the stock for $77 per share, or around $140 billion, was first disclosed by Bloomberg last month. According to previous information from CNBC, the company has raised more than $2 billion in 2022, along with a $250 million round in July, and was evaluated at $127 billion at an investment round in May.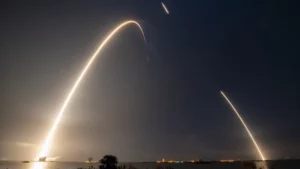 The company had previously raised about $1.68 billion through equity financing in June last year. The company includes Alphabet Inc (GOOGL.O) and Fidelity Investments among its investors.
Reuters' inquiries for clarification were not answered directly either by spokespeople of SpaceX or Horowitz. Horowitz reportedly participated in Musk's $44 billion acquisition of Twitter as a co-investor.
It has launched many cargo payloads and astronauts to the International Space Station, NASA.
Starlink, SpaceX's increasing constellation of thousands of broadband satellites, aims to generate huge returns via commercialised uses including the delivery of high-speed internet on commercial planes.
Amazon.com (AMZN.O) founder Jeff Bezos' space company Blue Origin and billionaire Richard Branson's Virgin Galactic are the rivals of SpaceX. (SPCE.N)
On the bright side, Starlink, the firm's satellite broadband service, surpassed 1 million customers and gave people in Ukraine who had their equipment damaged by Russia's invasion a lifeline. Throughout its Falcon mission, SpaceX was also capable of launching more than 60 reusable rockets in one year.
At its Starbase plant in Boca Chica, Texas, the firm is now continuing to produce its Starship and Super Heavy launch vehicles. When the firm will advance to the program's second phase, which demands an orbital launch test from these bigger vehicles, is unknown.
NASA Administrator Bill Nelson recently questioned SpaceX President and COO Gwynne Shotwell as to whether Musk's "distraction" as the owner and CEO of Twitter could perhaps impact SpaceX's tasks with the space program, according to NBC News.
Musk has often expressed his views about geopolitical issues on Twitter. Shotwell, according to Nelson, reassured him that it wouldn't happen.
According to CNET, NASA is now discussing whether SpaceX can aid in the rescue of individuals aboard the International Space Station, along with an astronaut and two cosmonauts from Russia's Roscomos.
An examination is being conducted to evaluate whether the Russian Soyuz spaceship can turn safely the team to Ground or if emergency steps need to be taken. The breach in the Russian Soyuz capsule took place in December.