Introduction
India has always been considered the hub of Information Technology developments and has shown and diligently followed some notable tech trends within the country. With the introduction of AI, machine learning, IoT, and blockchain, India has adopted some of the significant-tech trends being observed worldwide.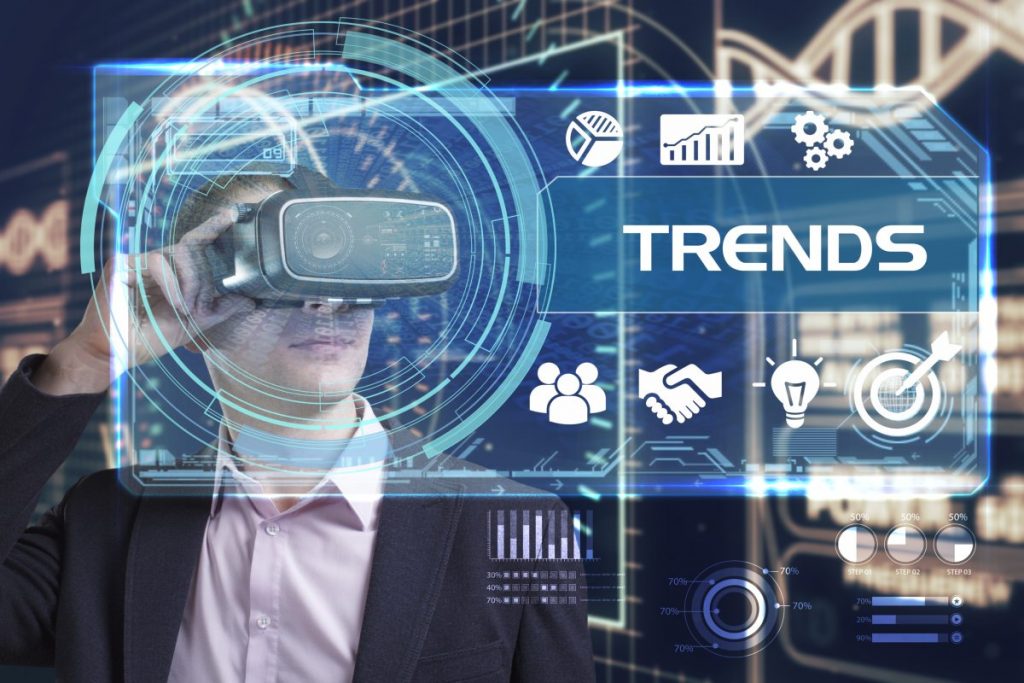 These latest technological advancements have given rise to a wide variety of opportunities in the field of mobile apps, VR-AR, gaming, web-tech, food-tech, and so on. Such trends have improved the functioning of both an organization and the firm's end-product users. With the upcoming trends, many companies like Freelancer, Appfutura, Jampp & Trademob have observed & made use of many such opportunities for the export of IT services from India. 
The art of tech engineering never fails and is in a continuous learning process, building higher & better technology for the nation. 
In this article, we'll be talking about various latest technology trends in India under Information Technology (IT), Blockchain Technology, Food Technology, Web Technology, & the upcoming 5G Technology. 
A. Information Technology (IT) Trends
According to Wikipedia, IT is the usage of computers to store, retrieve, transmit, and manipulate data/information, often considered to be a part of the information and communications technology.
Several products & services are processed and manufactured in the IT sector, making it one of the most massive grossing industry's highest-ever revenue at $ 181 billion in FY'19. Some of the latest tech trends in India in IT the following fields are:
1. Mobile Apps
Mobile App Development has witnessed its rise back from being introduced for the first time back in 2007 to today. The mobile tech is developing and becoming one of the most accessible global tech ecosystems. Today, we have access to apps to create houses in the augmented reality & apps to build apps using the app name generator. It's not long before we can control all our devices with one app on our phone… Oh no! We're already there, aren't we? The topmost latest trends being followed in the Mobile apps group are:
Progressive Web Apps:

Ever noticed how some web apps deliver the same accuracy as the mobile apps on your web browser, without really installing the app. Such web apps are called Progressive web apps, that neither require to be installed on your phone nor requires any significant amount of storage space to function smoothly. The PWAs function efficiently even on a low-speed network & also run without the internet once installed on the home screen of the browser. Many e-commerce giants like Flipkart & Amazon have mastered and blended this unique PWA style on their websites.

Android Instant Apps: Progressive Web Apps are usually adopted by companies offering to view their products & services online, majorly e-commerce firms. In the same way, Android Instant Apps are adopted by usually by the gaming companies that allow their users to experience a gist of their app by providing them with an instant demo version of their mobile game. The users could then choose to download the app according to his/her requirements. A great example of how good the graphics and tech became lately are online casinos. Some of them run directly on your browser, others give you the choice to download an app, while the quality is not affected in either case.
They became realistic and they run faster than ever, giving you the same experience you would have playing on your desktop.
2. Data Science
One of the most trending technologies, not only in India but also abroad is Data Science. It is one of the popular fields that uses various tools, techniques, and algorithms to perform necessary tasks. Data Science comprises a variety of tools and Machine Learning principles that aims to discover hidden data patterns from raw and unstructured business data.
Over the years, this field has become one of the most sought-after career options. Moreover, the demand for Data Scientists has also risen phenomenally over the years as the amount of data that is being generated every day is unimaginable.
As per LinkedIn, there are more than 4,000 vacancies for Data Scientists, for both entry-level and experienced professionals, in India itself.
Data Scientists are also among the highest-paid IT professionals in the country and the range of their salaries varies as per their experience, knowledge, geographical location, the company they work in, and other similar factors.
As per PayScale, the average annual income earned by a certified Data Scientist in India is approximately ₹817,366 and it can range between ₹344,000–₹2,000,000 per annum. Data Science employees in some cities earn higher than others. In Bangalore, Karnataka, they earn 20.9% higher than the national average. In fact, this has let to a huge number of enrollments in Data Science course in Bangalore. Data Scientists are paid higher than the national average in other cities like Gurgaon, Haryana (21.9%). There are a few cities where they earn lower than the national average, including cities like New Delhi (4.1%), Chennai, Tamil Nadu (9.4%), and Pune, Maharashtra (9.8%).
3. Virtual Reality (VR) & Augmented Reality (AR)
Virtual reality and augmented reality are already turning heads with its innovative and interactive technology. Many apps have collaborated with Artificial Intelligence (AI) & integrated trending tech in their interface, developers have been able to stack up applications enabling a realistic augmented reality to use apps recognize & visualize things through the phone's camera. 
Example: Many apps like Snapchat use AR tech to detect facial features and apply almost any filter on the person's face in the Snapchat's picture. 
The best VR apps available online have transformed reality with its technology. Today, with the help of AI & machine learning, students can experience an interactive learning session with their teacher in VR and travelers can experience their hotel rooms with the 'try before you buy' feature enabling the consumers to experience their places in virtual reality before buying it in the reality-reality.
B. Gaming
If you're an avid gamer, you must've noticed the shifting paradigms in the production & reception of the newly released games over the last couple of years. The gaming industry has been revolutionizing its user experience by introducing and integrating the latest and trending technology, guaranteeing an undefined, realistic, and immersive gaming experience. 
The augmented reality, virtual reality & AI has enabled gaming companies to introduce games with 100% player interaction via hand gestures and body movements. The hyper-realistic graphics & directional sound interacts with the player, making him the center of the sport. 
Note: Minecraft is one such game that uses VR tech & 3D sounds that have been created to raise, explore, and battle mobs from a first-person perspective. Famous YouTuber Vanossgaming has followed the game, aka Evan Fong, for a long time, having a stronghold YouTube following of around 25 million. 
C. Blockchain Technology
Blockchain tech has taken over the world like wildfire. Institutes & organizations, ranging from banking to cybersecurity, plan to adopt blockchain because of its distributed ledger tech that guarantees enhanced security, improved traceability, greater transparency, increased efficiency, and reduced costs. Despite a proposed bitcoin ban in India, the country has spread open arms into adopting blockchain technology into its systems.  
Here's a bunch of latest blockchain trends & news:
1. Blockchain Acceptance
India has been preparing itself to become the powerhouse of blockchain operations. With significant problems faced by organizations like middlemen intervention, data breaches, corruption, and tampering of financial ledgers, the country has realized the potential in the power of blockchain. 
Indian Prime Minister Narendra Modi, while favoring & supporting blockchain tech, stated that India's youth could lead a revolutionary digital movement in the country with the use of AI & blockchain tech with value addition.
Here's the latest information about the current blockchain trends in India:
The Indian Defence Minister expressed his support towards the power of blockchain & AI tech is transforming warfare

SEBI chief Ajay Tyagi believes in blockchain tech's ability to transform trading

Reliance Industries Limited plans introduce blockchain to digitalize goods transportation
2. Bitcoin Non-Acceptance
Despite supporting blockchain tech, which was first introduced through cryptography, India has wholly rejected the chief cryptocurrency- Bitcoin. The main reason for dismissing Bitcoin, as stated by Indian officials, is its potential to be highly risky because of its decentralized nature resulting in frauds like The Ponzi Scheme. 
The Reserve Bank of India put a proposed ban on Bitcoin back in April 2018, which forced various enterprises dealing in crypto & Bitcoin out of business. Many cryptocurrency exchanges in India winded up their services like Zebpay & Koinex.
3. Cryptocurrency (Ethereum, Tron, Litecoin)
The entire dispute of cryptocurrencies involves a lot of complexities when it comes to an average user looking for the best cryptocurrency to invest 2018, especially in a country like India where the RBI proposed a ban on dealing in cryptocurrency which does not make it a legal tender but at the same time, doesn't really call it illegal.
With the high price index of Bitcoin, people have been trying to get there by making Ethereum price prediction, which is a lower denomination than Bitcoin, but at the same time an excellent investment, and examining to buy altcoins like Ethereum, Tron & Litecoin. You can also buy with PayPal like Ripple and other cryptos. According to recent altcoin Tron news, the crypto coin plans to partner with stable coins chief Tether.
Blockchain News 
Recently, Tim Draper, the prominent venture capitalist & founder of Draper Associates, explained India's vulnerability towards being a corrupt nation by accepting its defeat against the ban on cryptocurrency, like Bitcoin, proposed by the government. Crypto traders are advised to read the latest crypto news to be updated with the latest government policies regarding blockchain.
D. Food Technology
Food Technology has transformed our way of looking at food forever. Startup stories of the food sector in India make one reminisce the old times when ordering food involved one thing & that was confusion! Today with evolving food-tech trends, you can book a table, order food, read food blogs, review places all in one place.
Zomato is one of the first food ordering app ever launched in India back in 2008 and has changed the food industry in several ways. Today it serves food across 24 countries, including Australia, Canada & Brazil. Swiggy, on the other hand, was launched back in 2014 & has made significant progress while having an established marketplace from its competition Zomato.
However, with speeding tech advancements, such food startup has been able to capture their consumer base by using AI to mine & track the data for food trends, and consumers ' eating habits through which they extract information and use it to develop new products or develop current items.
E. Web Technology
According to a survey conducted in 2018, over 71% of professional developers use JavaScript as their programming language. Nowadays, the latest Vue.js is being adopted more than ever, including being adopted my giants like Alibaba, despite it being relatively new. Vue.js is an ideal option if you are seeking to build lightweight and easy-to-fix apps. Vue.js is not very hard to conquer, unlike SQL which comes to a few blocks above it in difficulty level that often leads individuals to investigate & inquire on SQL interview questions to land them a job as a Structured Query Language developer.
The majority of the latest trending JavaScript developments such as ReactJS, AngularJS, and  GraphQL have given rise to new job opportunities in the tech field and many job seekers have been yearning to grab these opportunities. Many professional developers have advised such seekers to focus on preparing for their dream job by utmost hard work & research to crack interviews by practicing & preparing for jQuery interview questions, C++ interview questions, Python interview questions & many more. The top advice often given to new programmers is to never stop learning. 
Conclusion
The art of tech engineering never fails and is in a continuous learning process, building higher & better technology for the nation. The emerging & constantly changing technologies might both seem evasive & transitory at times, but the rock-solid truth is, that it forms an integral part of the business & IT strategies & would always be the spine of any firm. What more does the future offer to us in the tech field, well, that's for us to see.
Looking to hire software developers for your next big project? Visit Applancer.com now.
Comments
comments