On February 9, 2022, ride-hailing company Lyft (LYFT) announced its earnings for the fourth quarter of the same year after the market had closed. Following the release of the earnings, the company's stock dropped 30% during after-hours trading. Despite surpassing expectations for its revenue and active rider count, the company failed to meet analysts' predictions for its first quarter of 2023 revenue.
Lyft reported a revenue of $1.18 billion, exceeding the expected $1.16 billion, while its loss per share was -$1.61, compared to the anticipated 13 cents. The company also reported 20.36 million active riders, which was higher than the expected 20.3 million. However, its guidance for the first quarter of 2023 was $975 million, lower than the estimated $1.09 billion.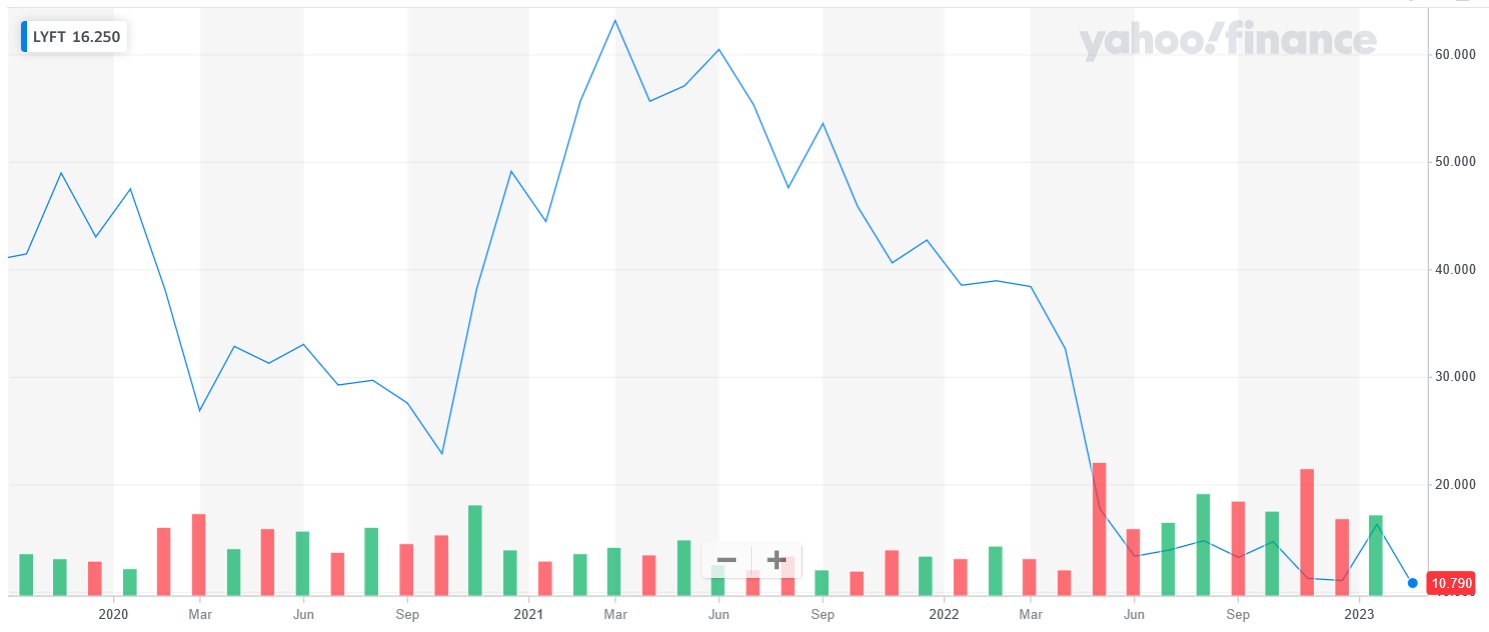 According to Lyft's Chief Financial Officer, Elaine Paul, the company's lower guidance for Q1 2023 is due to seasonality and lower prices, including fewer periods of "Prime Time", which refers to when there is a higher demand for rides and, therefore, higher prices.
Paul also linked the large earnings per share miss to the timing of the company's insurance renewal, which is affecting its profit and loss statement, but emphasized that they are working to achieve competitive service levels without waiting for the issue to normalize.
Future growth plans of Lyft
Although Lyft beat expectations on some key metrics, the company's lower guidance for Q1 2023 and large earnings per share miss caused a significant drop in the company's stock price during after-hours trading.
Despite the dip in its stock price following its Q4 2022 earnings release, there were several positive points in Lyft's report. The company's revenue increased by 21% compared to the same quarter in the previous year, while its active ride count rose by almost 9%.
Lyft's Chief Financial Officer, Elaine Paul, highlighted the company's highest-ever revenue in Q4, which was a result of outperforming guidance on adjusted earnings before interest, taxes, depreciation, and amortization, excluding the steps taken to strengthen its insurance reserves.
Lyft's CEO, Logan Green, commented on the company's progress in 2022 and the opportunities for long-term profitable growth in the current market balance. He stated that the company's priority is to ensure competitive service levels by reinforcing its competitive position, serving more demand, and reducing its fixed and variable costs to deliver strong returns to shareholders.
On February 8, ride-hailing competitor Uber also reported its Q4 earnings and showed key beats in both revenue and delivery bookings. Its Q4 revenue of $8.61 billion represented a 49% year-over-year increase. Uber's shares rose by about 5% following the announcement, although there was a slight decrease during after-hours trading.