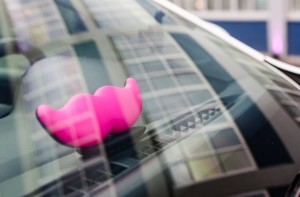 17 April 2016, USA :
Lyft said it recently raised $1 billion, which is helping fuel the spending spree and steal market share from Uber Technologies Inc. To keep costs in check, Lyft has promised investors to cap its losses at no more than $50 million a month, according to a person familiar with the matter who asked not to be identified because the plans are private.
Visit many of America's top landmarks, and amid the crowds of tourists, you'll find hip, young people in pink mustache T-shirts. This small army, spread across 20 of the largest U.S. cities, has been out in full force since late last year, handing out $50 Lyft ride vouchers to anyone passing by. For those who happen to miss the street teams, Lyft Inc. has been running giant billboards around the country. Once a customer signs up, the company keeps them coming back by offering half-off fares on weekdays in some cities.
Lyft says it has captured 45 percent of trips in Los Angeles and Austin, and 43 percent in San Francisco, where both companies are located. Uber says it had 55 percent of ride-hailing sales in Austin, 75 percent in Los Angeles and 66 percent in San Francisco, citing third-party credit card data from the first two weeks of March.
Meanwhile, Uber has been working to fulfill a promise to shareholders and employees that it would achieve profitability in North America by the second quarter of 2016, a milestone it says it has now reached in the U.S. and Canada. In February, Uber earned an average of 19 cents per ride in the U.S.