To expand its logistics presence in India, Amazon, the world's largest e-commerce company, intends to establish its very own air transport fleet, Prime Air. The only region outside of the US and Europe where Amazon will start specialised air carrier services is this one. In 2016, the firm introduced Prime Air in the US.
Amazon Prime Air is allegedly planned to debut by the end of the month and it will only transfer parcels for the firm, allowing it to build its overnight delivery service in the rapidly expanding Indian market. QuickJet, a joint project between AFL and the Ireland-based ASL Aviation Group, would run the aircraft out of Bengaluru.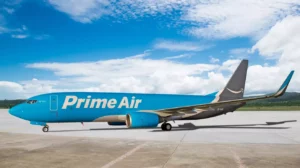 With the purchase of two additional Boeing 737-800s, Amazon Prime Air will then have six cargo ships running by the close of the year. 91 aircraft, including Boeing 737, 767, and ATRs, are presently operated by Prime Air throughout the world. The ASL group oversees Amazon's cargo services in Europe.
In 2007, Tata Capital, IL&FS, and IDFC launched QuickJet. Unfortunately, because of the expensive cost of oil, activities were suspended in 2013. Later, Guzder and ASL assisted in restoring the carrier.
According to the Economic Times, Amazon has also invested Rs 400 crore in Amazon Logistics Services in addition to this investment. This most recent transaction was made public on January 6 and came after an investment of Rs 375 crore from Amazon's Singapore and Mauritius firms in June 2022.
In India, Amazon now has more than a million retailers, and it plans to add a further two million so that its user number reaches 500 million. A previous Economic Times article claimed that Amazon Transportation Services expanded its logistics operation to include third-party distribution channels like Delivery, Ecom Express, and Xpressbees.
Profits for Amazon Transportation Services were Rs 4,581 crore in FY22 as compared to Rs 4,068 crore in FY21, a growth of 12%. During that timeframe, operating losses grew by 38%, to Rs 95 crore in FY22 from Rs 68.70 crore in FY21.
Earlier this month, in the midst of massive job losses, one Amazon worker revealed gloomy sights at the firm's India offices. According to a Times of India story, the global e-commerce company has started making reductions that will impact 1% of its Indian workers. This month, over 1,000 workers are likely to be let go, and the procedure already has started among some.
Individuals are claiming "weeping in office" after discovering about cuts, based on a post on the anonymous professional community app for Indians called Grapevine that was reportedly published by an Amazon India worker.
A day ago a user posting as "Batman1" published a message titled "Amazon India Current Condition."