Ola electric CEO Bhavish Aggarwal shares some details about the upcoming ola electric car and an updated version of the electric scooter. He revealed that the car would be the "sportiest car ever built in India." Ola is working on building the model and more details are to be revealed on August 15.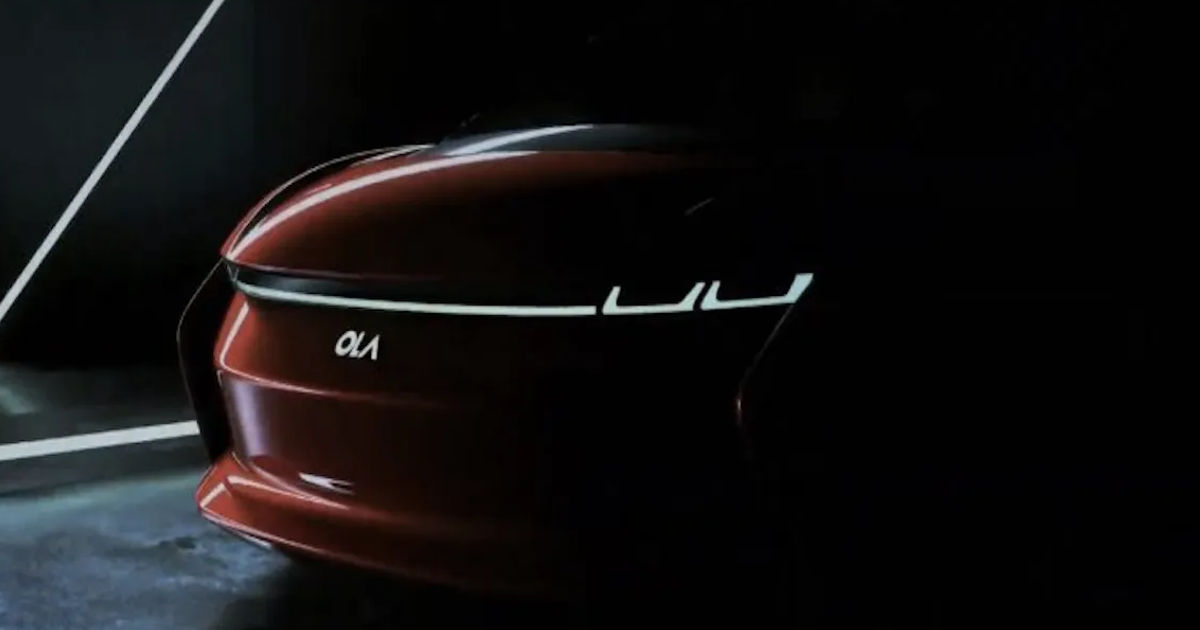 Usually designing a car, and developing and manufacturing it from scratch would take years to finish. With a two-year timeline the company set, it could be making an impossible come true. In March this year, the company invested in a multi USD investment in StoreDot. It is an Israel based company that working on battery technologies. Both companies are working on a XFC (Xtreme Fast Charging) battery technology. It was teased recently by the Ola Electric CEO.
We're going to build the sportiest car ever built in India! 🏎🏎🏎 pic.twitter.com/IyMKgQvTOi

— Bhavish Aggarwal (@bhash) July 16, 2022
Furthermore, the Ex-Mahindra designer Ramkripa Ananthan has joined the Ola Electric team. He has already worked in the development of designing XUV700, Thar, and XUV300 at Mahindra. It could be possible that a model will be built soon enough.
The video clip shared by Aggarwal shows the silhouette of the electric car, which appears to be a four-door sedan. Some key details about the vehicles include the MoveOS3 software update for the upcoming electric scooters, S1 and S1 Pro. It is said that the OS update will be made publicly available during the festival season.
Updates
His tweet mentioned that features such as hill hold, proximity unlock and key sharing will be part of the MoveOS3. Additionally, brake regeneration version two, hyper charging, and other features are likely to be incorporated in the latest update as well.
MoveOS 3 launch for everyone on Diwali this year. If MoveOS 2 was exciting, wait till you experience MoveOS 3😍

Hill hold, proximity unlock, moods, regen v2, hypercharging, calling, key sharing, many new features!

Proud of Ola Engineering for executing worldclass tech at speed!

— Bhavish Aggarwal (@bhash) July 16, 2022
Earlier, Ola Electric had officially teased its upcoming electric car using various social media platforms. This upcoming electric car from Ola Electric is touted to be made at the company's upcoming EV factory in Tamilnadu. As Ola Electric has already teased its upcoming electric car a few times by posting a couple of teasers on various social media platforms, we have got an idea of what to expect from the startup company's first electric car.
Ola Electric has laid out its vision to become a vertically integrated electric mobility player across two-wheeler and passenger vehicle segments. The company calculates the opportunity size at $1 trillion at a volume of 155 million units, according to a Kotak Institutional equities report. The company plans to launch a series of new EV products across scooters, motorcycles, sedans, and SUVs. The company has invested over $100 million in setting up an R&D center for battery technology. It employs over 200 researchers and plans to expand its strength to more than 500 PhDs in the next few years. The technology headquarters will be in Bengaluru with research centers in San Francisco in the US, Coventry in the UK, Pune, and Japan.