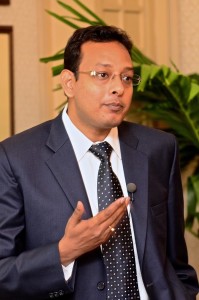 Sunando Banerjee is the Channel Business Manager Asia Pacific and Middle East at Openbravo . Openbravo is the world's leading cloud-based open source Commerce and ERP solution provider. In this interview with Techstory, Sunando talks about the company, its product offerings, about the ecommerce market in India, future of mobile in India and plans of Openbravo in the near future.

About Openbravo

Openbravo as a brand was launched in 2006. The company was however already present in the Spanish market since 2001, as Tecnicia. Its founders, 3 teachers of the University of Pamplona in Spain, had always a clear vision, which was to help midsize companies run better with the best possible full web business management solution. Openbravo's code has its origin in another open source project, Compiere. Since then our solution evolved rapidly to become a totally different product.
In 2006 with the arrival of a new CEO and COO, Openbravo was launched. In January that year the code was open sourced and in 2008 the Global Partner Program was launched. By then we already reported more than 500.000 downloads from Sourceforge. Nowadays we accumulate more than 3M downloads of our products. Prestigious open source awards have recognized our leadership as the BOSSIE award 7 years, 6 years in a row since 2009. Today we count with a global network of over 150 partners worldwide that has allowed us to be present in more than 60 countries. Our partners distribute our solutions exclusively and provide the required local knowledge and experience fully supported by the whole Openbravo organization.
Today we have offices in India, Mexico and Spain. And we are a team of more than 80 enthusiastic professionals with a clear service focus to our partners and customers.
We are also proud to be backed by trusted investors with a proven track in the technology industry as Amadeus Capital Partners, Adara and Sodena.
Today we aim to become a reference player in the Retail software space with the Openbravo Commerce Suite while helping customers in other industries to be more competitive and differentiated with the Openbravo Business Suite. This "Retail first" strategy is reflected in our efforts to deliver the best Commerce solution and become a trusted company for leading retailers worldwide. And I think we are in the right way.
Openbravo Product Offerings

Our offering is composed of a state-of-the-art retail solution and a highly flexible business management solution.
The  Commerce Suite
The  Commerce Suite is a multichannel retail business solution built on top of a truly modular, mobile-enabled and cloud-ready technology platform that allows retailers to transform their physical store channel and do more and faster, with lower risks. All this being a must in today's omnichannel retail reality to provide great shopping experiences to their customers and successfully embrace change and innovation.
The Openbravo Commerce Suite offers a unique store solution including a responsive web and mobile POS with assisted sale and inventory visibility capabilities, backed by a complete back office functionality, which can be easily integrated with legacy corporate systems or scale up to the entire business management thanks to its built-in analytics, warehouse and distribution, procurement, merchandising, customer, financials and accounting management capabilities, as well as available e-commerce platform connectors like with Magento. All on a single product.
Retailers like Decathlon Sports India belonging to the leading international French sporting goods Oxylane, Home's Up in China belonging to leading French group Groupe Adeo, La Europea in Mexico or BUT in France with more than 300 stores have already preferred our solution to improve their store operations and progress in their omnichannel strategies. (Decathlon Sports India case study here, Home's Up case study here)
Openbravo Business Suite
The Openbravo Business Suite is a global management solution built on top of the same technology platform that allows organizations to deliver business process improvements faster, be more focused on business differentiation and business process innovation, and do so with lower risks.
The Openbravo Business Suite offers a comprehensive business management solution with built-in  ERP, CRM and BI capabilities, which can be easily integrated with legacy corporate systems to create highly differentiating or innovating solutions or scale up to the entire business management. All on a single product.
Leading companies in India like Hisar Metal, Esmech or Federal Bank and in other countries like SAIC (NYSE:SAIC, 14.000 employees) in US , Grupo Eulen (80.000 employees) in Spain or Johnson Controls (NYSE:JCI, 168.000 employees) in Mexico have also preferred the Openbravo Business Suite to improve their operations and gain higher level of agility, differentiation and innovation.
Based on our Business Suite solution we are also providing the Openbravo Subscription and Recurring Billing solution, especially designed for companies selling their products and services under a recurring model and offering a complete support from pricing models definition, contract management, billing and invoicing and revenue recognition.
Future of E-Commerce Market in India

E-Commerce and M-Commerce, online retail in general, are expected to show exponential growth in the future. They are in fact already growing at a fast pace but it is true that physical stores are still and will still dominate total sales in the coming years everywhere. This is precisely the reason why retailers with physical stores must transform them to play their new role in today's omnichannel retail. Something which is at the center of our value proposition, with a store solution that helps brick-an-mortar retailers to create an emotional bond with their brand, provide a personalized shopping experience, better tools for higher store intelligence and the capacity to excel in their store operations, a must to become multichannel hubs.
Therefore, e-commerce is growing but physical stores will still dominate. Situation in India is not different. For example India appeared at position 21 at the end of 2014 in an eMarketer study for emerging markets with only 0.7% of online sales to total sales, which will double to 1,4% in 2018. The list was led by China with a 10,1% in 2014.
The growth potential for e-commerce in India is however huge but there are some factors than can be also identified that could prevent this to happen. Apart of the required infrastructures, for example for higher internet adoption or to deliver the required delivery services, probably today FDI policies in the B2C segment are seen as the most important issue to unlock the potential of e-commerce in India. According to different studies the Indian e-commerce market is poised to grow at a compound annual growth rate (CAGR) of 80% over the next six years but for that to happen, same sources reveal that the government would need to allow foreign direct investment (FDI) in this B2C segment.
We need to wait and see what happens but once these aspects are addressed, future is more than promising.
With the Commerce Suite we can also help retailers that want to integrate their online channel. Our solution can act in this case as a strong backend to manage online orders and progress in cross-channel scenarios. Retailers can leverage existing connectors with solutions like Magento or build easily new connectors with the e-commerce platform of their choice thanks to its interoperability capabilities.
Companies Adopting Mobile Strategy

Mobility can't be considered any longer as a new technology of course, but it is still true that a lot of companies are still struggling to get their benefits due especially to their legacy technologies. We see then a growing interest to adopt new business solutions that help them to leverage mobility and to do it easily. Operational benefits are clear and this is the reason "mobile-first" strategies are more present in all companies. For employees, mobility is also a matter of usability. They expect the same level of experience they have for example when using their personal devices with their social apps. This will strongly influence future enterprise mobile solutions.
For retailers in particular and in combination with other technologies such as Cloud, mobility allows to react faster and be more flexible to succeed in today's super-empowered consumers age.
Applications of mobility in retail are wide and varied but retailers invest in mobility mainly to enhance the customer experience and to improve business efficiency. And the retail area that is more benefited from mobility is the store operation where mobility is penetrating deeply into the critical realms of shopper experience and customer satisfaction.
Store operations are optimized in different ways thanks to mobility. Customer service and engagement are highly improved by allowing an assisted and interactive sale everywhere in the store which we can see is considered very important and differentiating for specialty retailers like in fashion or electronics. Line busting during peak periods is another way retailers can improve their service resulting very often in a saved sale.
In our case we help companies with a mobile-enabled technology platform to build modern responsive web and mobile solutions. As a web technology it only requires a browser, so no need of installation on each device is required, thus minimizing rollout and maintenance tasks, and its responsive capabilities ensures the customer gain maximum freedom to select the devices of their choice, since layout adapts automatically to the device size. Finally as it provides secure local storage in case of connectivity loss, it helps to ensure uninterrupted operations. Available mobile functionality includes our powerful mobile POS, a key component of our Commerce Suite, mobile warehouse and inventory functionality and purchasing functionality. Some of our customers have already adopted these solutions and others have simply built new mobile processes, for example for assets maintenance, where technicians can go to the field, get online information about each asset to be revised, and to register any maintenance activity that is immediately available in the central office.
 Openbravo – Plans For The Future

Growth and growth. This is the plan, and especially in our most strategic geographies as it is India.
Talking about partners, we plan to extend our partner network with companies with a proven experience selling and implementing business management solutions, not necessarily to replace any of their currently distributed solutions but to complement and improve their current portfolio. For example we see a growing interest from SAP partners and customers to integrate our Store Solution with their legacy SAP system in their headquarters.
From the point of view of the product and based in our "Retail first" strategy, we are working in a strong Retail focused product roadmap that will help to improve our solution this year in several areas. Multichannel capabilities, assisted sale features or advanced inventory management functionality will be all improved to help retailers deliver the best shopping experiences and progress in a solid way towards their omnichannel objectives.
We also plan to launch a new and improved Cloud offering much better suited for larger companies and providing a higher level of service and flexibility that will help us to better deliver the value of Openbravo solutions in the Cloud for midsize and large companies.
All these efforts oriented obviously to increase our customer base, especially in Retail and for an average customer size that has clearly increased during the last couple of years. An industry where we think we have today a very compelling solution with a quite differentiating value proposition for midsize to large retailers.