India's neighboring country, Pakistan has recently blocked Wikipedia pages after the platform didn't remove "sacrilegious content" even after a warning, a report said.
A warning was sent by Pakistan Telecommunication Authority (PTA) but no response was received in return for which the country blocked the Wikipedia services around the area.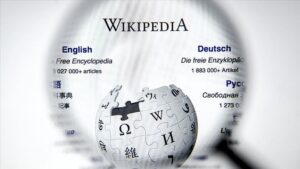 According to PTA, they approached Wikipedia for blocking or removal of certain kinds of sacrilegious content that are available on the pages. However, it is not clear what exactly they want to remove.
In a statement as PTA said, the platform didn't comply with anything, neither by removing the contents that are offending certain people nor by appearing in front of the world to answer to the authorities.
Therefore, on 1st February, Wikipedia was "degraded" for two days over "blasphemous content". Even after two days, the platform remained blocked, stated Bloomberg.
'Wikipedia was approached for blocking/removal of the said contents by issuing a notice under applicable law & court order(s). An opportunity of hearing was also provided, however, the platform neither complied by removing the blasphemous content nor appeared before the Authority,' read a tweet by the Pakistan Telecom Authority.
"Given the intentional failure on the part of the platform to comply with the directions of PTA, the services of Wikipedia have been degraded for 48 hours with the direction to block/remove the reported contents," PTA had said in a tweet.
The regulator said that the step to restore services of the Wikipedia platform will solely depend on the demands of the authorities being fulfilled.
Surprisingly, Wikipedia has a written article on the topic 'Censorship of Wikipedia' where it mentioned that some similar ban has happened earlier in different countries including China, Iran, Myanmar, Russia, Saudi Arabia, Syria, Tunisia, Turkey, Uzbekistan, and Venezuela.
"The ban is disproportionate, unconstitutional, and quite ridiculous," Usama Khilji, a digital rights activist, told AFP, adding that it will 'impact students, academics, researchers and other sections of the society'.
However, Pakistan has many times banned several platforms and websites on social media over the demand of government authorities.
On YouTube, the government of Pakistan has blocked around 700 links that were of anti-Islam films. The Supreme Court of Pakistan gave an order to the PTA officials to block any link that might lead to the movie.