E-learning, commonly referred as Online Learning is thriving. A study by Market research firm Global Industry Analysts predicts that e-learning will reach $107 Billion in 2015. There is a universal consent that the worldwide E-Learning market will show fast and significant growth over the next three years. The worldwide market for Self-Paced E-Learning reached $35.6 billion in 2011. Read The Full Report Here. According to the report, CAGR is highest in Asia at 17.3%, followed by Eastern Europe, Africa, and Latin America at 16.9%, 15.2%, and 14.6%, respectively.
There seems to be no slowing down with e-learning industry. Ease and convenience to access resources, comparably less investment and availability of wider range of sources are making Online Learning really popular in all form of organizations as well as among individual learners.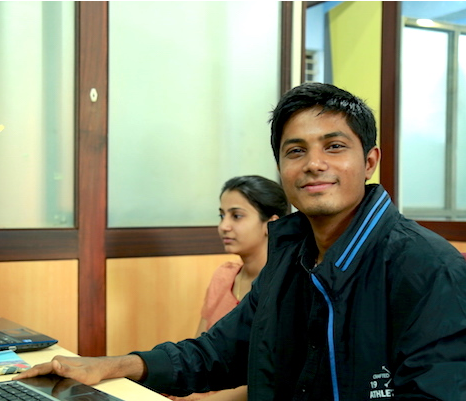 Founded by Basavaraj Hampali, PracticalCoding.in is a platform that lets mentors (IT professionals) teach registered users. It offers a hybrid platform where mentors can teach a particular topic to learners at a fixed time. The contents provided in various courses are well-structured and defined.
Founder & Background: Basavaraj Hampali- Was one of the early employees (Programmer) at Mumbai based Traffline.com and Founder of KanheriEdu.com, an education technology startup.
Inspiration to start: The idea struck to Basavaraj Hampali when he began to teach Android development to interested people to make some extra money. The fact that he could make a difference in someone's life struck him hard.
[box type="shadow" align="" class="" width=""]PracticalCoding.in Facts!
Industry: Online learning
About Company: An Educational Technology Startup
About Platform: Online Instructor led Personalized Learning (OIPL) platform to impart Coding Skills
Started: 2014
Addressable Market: Learners-IT professionals, Students, Entrepreneurs
Competitors: ACADGlid, Edureka, Simplilearn
Product Differentiation:
Instructor: Learner ratio is 1:5 at maximum
Learners can select the Instructor of their choice
Competitive advantage: Curated marketplace with quality professionals as Instructors. PracticalCoding.in has Instructors from Microsoft, IBM, Myntra to name a few.
Current team size: 5
Revenue: 5 Lakh+ INR.[/box]
PracticalCoding.in has Instructors and Learners from 5 different countries. They have learners from the Silicon Valley of India, Bangalore to as far as Orissa. Their Instructors are from Mumbai, Bangalore, Netherlands and many other places. Watch the below video to get a feel of an on going tutorial:
https://youtube.com/watch?v=_xdaC-caNjo
"However, we are posed to challenges as well. The most critical challenge we were confronted to is Pricing – Deciding a price which will be good for both Learner (one who is paying) and the Instructor (One who is being paid for his service). We have cracked it. We are constantly improvising it though" says Basavaraj.
He adds that among all the odds, there are blissful moments as well. He recalls how one of the most inspiring moments to grow and do more came from getting a paid customer from one of the underprivileged cities of Orissa who is now taking a Mobile game development course with PracticalCoding.in.
At present, PracticalCoding.in has 2-4 live courses every week. They will be adding more courses to list and make it to 20-40 every week. 
Currently, the team is looking for funding and welcomes anyone who is in sync with what they are doing.  
Links:
Website: www.PracticalCoding.in
Twitter: https://twitter.com/CodingPractical
Youtube: https://www.youtube.com/channel/UCXZDfaAphN_a7c7nAHFYG9g
Blog: http://PracticalCoding.in/blog/