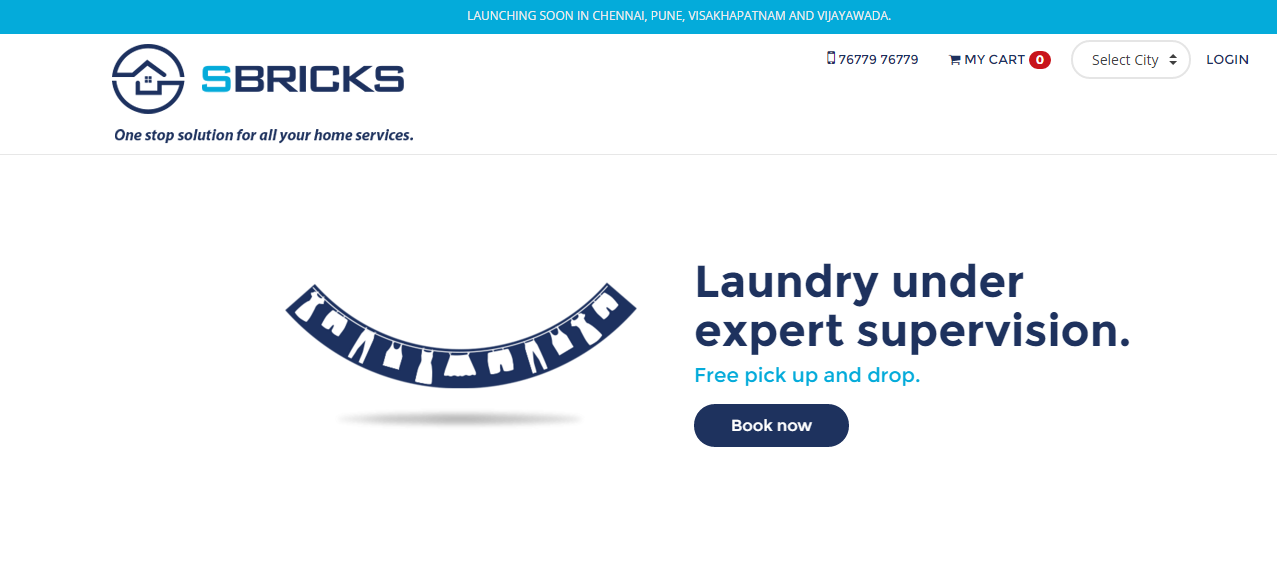 22 December, 2015, Hyderabad: Hyderabad based ​Hybrid On-Demand Home Cleaning and Laundry Player SBricks (www.SBricks.com ) today announced its first acquisition – Hyderabad based "Melway" (www.melway.in ), an established Facility Management and hands-on services player with strong customer credentials for an undisclosed amount. The acquisition will bring in 200 home cleaning professionals to SBricks fold, along with brand equity and clientele portfolio.
Announcing the acquisition Nithin Reddy, Founder and CEO of SBricks said, "Melway adds tremendous synergy to our growth plans in home cleaning services business that is growing at a rapid pace. We are currently clocking 125 orders per day and expect to touch the 300 orders per day mark in the next few months. Now, we also have access to 6000 services touch points that Melway brings to our table".
Founded in 2015 SBricks will retain the 4 year old Melway trade name and says its existing team structure will remain intact. Sbricks will support the Melway and Sbricks joint operations through strategic investments and inducing consumer relevant newer cleaning services.
"We believe that a 'Hybrid' model is the way forward in our sector , We wanted to take the lead by consolidating our business through acquisitions and building our 'SBricks' brand in the market. The Home Cleaning Services will grow rapidly in the coming years and the best way to go forward is to leverage this potential and join forces rather than having a turf war."
The boot strapped startup is upbeat about its consumer services growth as well. At this moment SBricks boast a client roster of 5000+ which is expected to touch 10000 in the next 6 months. The clients include Big Cinemas, Asian Movies chain besides large gated communities, individual homes and small apartment blocks in the Hyderabad region. Currently, SBricks offers 40 services with its list of pre-approved carefully screened service providers for home maintenance and soon will launch its facility management services.
"To consolidate our market strength and to accelerate our customer penetration we will continue to seek such deals, with future acquisitions". Nithin added.
Nithin says he and his 50 member team do not wish to be an aggregator of on-demand-services. Our aspiration is to build a company that will have its own team of professionals and partners that will follow stringent 'Quality and Price Control". Our services start from as low as Rs 300 ".
The immediate focus of the company is to grow with their current territories in Hyderabad and then move on to newer cities across South of India and then rest of India.
Currently, Sbricks, through their investment bankers Consark, a boutique advisory services firm, is in early stages of discussions with two international Venture Capital firms for investment to build its footprint in India in the near term.
SBricks has recently started its laundry services at an IT Giant Hyderabad campus in addition to setting up exclusive service outlet at a large gated community. The Company has expanded to five cities since going live in April 2015 in Hyderabad.