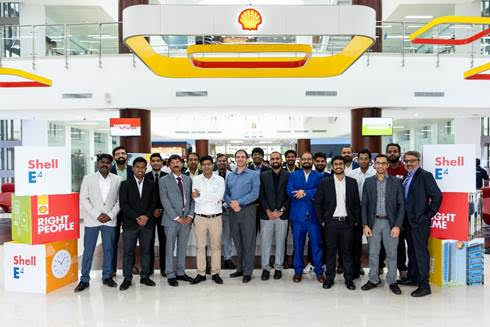 16 July 2019, India:
Shell, today, organised second edition of Shell E4 Demo Day. The event witnessed the graduation of ten start-ups which were selected by Shell for incubation in January 2019.
The ten start-ups which include Mobycy, RightWatts, Ziptrax, igrenEnergi, TresMoto, Manastu Space, AutoVRse, LogisticsNow, Maximl and iGarage operate on diverse domains and backgrounds. These start-ups have interesting business models and differentiated product offerings like Battery Management, Digital – AR/VR, Mobility Solutions, Logistics, Energy Management, Operations Efficiency and Energy IOT Applications.
While a number of these start-ups are working towards a pilot with Shell businesses, some others are closely working with Shell to co-create customer solutions.
Shell announced that 3rd cohort of the E4 programme will focus on digital startups and the 4th cohort will focus on the theme 'Future of Mobility for India'. The registrations for the 4th cohort are open from July 15 – October 15, 2019.
Sada Iyer, Shell Technology Centre Bangalore Leader, said, "At Shell, we constantly strive to strengthen our commitment to partner energy entrepreneurs and take steady steps towards India's transition to a sustainable tomorrow. We are glad to announce the graduation of the second cohort of the E4 programme and we wish each of the graduating start-ups success in their journey towards a better future."
Sada Iyer, added, "By mentoring these start-ups, we have nurtured and enabled the young energy entrepreneurs to bring innovations in the Indian energy sector. We are hopeful that the next year will see even more diverse energy start-ups striving towards an advanced and sustainable ecosystem with Shell E4."
James Unterreiner, General Manager, Shell E4 Start-up Hub, said, "Keeping in mind the idea behind introducing Shell E4, we have and shall keep identifying and engaging with start-ups who have the talent and vision to innovate technology that will further accelerate India's transition to a sustainable energy future. On behalf of Shell, I congratulate each of the start-ups under the second cohort of Shell E4 and wish them the very best in their journey ahead."
The startups graduated in 2nd Cohort are:
RightWatts: RightWatts is building an 'Open Platform for Industrial Apps'. Targeted at industries, buildings, utilities and data centres, their No-Code Platform helps solution providers working in these segments to build, deploy and replicate 'Industrial Apps' at scale.
Manastu Space: Manastu Space has designed fuel for satellites. It has designed a green propulsion system consisting of hydrogen peroxide based green propellant, engine associated with it and catalyst.
Mobycy: Mobycy provides electric scooters – Zypp, which can be found on the Mobycy app and unlocked by scanning a QR code to start the ride.
AutoVRse: AutoVRse creates immersive AR/VR environments for a variety of applications such as automotive design reviews, immersive product experience, immersive training, immersive virtual collaboration etc.
igrenEnergi: igrenEnergi has developed a Battery Management System which makes feasible the mass adoption of EVs. It's BMS delivers improvement in range, charging time & cycle life, and enables business models like battery swapping, rental, off-line charging, and second-life.
Maximl: Maximl is building a new age industrial collaboration platform to streamline last mile communication and rapidly digitalize ground operations to enable real-time decision making and effective collaboration between field and office for industrial workforce.
LogisticsNow: LogisticsNow is building the Digital Backbone of global Logistics to help customers develop a stronger technology enabled transportation and logistics business.
TresMoto: TresMoto develops plug and play scooter for dock less rental and micro-delivery service providers.
Ziptrax: Ziptrax aims to provide low cost, infinitely serviceable battery energy storage to the masses by re-purposing Li-ion batteries for 2nd use applications such as E-mobility and Energy Storage.
iGarage: iGarage is an integrated technology-based marketplace platform that offers convenience, value for money and promise of reliability to fill the gap of customer inconvenience for vehicle lifestyle ownership.
(Image – Shell)
Comments
comments