Snap Inc., the owner of Snapchat, recently announced its Q4 2022 financial results, reporting flat revenue of $1.3 billion and a net loss of $288 million. The company's shares dropped 14% following the announcement due to a warning of a possible decline in revenue by up to 10% in the current quarter.
The announcement makes Snap the first major digital advertising platform to report Q4 results, and could provide an early insight into the performance of platforms like Facebook and Google, who will report their results later this week.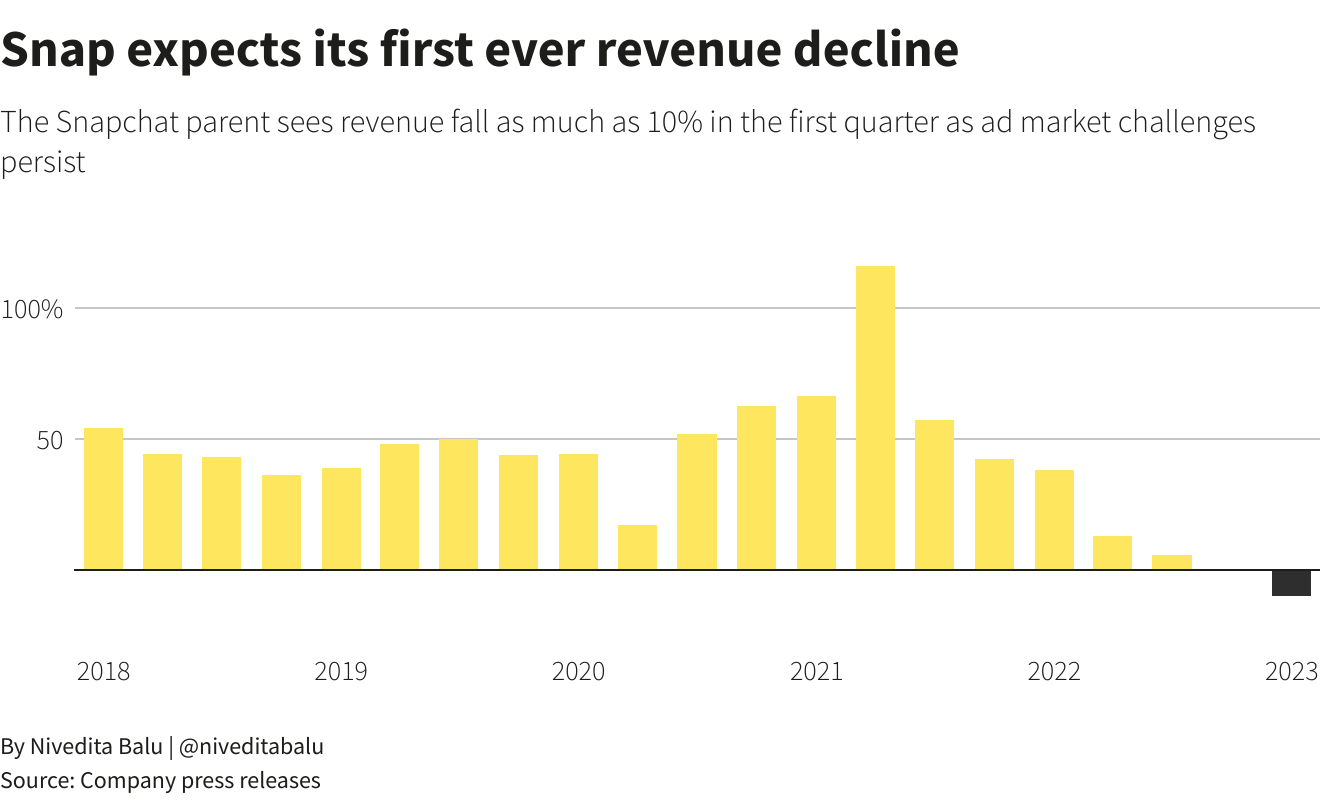 The tech sector has been facing challenges in recent months, including increased competition from other social media platforms, a weakening economy, and privacy changes on iPhones that limit advertisers' ability to collect data for targeted advertising. Snap CEO Evan Spiegel said the company is working to improve its ability to measure and boost the effectiveness of its ads, but it will take time for the investments to translate into higher revenue.
Shares of Snap have fallen 65% over the past year, but the company has more than 2 million subscribers to its premium product Snapchat+. Snap CEO Evan Spiegel also expressed excitement about the opportunity around generative artificial intelligence, which could help advance Snap's investments in augmented reality technology. Snapchat saw a 17% YoY increase in daily active users, reaching 375 million, beating analyst expectations.
Snap will host an investor day on February 16 to discuss its plans for moving forward after announcing a 20% layoff of its staff and discontinuation of experimental projects in August 2022 to cut costs. The company's internal forecast assumes a revenue decline of 2-10% in Q1 2023 and currently reports a 7% decline in revenue so far in the quarter, with a forecast of 382-384 million daily active users.
Future plans of Snap chat
Snap's disappointing Q4 results and its warning of a potential decline in revenue in the current quarter have raised concerns about the company's future prospects. Despite the challenges faced by the tech sector, the drop in Snap's revenue is a clear indication that the company is struggling to maintain its position in the highly competitive digital advertising space.
In addition to the factors mentioned earlier, Snap's struggles are also due to increased competition from larger, established players like Facebook and Google. These companies have significant advantages in terms of reach and resources, making it difficult for Snap to carve out a niche for itself.
However, Snap is not sitting still and is actively working to address these challenges. The company's investment in generative artificial intelligence is an example of its efforts to stay ahead of the curve and remain relevant in the fast-evolving tech landscape. Additionally, Snap's recent focus on developing a new revenue source through Snapchat+ is another positive sign that the company is exploring new avenues for growth.