One of the biggest influencers on customer service has been the rise of social media.Till now companies have focused on factors such as First Call Resolution (FCR) or Average Hold Time (AHT) to gauge customer service agent's performance as a link between the contact center and its customers. However, today social media has trumped all these metrics.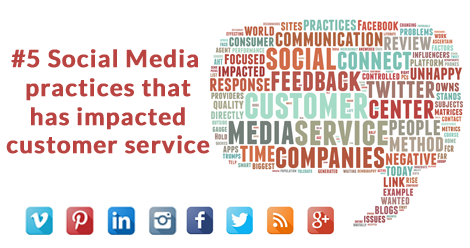 Now a days people are all constantly connected – at home through laptops or tablets, at work through desktop PCs and of course, smart phones ascertain a 24x 7 link to the outside world. Social media is always on as the preferred method of communication. There is consumer- generated social media, there is a broad- based social media like Facebook and Twitter, there is company- owned social media and then there is a more focused media like video sites and blogs or consumer review sites such as Yelp, Amazon and Planet- Feedback. All these communication channels are affecting the method and quality of customer service, in fact there are social media management software available to take SMM and customer services to next level. Here, I have list the 5 practices which are changing the face of customer service.
Quicker Response
Twitter allows firms to communicate directly with its customers. A few years back one could tolerate waiting for weeks to get a response from the customer service center, but now we want our queries answered right away.In a demography where more than half of the population is under the age of 30 and digitally literate, companies cannot ignore this huge group of 'tomorrow's customers' or they would be left behind. An example can be of the State Bank of India which is increasingly active on twitter and recommends their customers to send them a tweet on twitter for immediate assistance.
Collective Customer
Facebook has given birth to an extremely vocal, confident and powerful 'collective customer' who is not afraid to share with his/ her peers and with the entire world a less than favorable customer experience. When one person stands up, it emboldens another ten people to stand up with him. Collectively the impact is higher and forces companies to take action.
Feedback Center
Social Media has become a platform for customers to issue complaints or problems they might be having with a business or a product. There are also mobile apps to connect with customer service departments. Haptik, an app to connect customer with the service center of companies, in a whatsapp like chat method, has become an instant success. It is being well accepted both by companies which can now control the cost on call centers and by customer who can directly connect with the service providers over messages.
Platform for Problem Solving
It is now easier than ever for an unhappy customer to write a negative review or comment that thousands of other people will see.Unhappy customers will often vent their frustrations on review websites and somehow, negative sentiment has the unwelcome ability to spread like wildfire. A perfect example is that of Lemp a restaurant in Delhi whose rating on zomato came down to 1 a few hours after one negative blog written by an unhappy customer.
New Feedback Matrices
In the past, surveys asked specific questions and led the customer to provide feedback on subjects the organization felt was important. Customer service was measured by coding the cause of the service call or the result, response time,the time taken to resolve issues or the volume of calls. This way, the organization controlled what it wanted to receive from customers as feedback. Today, the customer owns the subject of feedback and consequently the conversation with the organization. They are free to create their own matrices like behavior of the customer service team, the quality of goods delivered by an eCommerce store, etc.
This story is contributed by
Dhruv Patel

"Being a non-tech but technoholic guy, Dhruv spend most of time in managing content, seo & ppc for SoftwareSuggest.com | India's largest business discovery and recommendation platform. Attended BKMIBA HLBBA. Currently living  and working in Ahmedabad, Gujarat, India."