The screen mirroring feature is used by many people worldwide for many reasons, such as seeing pictures directly on the laptop without uploading them, watching movies on the big screen and even developers use it while creating apps. This feature is undoubtedly amazing, but some people find it difficult to mirror a phone to a laptop. If you also don't know how to screen mirror phone to laptop. We got you covered! In this article, we have shared different ways to mirror phone screen to a laptop without wasting any time. Let's discuss these ways. 
Part 1: Frequent Questions about Screen Mirroring
As mentioned above, people mirror their phones to their laptops to see different things, such as the World Cup, but it also has some limitations. Also, the screen mirroring method depends on the device that you are using. Below we have mentioned everything about Screen mirroring and how you can mirror your phone on your laptop. 
1. What is Screen Mirroring? 
Before mirroring your phone to the laptop, you first have to understand what is screen mirroring. Basically, it is a method of replicating your device to another device using the technology called screen mirroring. With the help of this feature, you also share different content, including documents, pictures, and more. However, to share the files, you first have to mirror your phone to PC, laptop, or any other device. 
2. Can I Mirror My Phone to My Laptop?
Yes, it is definitely possible to mirror phone to laptop. For this process, you can even use a third-party application such as Tenorshare Screen Mirroring software. With the help of such apps, you can easily mirror a phone with any device you want. Want to know more about these apps? Check out the details below. 
Part 2: How to Mirror Phone to Laptop-Samsung
Are you wondering how to mirror phone to laptop on Samsung? Well, you can use Samsung Flow application for this process. It is an easy-to-use application and is available for mobiles, tablets, PC laptops, and more. It is created by Samsung and makes sure you can easily transfer documents, share your notifications, and even mirror Screen using the Smart View. Remember that this app is only available for Android 6.0 and higher. Want to know more about Samsung Flow? Check out the steps below. 
Download the Samsung Flow application on your Samsung and laptop.

Now, connect your laptop and mobile to the same internet. You can also follow the instructions on the screen to do it. 

From the interface, click the "Smart View" icon, which you can find on the top menu. And wait until it successfully mirrors the phone to your laptop. 
That's it! You can now enjoy the big screen and watch your content. 
Part 3: How to Display Phone Screen on Laptop [Easiest & Quickest]
When it comes to mirroring the screen on your laptop, there are many ways that you can try. But if you are searching for the easiest and quickest way, then Tenorshare Phone Mirror is a perfect choice. Tenorshare screen mirroring software is simple for anyone to use it. Furthermore, you control your Android phone using the USB cable and connect it to your PC as well. You can easily download this software for both Windows and Mac. Follow below to know how Tenorshare Phone Mirror works. 
Step 1-Download the Phone Mirror application on your computer.
Step 2-Next, you have to connect your phone, and for that, you can use the USB cable. To make the process smooth, make sure you have enabled the USB debugging option.
Step 3-On the screen, you will see the list of devices connected to your PC. Choose the device and click the Mirror button.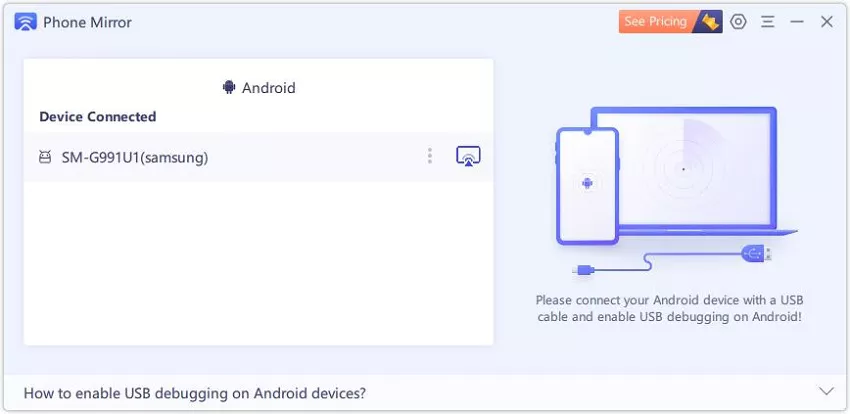 Step 4-Within a few seconds, you will see your Android screen on the PC.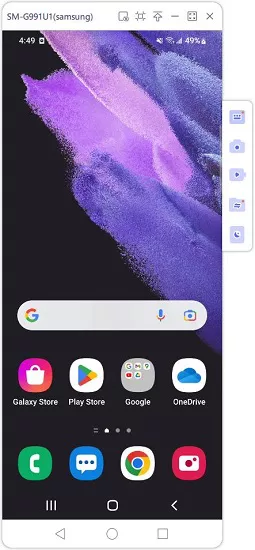 Step 5-Finally, you have learned how to use Tenorshare Phone mirror software. 
What would you get if you use Tenorshare Phone Mirror
Users can easily play Android games on PC and Mac using the game keyboard. 

Mirror  your Android screen and see the Movie on a bigger screen.

You can easily control your Android phone from a PC.

Users can control multiple devices at the same time.

With the help of this app, you can transfer files between Android and PC & Mac.

You can even take screenshots and record your Android screen on PC. 
Part 4: How to Cast my Phone to my Laptop without App?
If you don't want to use any third-party application to mirror phone to laptop, then you can use the Screen Mirroring feature. This is a built-in feature available on Windows 10. However, make sure your device supports Mirecast; otherwise, this method won't work for you.  Given below are the steps that you can try to mirror your phone.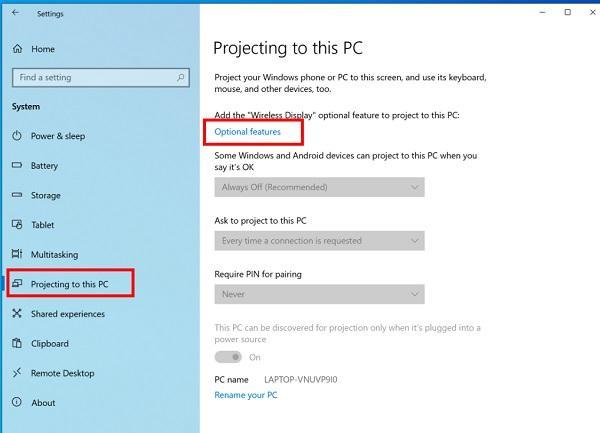 First, you have to turn on the mirroring feature on your Android device, such as Wireless Projection.

Next, connect your phone and laptop to the same wifi network.

Open your laptop, look for the Settings option, click on Systems and then choose the Projecting to this PC option.

If you are using this feature for the first time, then you have to download Wireless Display and for that, click the  "Optional features" option.

You will see a list of features, so look for the Wireless Display feature and click the Install option. 

Once the Wireless Display Feature is installed. Now, tap "Connect on your laptop" option and open it. It will create a connection between your mobile and laptop. 

Allow the request, and soon you will see your Android screen.
However, remember that you can't control your Android devices using this method.
Part 5: How to Mirror iPhone Screen on Laptop
How to connect the iPhone screen to laptop? If you are an iPhone user and want to mirror phone to laptop, then you can use the AirPlay application. You can easily find this app on your Mac device. With the help of this feature, you can quickly mirror the iPhone device to Apple TV and Mac. Remember that this option is only available for iPhone and Mac users. So, if you have both devices, then check out the steps below to connect the phone screen to laptop. 
Open up your iPhone device and swipe down to get to the control center. From there, click the "Screen Mirror" or "AirPlay" option. 

Connect your iPhone and Mac with the same internet, and don't keep your devices far away from each other. 

You will find Mac device names under the Screen Mirroring list. Select the device that you want to connect, and you are good to go.
Part 6: The Bottom Line
If you fail to mirror phone to laptop due to unknown reasons, try Tenorshare Phone mirror to cast phone to laptop without any limitations. With Tenorshare Phone Mirror, you can control up to five devices simultaneously, play various Android games, take screenshots, record Android screens, and transfer files on PC directly.