Stayzilla is one of India's largest online "Stay" marketplaces and caters to the "budget and value" accommodation needs of the middle class Indian explorer. Stayzilla has recently started a new market segment -an Airbnb type model where people can rent out rooms in their home – and  the company is honing the business model to suit the India consumers. In this interview with Techstory, Yogendra Vasupal, Founder, Stayzilla talks to Techstory about the need for having such a market segment, their marketing campaign and how the company is creating something much better than AirBnB for the Indian consumers !
The Need To Have This Segment
Indian economy is booming, our metros are rising, a number of hotels are coming up in the metros and a lot of allied services  cater to the needs of the traveler. "Hotels in metros today are seeing about 60% occupancy rates which is a decent rate to have for any hotel," says Yogendra. But there seems to be a problem. "Only 20% of our business comes from metros. The occupancy rates in hotels other than metros is very high.There is more and more demand for rooms in cities other than metro cities and the demand surely is exceeding the supply that is currently available. There are hardly any good hotels outside of metros today. And this is a problem in a country, a large part of which resides outside of the metros," says Yogendra. "The fact that there is only 1 room per 1000 domestic trips in India vs 7 in China, 9 in the USA and 14 in Europe talks about the dearth of rooms in India which is clearly coming from the regions outside of metro cities," adds Yogendra.
Stayzilla Company Snapshot
Year founded: 2005
Founders : Yogendra Vasupal, Sachit Singhi, Rupal Surana
Current Stats: 35000 properties in 4500 locations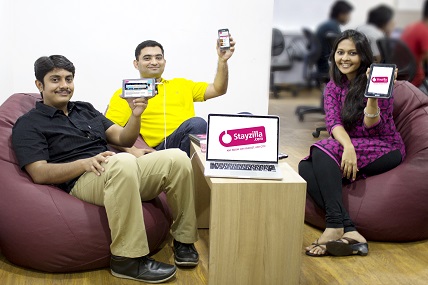 Stayzilla's New Social Stay Segment : It's time to Open Up
There is clearly a lot of demand and less supply of rooms and in a booming economy, the tourism industry is looking for and will find a solution to this problem. The costs of creating  room in a hotel is 50 lakh on an average and the industry is therefore now focusing on the home stay market.
In such times, Stayzilla has added a new category to their room offerings- That of Social Stay !

How Stayzilla Social Stay Segment Works ?
The Stayzilla Social Stay model is inspired by AirBnb model where home owners are encouraged to open up their idle homes or extra rooms in their current homes to travelers. However Stayzilla is making this model even better. Under the Stayzilla Social Stay Segment, home owners can define what kind of guests they are looking for. So if you are looking for people who graduated from the same college as you or people who love dogs or people with kids only, you can make your choice of people known and Stayzilla will make sure that your home has only those kind of guests that you wish to have.
"When it comes to renting out a place inside your home, being comfortable with the kind of guest you will have is the most important factor. By allowing you to choose the kind of guests you would like to host, Stayzilla not only takes care of the comfort factor but also creates an opportunity for the hosts to make new long lasting friendships," says Yogendra."People do not have inhibitions with such a model because they are opening up to their own kind," he adds.
When you can meet people with similar interests online and become good friends then why cant you do it offline – is the basis of the idea and a huge marketing campaign undertaken by Stayzilla.
Yogendra feels that AirBnB does not give hosts the control that would make them comfortable to have guests over and therefore is not able to tap the complete potential of the market.
The idea seems to be very well received and people have started opening up their homes. "About 20% of our hosts are retired couples," Yogendra tells us.
Stayzilla today has 75000+ rooms hosted by 1800+ homeowners in this category. The company is currently adding about 7500 rooms on a monthly basis and is aiming to reach 0.5 million rooms in the next 3 years.
Comments
comments