Only recently it was known that Tesla was releasing over-the-air updates to recall more than 53,000 Tesla vehicles. Now another update is being sent out to a total of 817,143 vehicles to fix the belt chime issue. The models comprise of 2021-2022 Tesla Model X, 2020-2022 Tesla Model Y, 2021-2022 Tesla Model S, and 2017-2022 Tesla Model 3.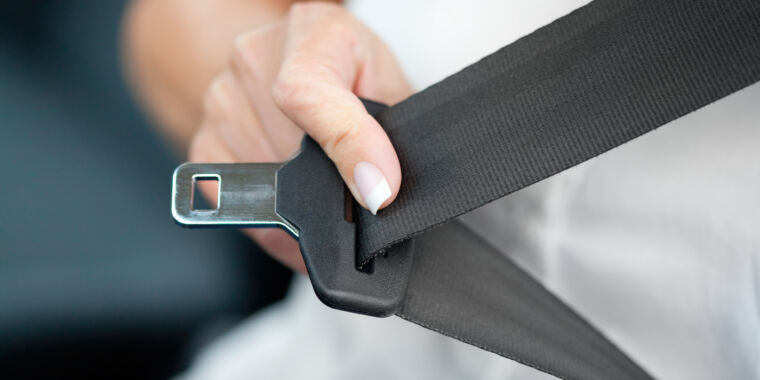 It was first filed by the National Highway Traffic Safety Administration (NHTSA) about the seat belt chime issue. The issue was that the software error might prevent the vehicle to warn when the driver isn't wearing the seatbelt. As of January 31, Tesl claimed to not be aware of any such issue with their vehicles, there were no reported incidents or issues.
The nature of the seatbelt issue was described by NHTSA as follows,
"FMVSS 208, S7.3 (a)-(1), requires the audible seat belt reminder chime to activate upon vehicle start (i.e., driver presses the brake pedal after entering the vehicle) if the driver seat belt is not detected as buckled. On certain MY 2021-2022 Model S and Model X vehicles and on all MY Model 3 and Model Y vehicles, a software error may prevent the chime from activating upon vehicle start under certain circumstances. " 
The investigation
On January 6, 2022, it was known that the South Korea Automobile Testing & Research Institute (KATRI) bought the seat belt chime issue to Tesla. After which Tesla's vehicle software and homologation teams investigated the situation and were looking out for possible threats. By January 25, 2022, Tesla found the need to recall its vehicles and was working on rolling out software to fix the issue. Tesla rolls out software regularly to its vehicles.
It should be noted that a fix for the seat belt chime issue started rolling out in software update 2021.43.101.1, which was initially introduced to the Model 3 and Model Y on January 27, 2022. Tesla Model S and Model X vehicles who were affected by the issue started receiving the software update with the seat belt chime fix the next day, on January 28, 2022. Tesla's way of solving the way as stated by the company is as follows,
"A firmware release will correct the software error so that the audible seat belt reminder chime will reset if it is interrupted while chiming. Firmware release 2021.43.101.1, which includes this remedy, was introduced in Model 3 and Model Y production on January 27, 2022, and in Model S and Model X production on January 28, 2022. Separately, firmware release 2022.4.5, which also includes this remedy, will deploy over-the-air ("OTA") to delivered vehicles in early February 2022."